Do you want to learn how to draw a manga face easily? I'll show you how to do it in this simple tutorial in just nine steps.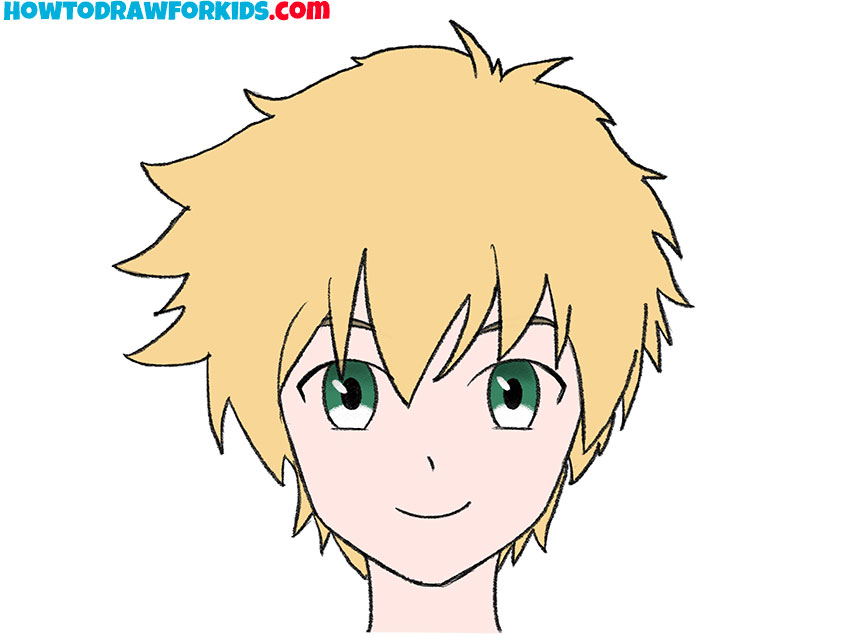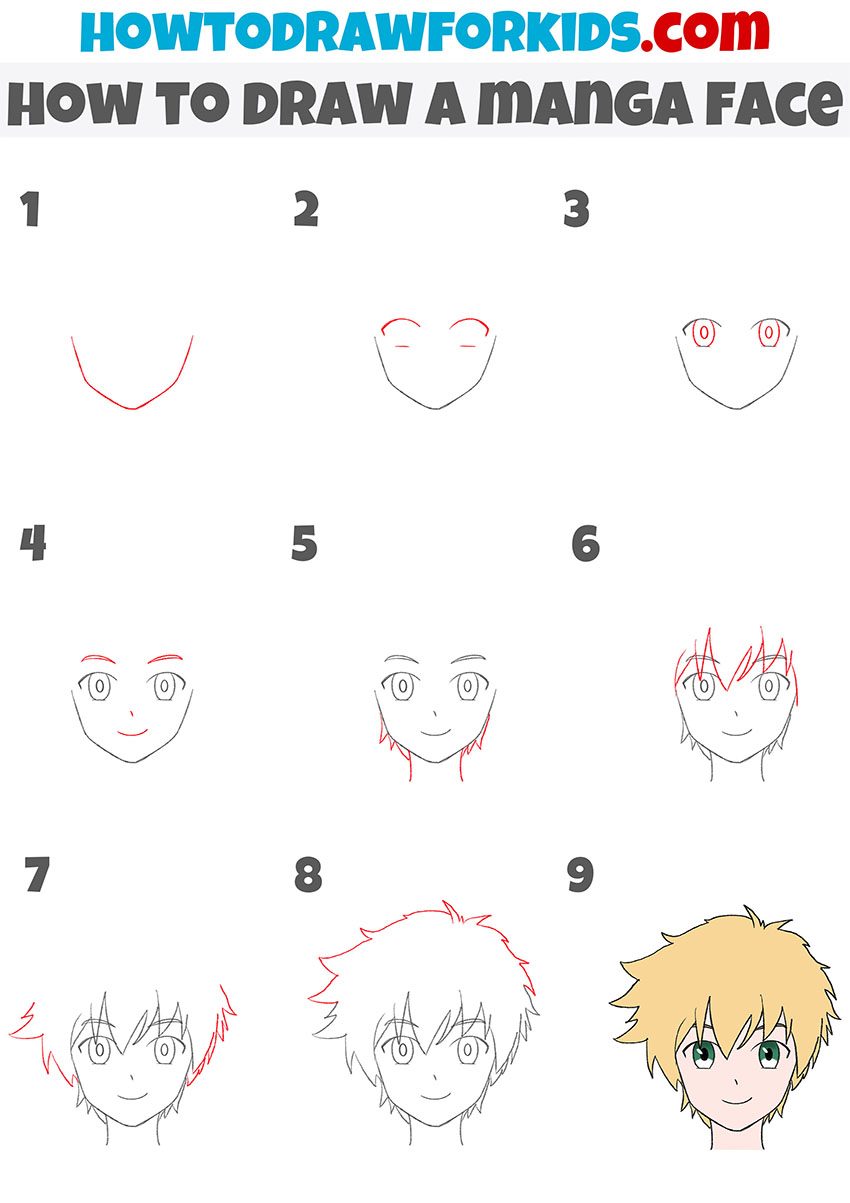 With this drawing lesson, you will learn how to draw a manga face step by step. I think you know that manga is Japanese comics. The word "manga" means "funny pictures" in Japanese. Over the many years of its existence, manga has become a really important part of Japanese culture. Manga has a distinctly different graphic and literary style from Western comics, despite the fact that manga has developed with their influence.
The design of many of the characters is distinguished by the simplicity of the drawing. The manga characters are often characterized by large eyes. For example, large and rounded eyes indicate a character's young age and simple-mindedness; narrow eyes with small irises characterize negative characters. And female characters traditionally have larger eyes than male ones.
In this lesson, you will portray a beautiful manga face. It is the face of a handsome smiling young man with big eyes and thick blond hair. You can use your manga face drawing skills for many other manga-style drawings. Now you can enjoy drawing!
Materials
Pencil
Paper
Eraser
Coloring supplies
Steps on How to Draw a Manga Face
Time needed: 30 minutes
How to Draw a Manga Face
Draw the bottom outline of the face.

To do this step you have to draw one curved line at the bottom of the drawing.

Add the outline of the eyes.

At the top of the face add two curved lines and add two same straight lines under them.

Depict the inside of the eyes.

Between the straight and curved lines add identical ovals and curved lines near them.

Draw the rest of the facial features.

Picture the eyebrows using curved lines, add a nose as a short line and a mouth as an arch.

Picture the neck and part of the hair.

Below the face outline, add pointed strands of hair and draw the neck with curved lines.

Draw the hair on the forehead.

At eyebrow height, depict many pointed strands of hair using curved lines.

Add more hair to the sides of the head.

Depict the hair very lush and sticking out in different directions using curved lines.

Outline the top part of the hair.

At the top of the head, add pointed strands of hair using curved lines of different lengths.

Color the drawing.

To color the manga face, you should use light brown, green, black, and beige.
Beautiful manga face is ready! Share your impressions about this lesson in the comments. At the end of the lesson, you will find a link where you can download a PDF file with a short version of this lesson. Save this file and do the lesson at your convenience.