In this drawing lesson you can learn how to draw a robot. This tutorial is very simple and consists of nine steps.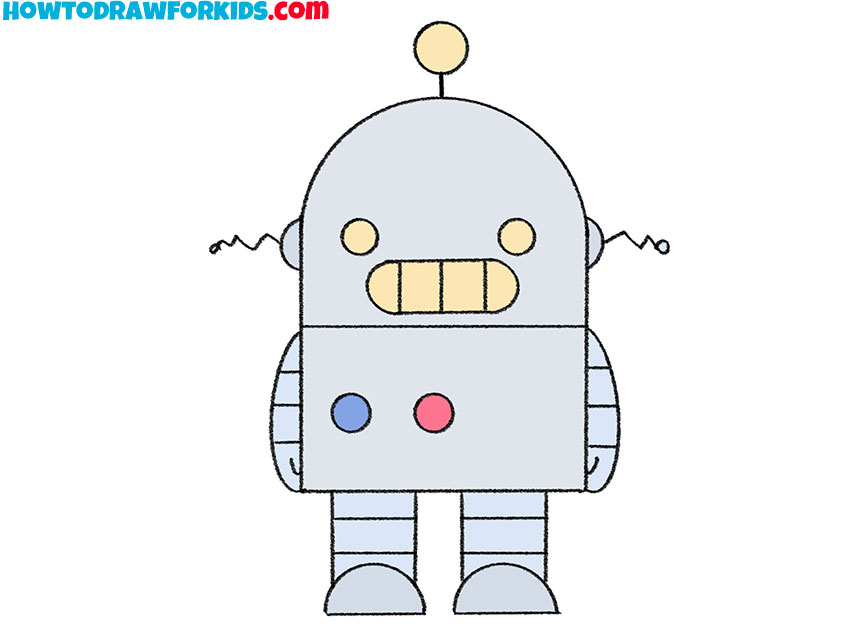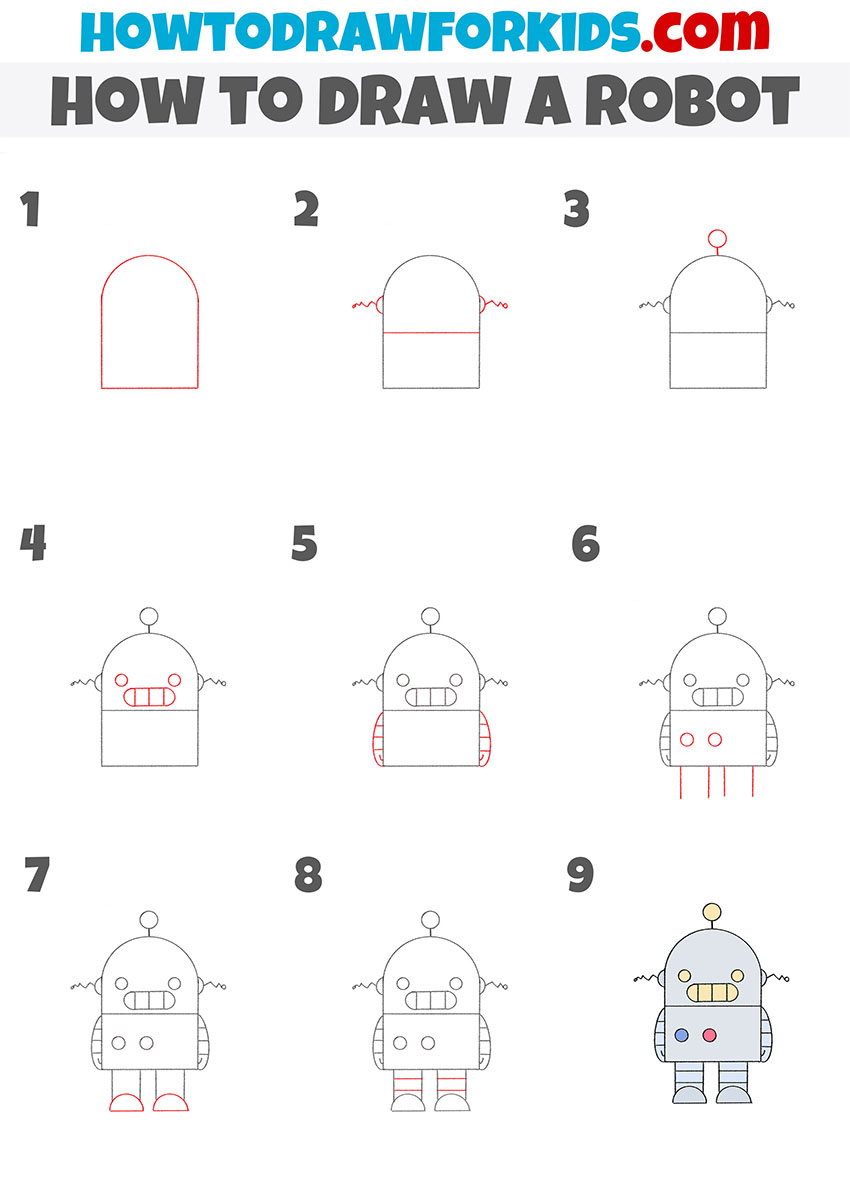 So, I have prepared another very fascinating drawing lesson for you, in which I would like to tell and show you how to draw a robot step by step. You can use the skills you learn in this lesson for many other drawings as well.
As you know, a robot is a very common character that we often see in various movies, cartoons, and video games. A robot is a machine especially one programmable by a computer, capable of carrying out a complex series of actions automatically. A robot can be guided by an external control device, or the control may be embedded within. Robots may be constructed to evoke human form, but most robots are task-performing machines.
To draw a robot with this convenient step-by-step tutorial, you should be able to draw straight and curved lines and geometric shapes. Prepare your drawing materials and get to work. I wish you draw a great robot and have a good time!
Materials
Pencil
Paper
Eraser
Coloring supplies
Time needed: 20 minutes
How to Draw a Robot
Draw the outline of the robot's torso.

Depict it using straight and curved lines. It should look like an arch with connected ends.

Picture the elements in the upper part of the torso.

Add a straight horizontal line, and on the sides add details, using semicircles and zigzags.

Draw the antenna.

Above the robot's body add an element using a circle and a short straight line.

Depict the facial features.

Draw the eyes as two same circles and the mouth as elongated oval and straight vertical lines.

Add the robot's hands.

Draw the robot's arms symmetrically, adding straight and curved lines to both sides of the body.

Draw the legs and buttons.

Add two identical circles on the robot's body and four same straight lines below it.

Picture the feet.

Below the previously drawn straight lines add the same arches and straight lines on both sides.

Add lines on the legs.

Draw the same straight horizontal lines parallel to each other on both legs of the robot.

Color the drawing.

To color this robot, you should use blue, beige, red, and navy blue.
You can now download the PDF file for free, which I have prepared for your convenience. This file contains a short version of the lesson and additional tools. Use this file whenever you feel like drawing.
n the figure, you can see that the body of the robot consists of several elements of various shapes. The robot has a large head and a relatively small torso. The hands have an unusual shape. There are two small antennae on the head. With the help of clear and accessible instructions, you can easily depict all these elements.
Consistently follow all the drawing steps so that your drawing is as similar as possible to my example. If all the art supplies are already at the ready, then you can begin to complete this exciting lesson.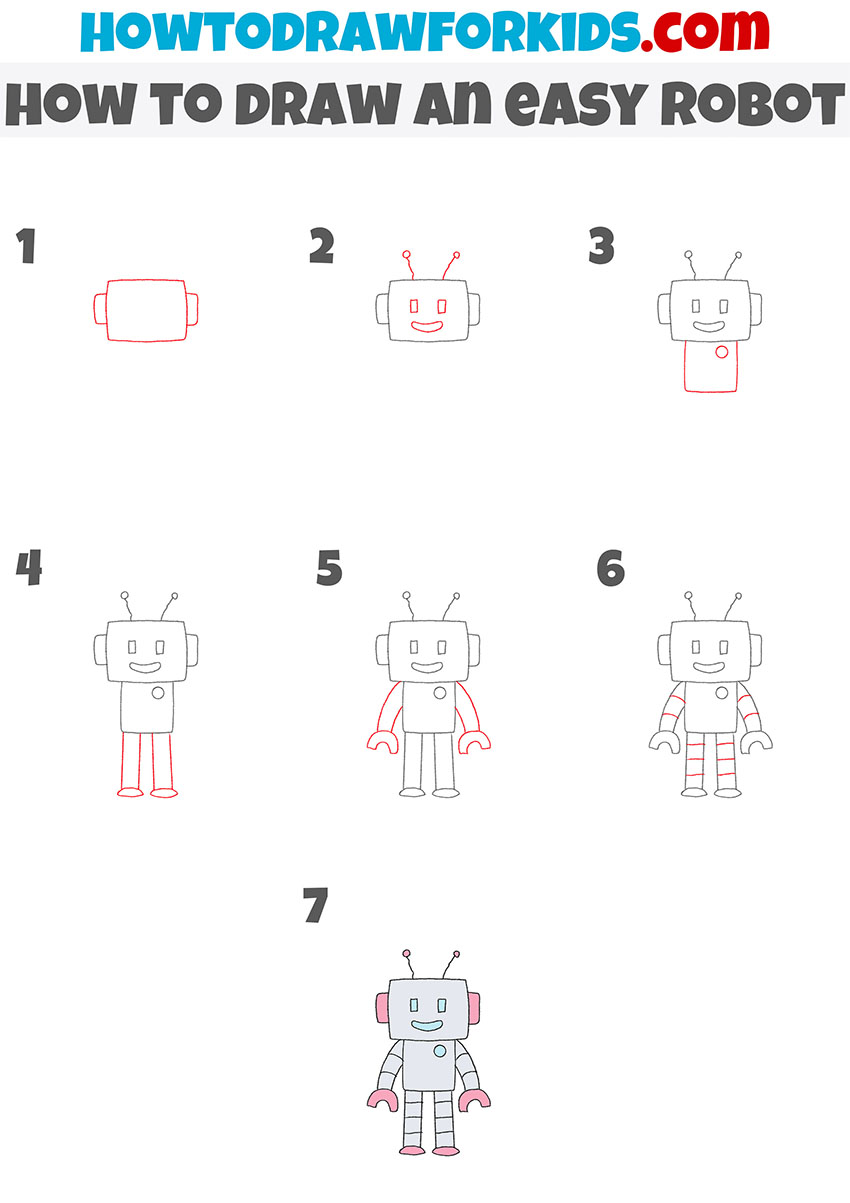 This robot looks like the typical idea of robots from the last century. We deliberately created such a slightly grotesque and cartoonish appearance of the robot.