This time I want to tell you how to draw a samurai. This is a very interesting and exciting drawing tutorial, which consists of nine steps.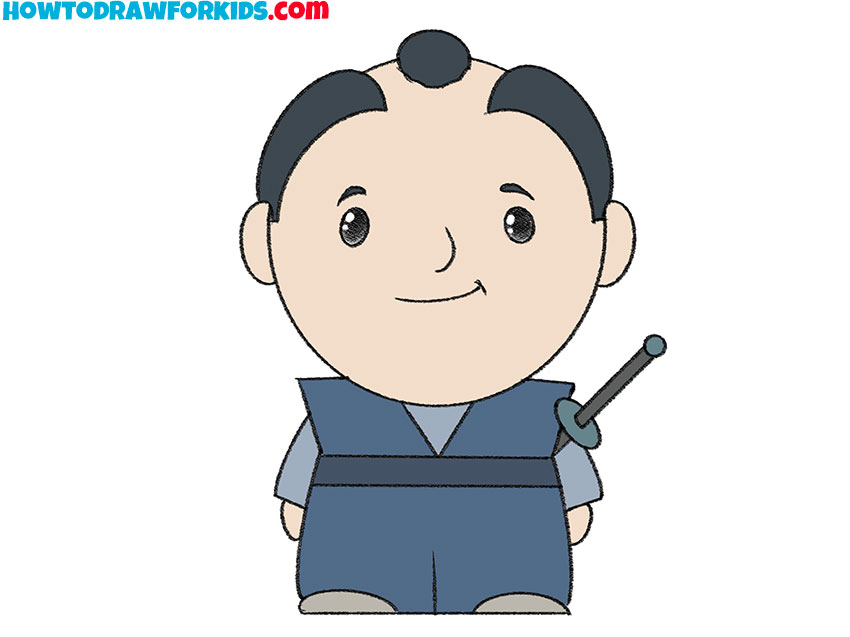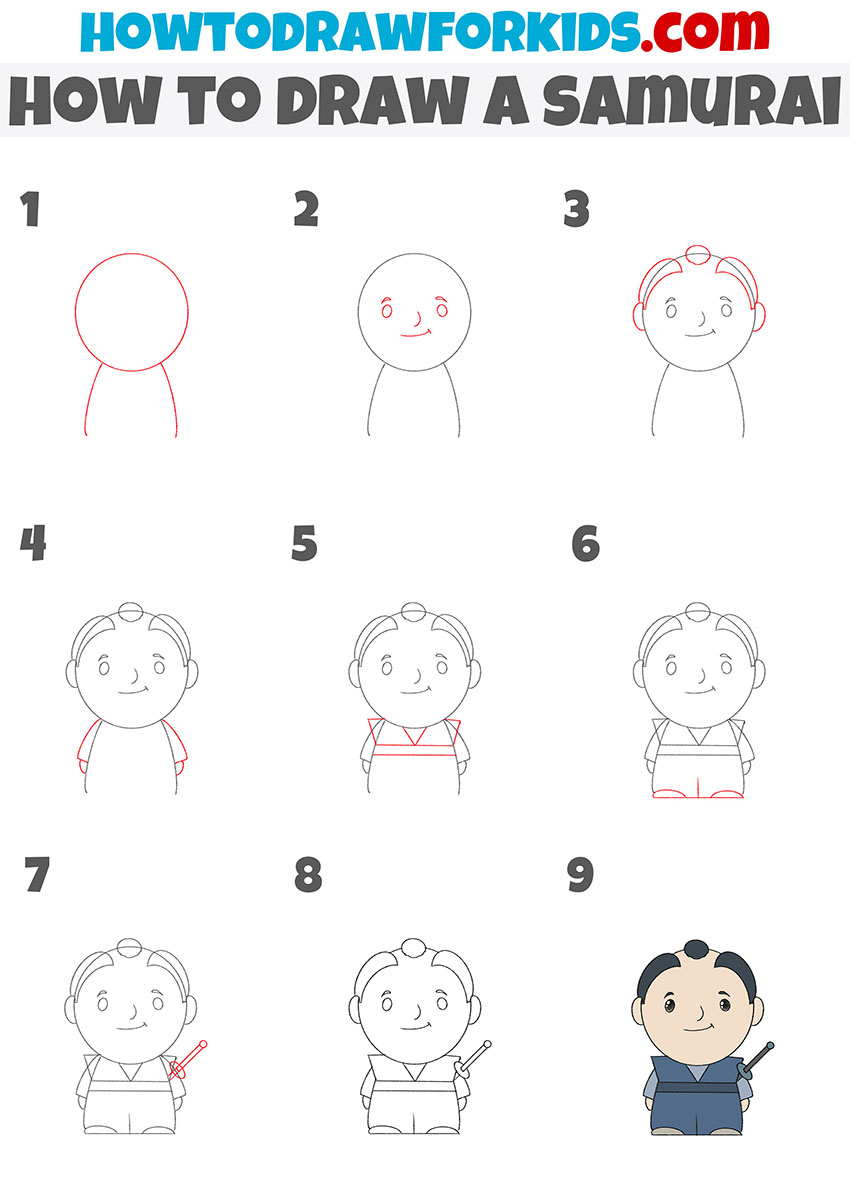 If you want to learn how to draw one more interesting character, then this fun lesson on how to draw a samurai will definitely help you. Samurai is the name of the Japanese military. This term comes from a long time ago and the samurai existed in Japan many centuries ago. Samurai were not only knights and soldiers. They were also bodyguards of their lord, and at the same time served him in everyday life. This high title in feudal Japan was hereditary. Samurai were brought up as fearless, strong, and courageous young men. The future samurai had to constantly train, improve the art of wielding weapons, have great strength and agility.
In the picture, we see the samurai drawn in a cartoon style, which makes his appearance cute. The main weapon of the samurai is the sword. The samurai is also dressed in special clothes.
Start this tutorial to learn how to draw a samurai quickly and easily, even if you have very little drawing experience. I'm sure you'll have a great drawing!
Materials
Pencil
Paper
Eraser
Coloring supplies
Time needed: 20 minutes.
How to Draw a Samurai
Draw the outline of the samurai's head and torso.

You should draw the outline of the samurai's head as an oval, and his torso with curved lines.

Depict the samurai's facial features.

Draw the eyes as two identical ovals, and his eyebrows, nose, and mouth with curved lines.

Add the ears and hair.

Draw the ears in the form of identical semicircles, and depict the hair with curved lines.

Picture the hands.

Use straight and curved lines to draw two symmetrical arms on either side of the torso.

Add the costume element.

In the upper part of the samurai's torso add straight horizontal and oblique lines.

Picture the legs.

At the bottom of the torso add straight horizontal and vertical lines and two arcs.

Outline the samurai's sword.

On the right side add a sword, using two straight parallel lines, an oval, and a circle.

Erase unnecessary lines.

Use an eraser to remove auxiliary lines that appeared during the drawing process.

Color the drawing.

Use gray, black, shades of blue, and any color you want to color the samurai's skin.
This drawing lesson has come to an end. Traditionally, I have prepared a short PDF version of this tutorial for your convenience.