With this very simple step-by-step art lesson and additional PDF materials, I will show you how to draw a ninja very easily.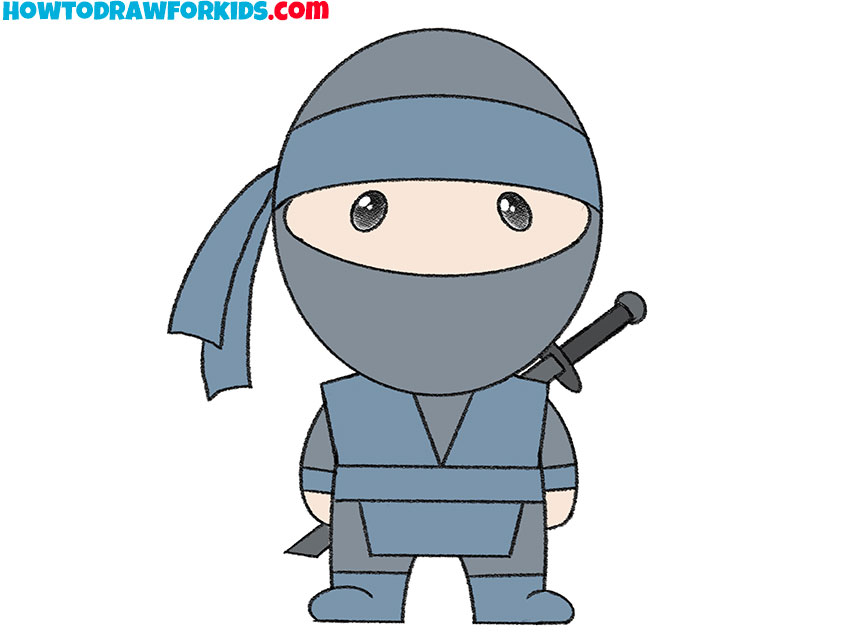 Ninja is a very formidable warrior of medieval Japan. The most influential people of the time were afraid of ninjas, who knew how to disguise themselves and emerge from the darkness at unexpected moments.
I tried to portray this ninja in a classic way. That is why you see the black uniform and mask on the warrior's face. I also tried to stick to the cartoonish style.
So, try to tune in to creativity, grab the necessary materials, turn on nice music and start drawing ninja!
Materials
Pencil
Paper
Eraser
Coloring supplies
Time needed: 20 minutes
How to Draw a Ninja
Draw the outline of the head and torso.

Outline the ninja's head as an oval and his torso below, using curved lines and one straight line.

Depict an element of the costume.

To complete this step, on the previously drawn oval, add a few curved lines.

Outline the character's hands and legs.

Draw the hands symmetrically, using the same curved lines, add the legs with a single arc.

Add the shoes and sleeves.

Depict symmetrical straight and rounded lines on the arms and legs of the ninja.

Draw the eyes and part of the costume.

Picture the ninja's eyes as two same ovals, and add the elements as curved lines on the left side.

Add the sword and the belt.

Draw them using straight lines of different sizes, an incomplete oval, and an incomplete circle.

Draw the rest of the ninja's costume.

To do this step, draw straight horizontal and oblique lines of different sizes on the ninja's torso.

Color the drawing.

To color this drawing, use blue, black, shades of gray, and any color you want to color the skin.
Here you can find a pdf that will help you draw ninja. In this PDF worksheet, you will find the tutorial itself, a coloring page, tracing worksheet, and grid drawing worksheet. I hope you enjoyed this guide!
How to Draw Ninja in Fighting Position
As you can imagine, a ninja rarely stands in a static pose like in the lesson you just saw. To draw a ninja in a more dynamic pose, let's move on to the next drawing tutorial.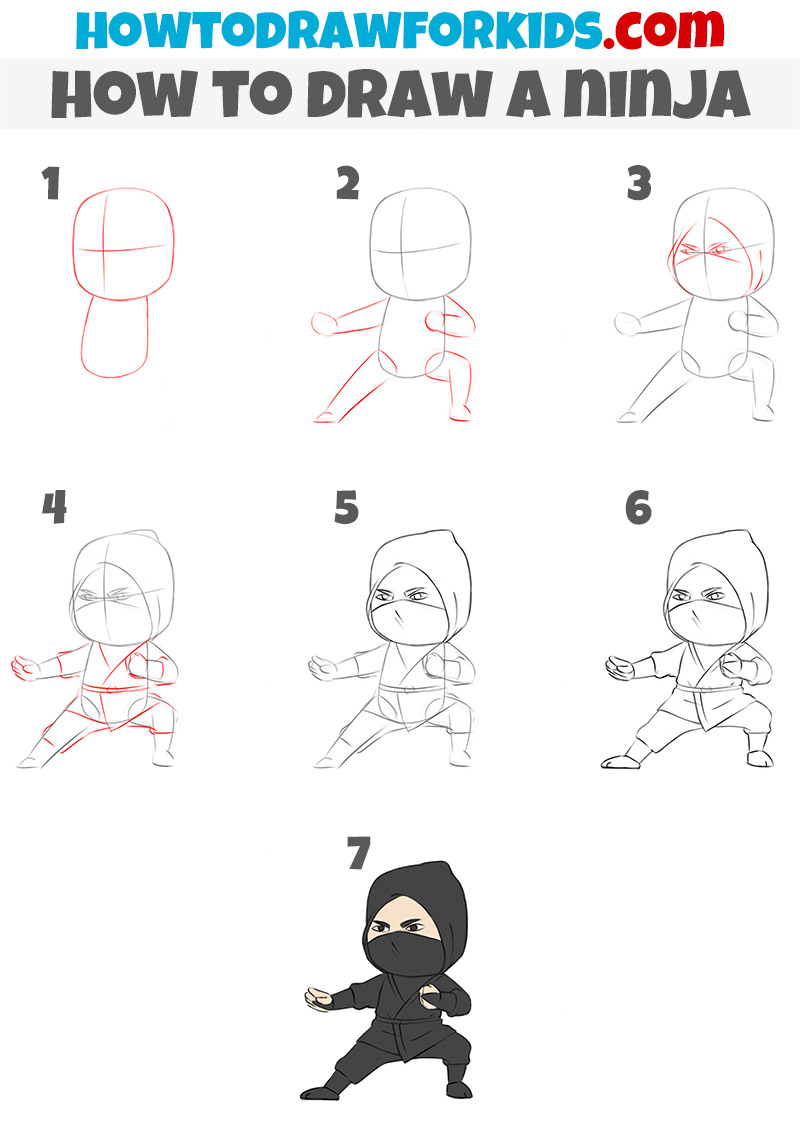 Ninja Drawing Tutorial: Alternative Method
This method of drawing a ninja will differ from the first one in that we will not draw additional steps here. Try to draw the ninja giver in detail, as shown in the instructions.