How to Draw a Princess Frog
I have prepared for you a new fascinating lesson in which you will learn how to draw a princess frog.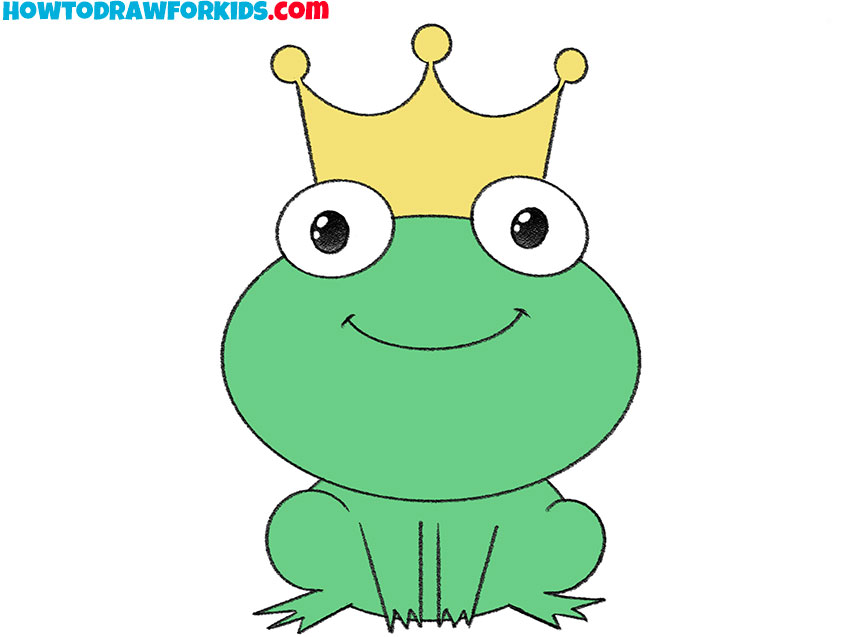 So, in this drawing tutorial, I would like to tell and show you how to draw a princess frog in just nine easy steps. Princess Frog is a very interesting and unusual character. Princess Frog looks like a frog, but in reality, it is not an animal, but a real enchanted princess who was turned into a frog by a witch's magic. This character is world-famous and many cartoons, movies have been made about it, and also many fairy tales have been written. At the end of the story of the Princess Frog, this character is turned into a beautiful princess again, thanks to the prince.
The frog princess that you draw with these step-by-step instructions is drawn in a cartoon style, so it looks very funny. This drawing lesson is specially created for kids and beginners, so you are sure to easily cope with it.
So, prepare all the necessary materials for drawing and start working.
Materials
Pencil
Paper
Eraser
Coloring supplies
Time needed: 20 minutes
How to Draw a Princess Frog
Draw the outline of the character's head.

This step will be easy enough for you to do, all you have to do is draw one oval.

Add the torso outline of the princess frog.

To do this step, you have to draw an incomplete oval below the previously drawn oval.

Draw the princess frog's eyes.

At the top of the character's head, place two ovals and add smaller ovals inside them.

Picture the crown of the princess frog.

Over the previously drawn eyes depict the crown, using straight lines, arcs, and circles.

Add the mouth and start drawing the frog's legs.

Depict the character's mouth as an arc with short lines. Add semi-ovals to the torso.

Picture the feet.

Under the torso, depict symmetrical feet with pointed toes, using straight lines.

Add a pair of paws.

In the middle of the torso, draw paws with pointed toes, using straight lines and zigzags.

Erase unnecessary lines.

Use an eraser to remove auxiliary lines that appeared during the drawing process.

Color the drawing.

Use green, yellow, and black to color the princess frog you drew.
At this point, this drawing guide has come to an end. You can leave a comment on this lesson and share it with your friends. Below you can download a PDF file that contains a short version of this tutorial, and some additional useful materials.