In this drawing lesson, you'll learn how to draw a pirate in just nine simple and understandable steps.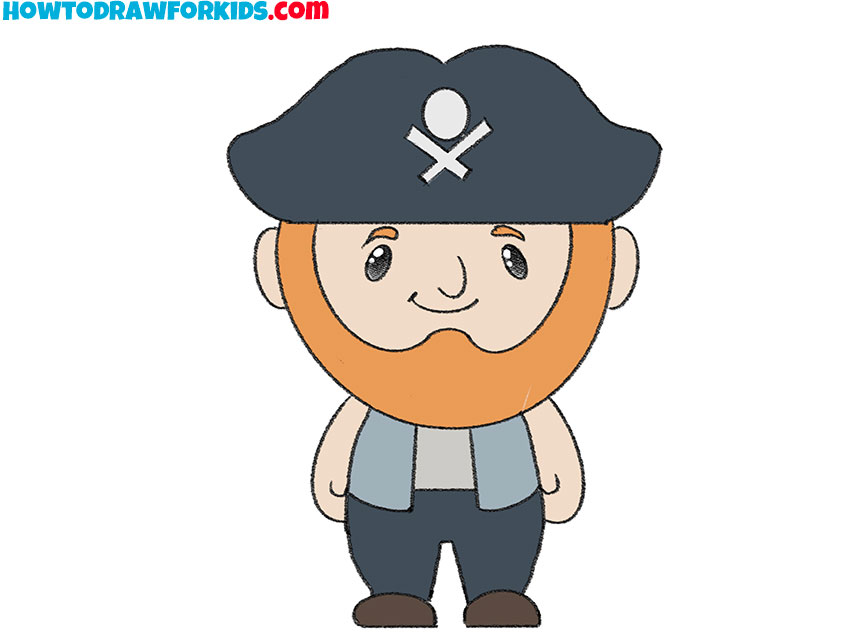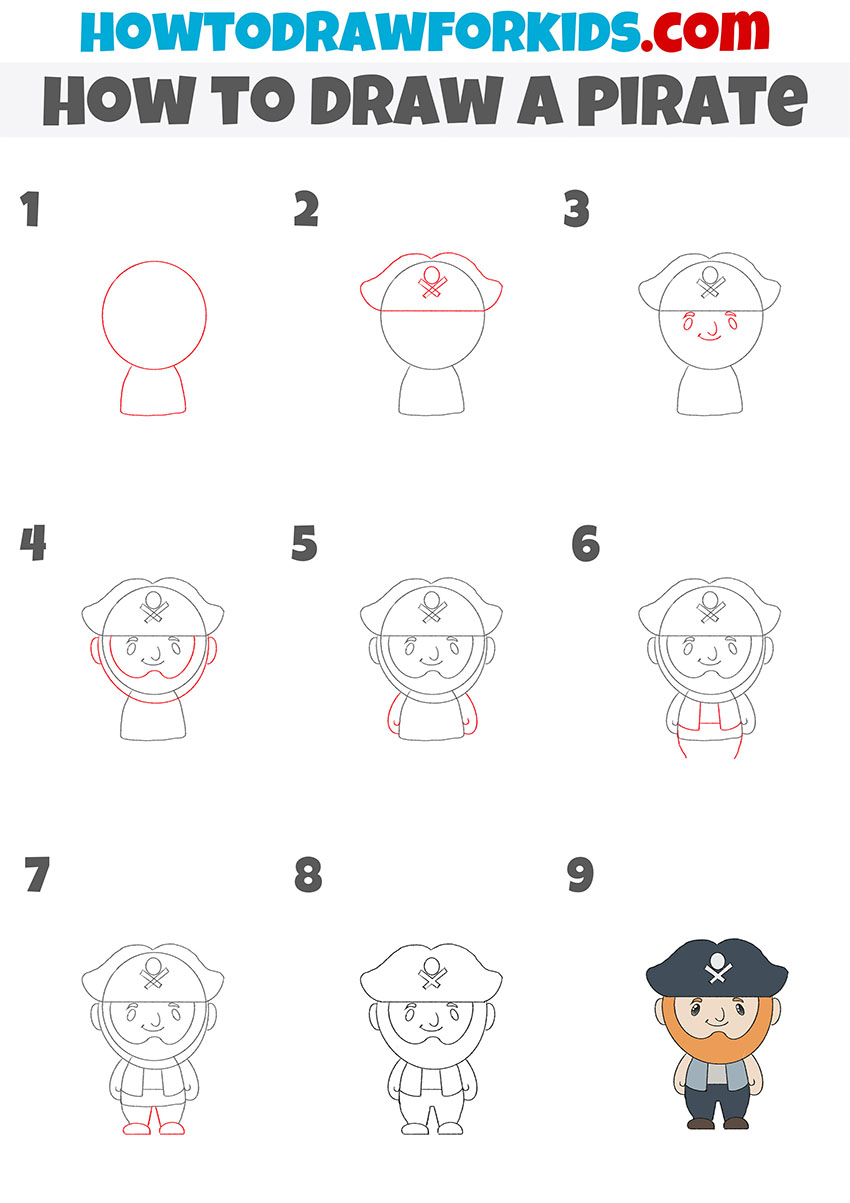 So, I am very pleased to present to you this interesting drawing tutorial in which I will tell you how to draw a pirate step by step. Don't worry if you are just a beginner and have very little drawing experience. I have specially created this lesson simple enough that it can be handled by any child or beginner artist.
I think you've seen pirates many times in various cartoons or movies. A pirate is a person who commits acts of piracy at sea without the authorization of any nation. I think you know such a famous series about pirates as Pirates of the Caribbean. Also, you may be known to cartoons about pirates, such as "The Pirates! In an Adventure with Scientists" as well as "The Pirates! Band of Misfits".
Real pirates are considered dangerous, but we will draw a pirate in a cartoon style and he will look quite kind and cute. You can start doing this lesson right now.
Materials
Pencil
Paper
Eraser
Coloring supplies
Time needed: 20 minutes.
How to Draw a Pirate
Draw the outline of the head and torso.

Depict the pirate's head as a circle, and add his torso below, using curved lines.

Outline the pirate's hat.

Above the previously drawn head add a hat and decorative elements on it.

Add the facial features.

Draw the eyes as two identical ovals, and his eyebrows, nose, and mouth with curved lines.

Picture the pirate's beard and ears.

Use two identical semi-ovals, and his beard depict with an arch and a curved line.

Add the character's hands.

Depict the hands symmetrically by drawing the same curved lines on the right and left sides.

Draw the outline of the legs and details of the costume.

Using straight and curved lines, add the outline of the pirate's costume and the sides of his legs.

Complete the drawing of the pirate's legs.

Use straight lines to complete the feet outline and add shoes using arcs and straight lines.

Erase unnecessary lines.

Use an eraser to remove auxiliary lines that appeared during the drawing process.

Color the drawing.

Use brown, gray, black, orange, blue, and any color you like to color the pirate's skin.
So, a great drawing of a pirate is ready! I hope that you did a great job with this work, and you did not have any difficulties. Now you can download a short version of the lesson in PDF format, which I have prepared specially for your convenience. This will help you return to the lesson at any time.