Today, you will learn how to draw Ron Weasley. This lesson will be simple and interesting, like the other lessons presented on this site.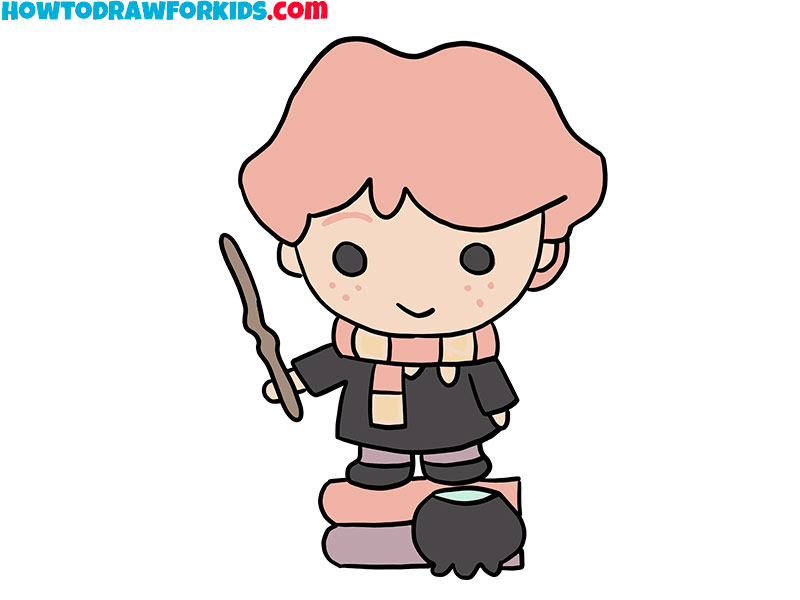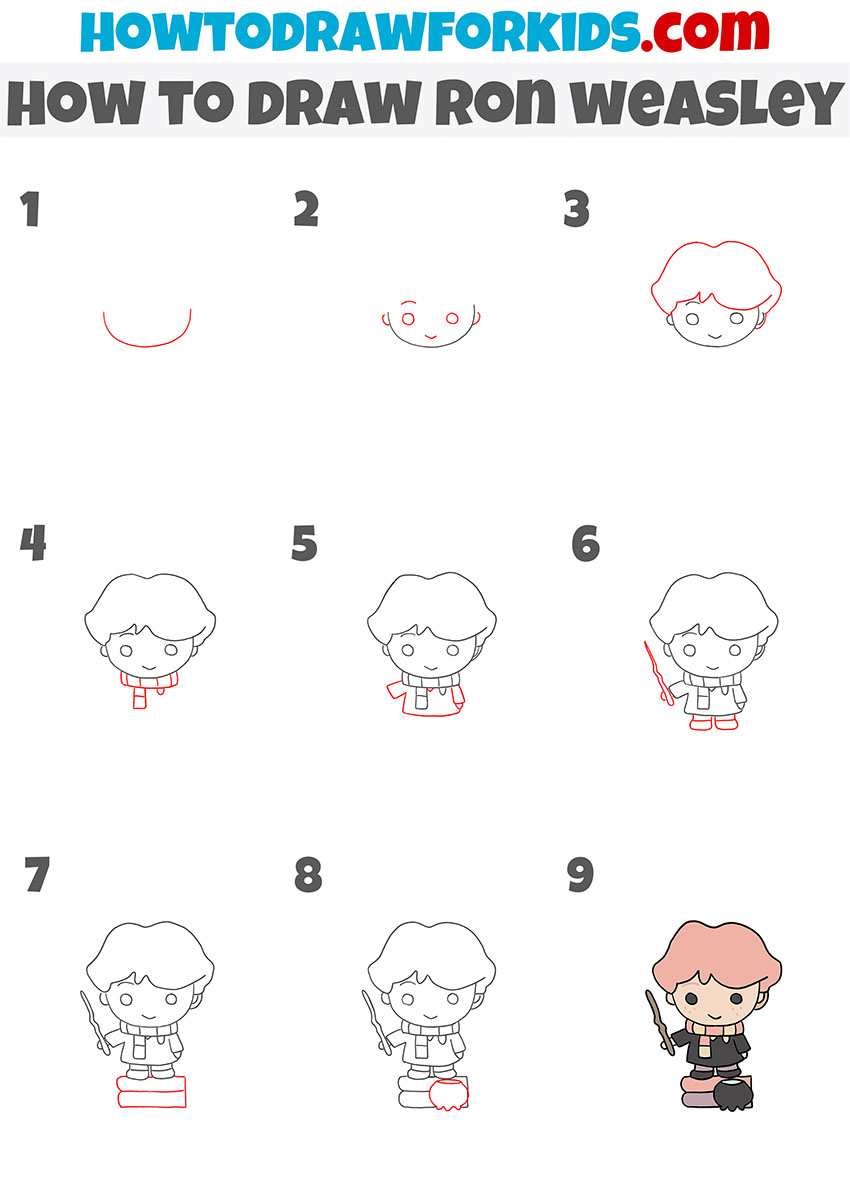 If you like to draw popular characters, then you will like this lesson, because now you will learn how to draw Ron Weasley. This is one of the characters in the Harry Potter series of novels. According to the plot of the novel, Ron Weasley is Harry Potter's best friend. Harry Potter always counted on Ron's help and support, and in all adventures, friends acted together. Ron is very kind, honest, and helpful.
Ron's main hobby is playing chess. Ron has a high intellect and excellent mathematical abilities. Thanks to these qualities, he easily won chess games.
Ron is tall with a thin build and bright red hair. The teenager's face is covered with freckles, and this gives him a cute look. In this tutorial, Ron is presented in a chibi style, so he looks unusual, but easily recognizable. Ron has thick hair, a dark suit, a scarf around his neck, and a magic wand in his hands. Try to correctly depict all the elements in this picture.
Materials
Pencil
Paper
Eraser
Coloring supplies
Time needed: 30 minutes
How to Draw Ron Weasley
Draw an oval for the face.

Depict a smooth, curved line to depict the lower outline of the face.

Add the ears and face elements.

On the sides draw two small ears, add two round eyes, the eyebrow and the small mouth.

Depict the hair.

With the help of smooth curved lines depict the lush hair on the Ron's head.

Sketch out the scarf.

Draw the small scarf below the head and immediately add transverse stripes.

Draw the upper body.

Depict the small and wide torso. One arm fits snugly to the body, and the other is raised up.

Depict the legs and stick.

Below the torso, add short legs and use a jagged line to draw the magic stick in the hand.

Sketch out the stand.

At the very bottom, draw the stand, which consists of two parts.

Add the rest of the element.

At the bottom of the drawing, add a small rounded element.

Color the drawing.

In this tutorial, you will need beige, pink, dark gray and purple.
Especially for your convenience, I have prepared a PDF file in advance, which contains a brief instruction and additional useful materials necessary for the quality of the lesson.