Now I will show you how to draw a unicorn horn step by step. With this lesson you will improve your artistic skills.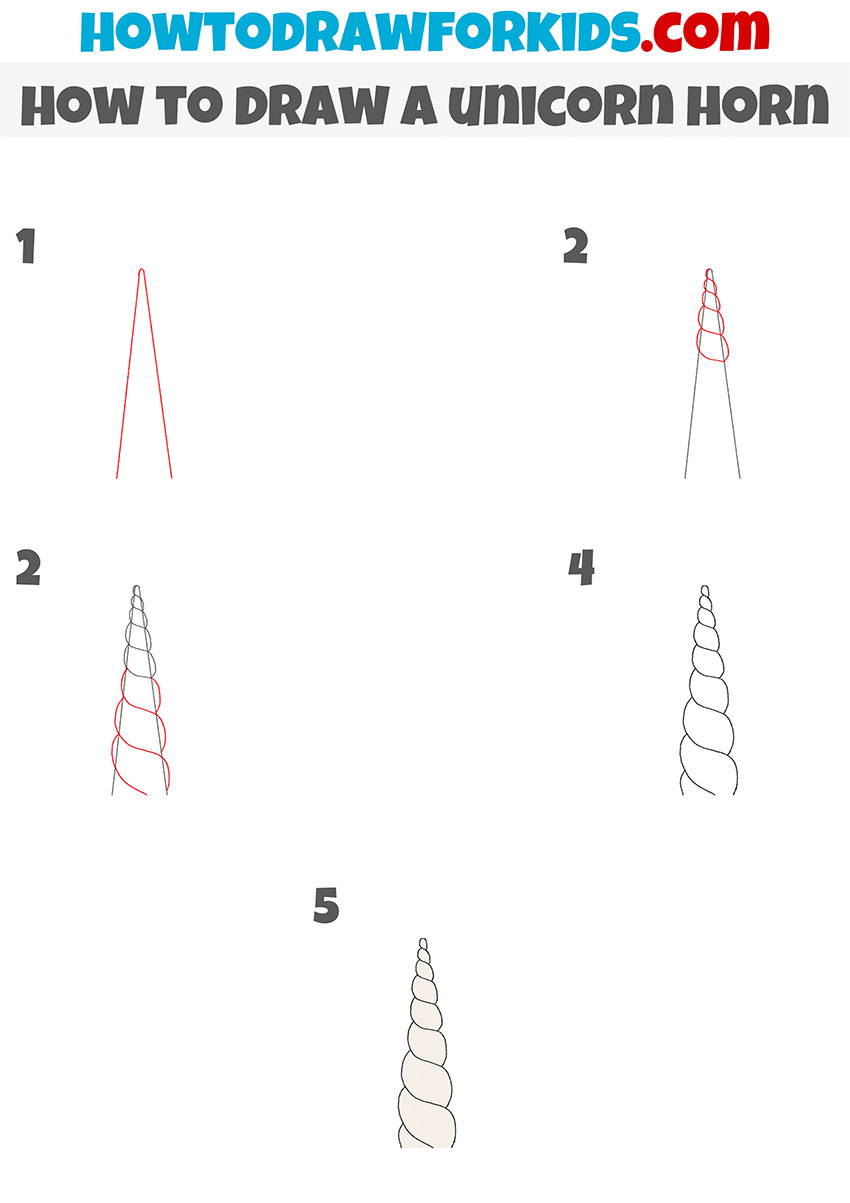 I suggest you draw an unusual object, and now you will learn how to draw a unicorn horn. It is this spiral horn that is located on the unicorn's forehead.
You can see that the horn has a cone with the sharp end pointing up, so in this tutorial you will first draw the base in the form of a cone and then add all the other elements in sequence. Note that the horn segments are roughly the same shape but different sizes. Try to keep these proportions.
The acquired skills will be useful to you in the future when you want to draw a whole unicorn. Carefully draw all the lines and remember the drawing steps so that you can easily draw such a horn if necessary.
Materials
Pencil
Paper
Eraser
Coloring supplies
Time needed: 20 minutes
How to Draw a Unicorn Horn
Prepare the base.

Determine the size of your drawing and draw a figure in the shape of the cone.

Draw the top of the horn.

On the top of the cone, successively draw several segments of different sizes.

Add the bottom of the horn.

Repeat the previous step and draw larger segments at the bottom of the cone.

Correct inaccuracies.

Take the eraser and carefully remove all unnecessary lines without affecting the important lines.

Color the drawing.

For coloring, you will need a light purple color.
The unicorn horn is ready! I hope that you tried your best at each stage of drawing and the horn looks exactly the way you wanted. If this lesson was interesting and useful for you, then leave a small review in the comments. At the end of the lesson, I suggest you download a PDF file for free, in which you will find a brief instruction and additional useful materials. Thus, you can return to the lesson at any time, even if the Internet is not available.