Learn How to Draw Baby Yoda Easy Step-by-Step Guide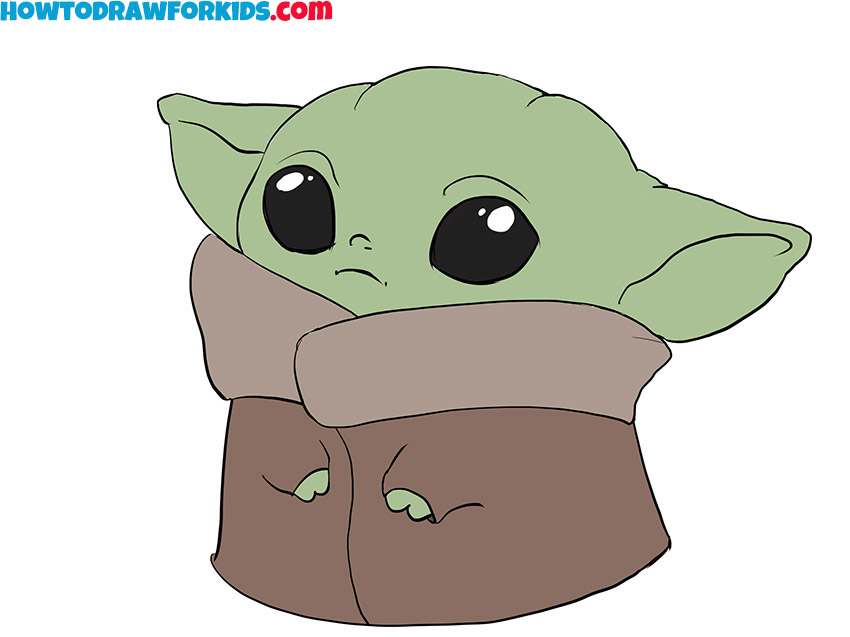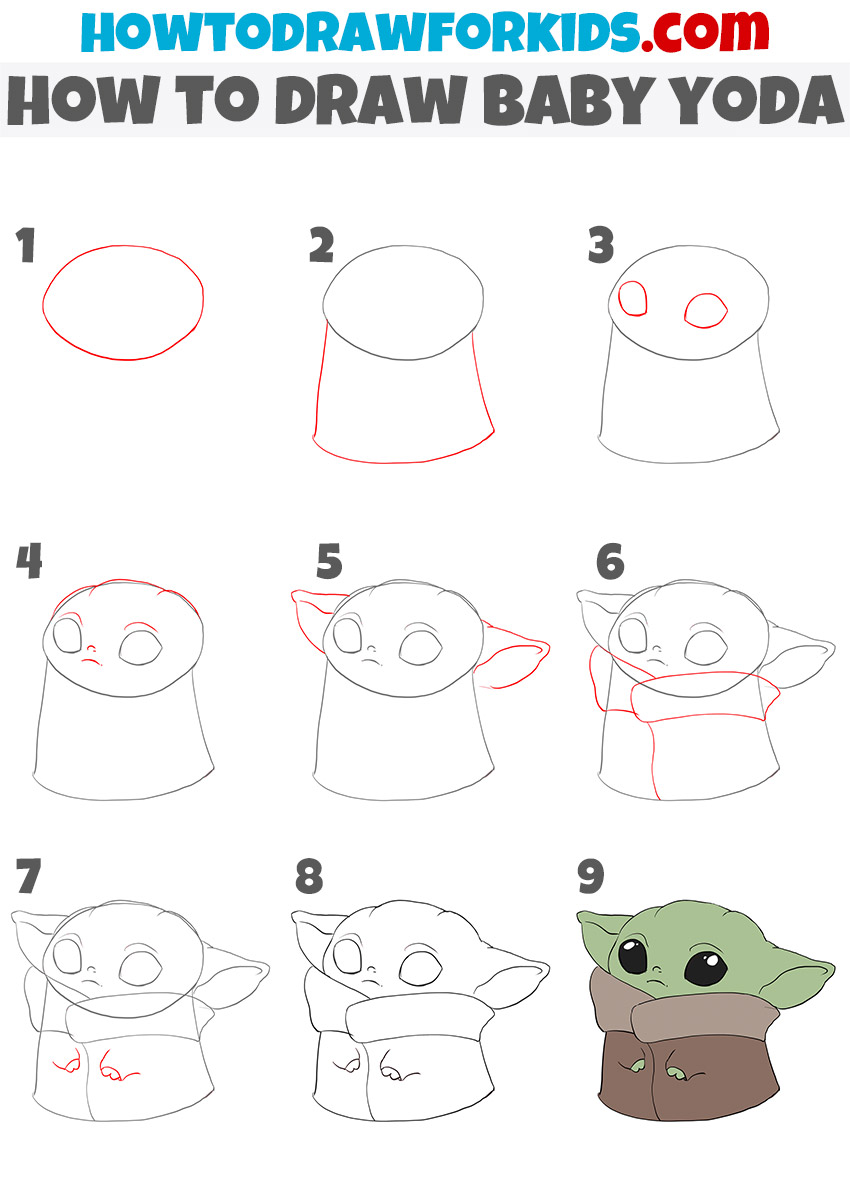 You may also have known this cute character as Grogu. Anyway, I'll show you how to draw Baby Yoda or Grogu in this super simple tutorial.
Grogu is a small child who has Jedi powers. The Mandalorian fans were only able to find out his story at the end of the second season. Before that, many called him Baby Yoda, although these heroes were united only by the race and the same abilities of the Jedi.
Many fans are convinced that Grogu will appear more than once in video games, films, and Star Wars series. This little Jedi already has a huge army of fans. That is why I decided to present you this drawing guide on how to draw Grogu from the Mandalorian.
Materials
Pencil
Paper
Eraser
Coloring supplies
Time needed: 30 minutes
How to Draw Baby Yoda
Draw a head.

Draw a large oval at the top of the sheet of paper.


Draw the outlines of the face

Grogu's body looks like an asymmetrical quadrilateral that expands downward.


Draw the eyes.

Draw two oval shapes inside the head outline. Due to the angle, the eyes have different shapes.


Draw Baby Yoda's facial features.

Draw a mouth and nose that look like short, flowing lines. Do not forget about the arches of the eyebrows and the relief of the upper part of the head.


Draw Grogu's ears.

Our character has large, triangular ears. Draw the ears and notice the large edges on top. You may have seen fantasy characters with very similar ear shapes.


Draw the tops of the clothes.

Draw the large, thick collar elements. Depict a long, flowing vertical line in the center of the torso.


Draw small hands.

Our little Grogu has small hands. However, in the future, these hands will hold a real lightsaber! Draw these little arms towards the center of the torso.


Erase the guidelines.

Using an eraser, remove any extra lines from Grogu drawing. You can outline Baby Yoda drawing with a dark pencil to make it more expressive.


Color Baby Yoda

Use traditional colors to create a recognizable Grogu look.

Don't forget to download our PDF version of this drawing guide. Here you will find a short version of the tutorial and a few bonuses that will make your drawing more fun.
So this was a guide on how to draw baby Yoda. I tried to create the simplest drawing lesson for artists of all skill levels. Don't forget about likes and comments if you like my work. I will also be happy to answer any of your questions.