In this drawing tutorial, I will show you how to draw Wolverine – one of the most famous and coolest characters from Marvel Universe.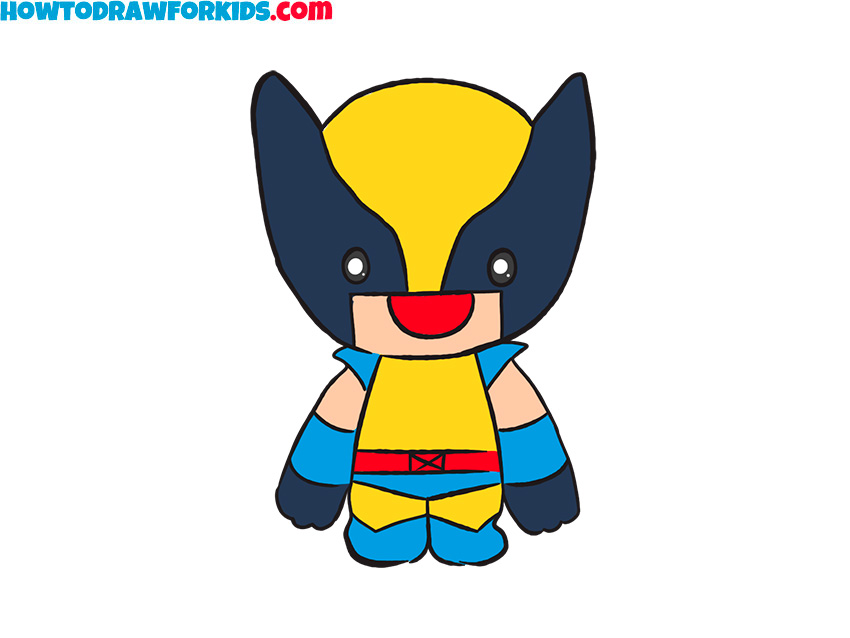 Earlier I already posted a tutorial on how to draw Wolverine for children. But that lesson was a little difficult for kindergartners and elementary school students. Therefore, I decided to create an even simpler lesson about this comic character.
In this tutorial, Wolverine is standing in a very simple frontal pose, which greatly simplifies the drawing process. In addition, we will draw Wolverine in chibi style, which will also greatly simplify the task.
If this lesson seems too simple, then of course you can try to complicate the drawing by adding additional details or go to my more complicated Wolverine drawing tutorial.
So are you ready? If so, let's start the tutorial!
Materials
Pencil
Paper
Eraser
Coloring supplies
Time needed: 35 minutes.
How to Draw Wolverine
Sketch out the head.

When drawing the head of Wolverine, try to achieve symmetry of the outlines.


Sketch out the torso and legs.

Note that the torso and legs are approximately equal in height to the head.


Draw the arms.

Since we are drawing Wolverine in a cartoon style, his arms are disproportionately long.


Detail the mask of Wolverine.

First draw the outlines of the ears, passing into the nose, and then the opening of the mask.


Draw the details of the face.

First, draw the eyes with two circles or ovals. Then, draw the mouth with one curved line.


Detail the arms.

Using simple lines draw the outlines of the shoulder pads and gloves.


Detail the legs.

First, draw the belt with the X-Men logo in the middle. Then sketch out the lines of the boots.


Color Wolverine.

Use yellow, dark gray, red, blue, and skin color to color Wolverine.

So, this was a Wolverine drawing tutorial. I hope it helped you, your children, or students. Do not forget to download the PDF version of the lesson, which includes the steps of the instruction, a coloring page, tracing worksheet, and grid drawing worksheet.