I'm excited to share my tutorial on how to draw Eric Cartman. My instructions are clear and simple, making it fun for anyone to draw their favorite character. Discover the joy of drawing Cartman today!
As an experienced art teacher, I've designed this Eric Cartman drawing lesson specifically for children. My method is straightforward, ensuring kids can easily grasp and enjoy the process of creating their favorite TV character. This lesson not only teaches them how to draw but also boosts their confidence and artistic abilities.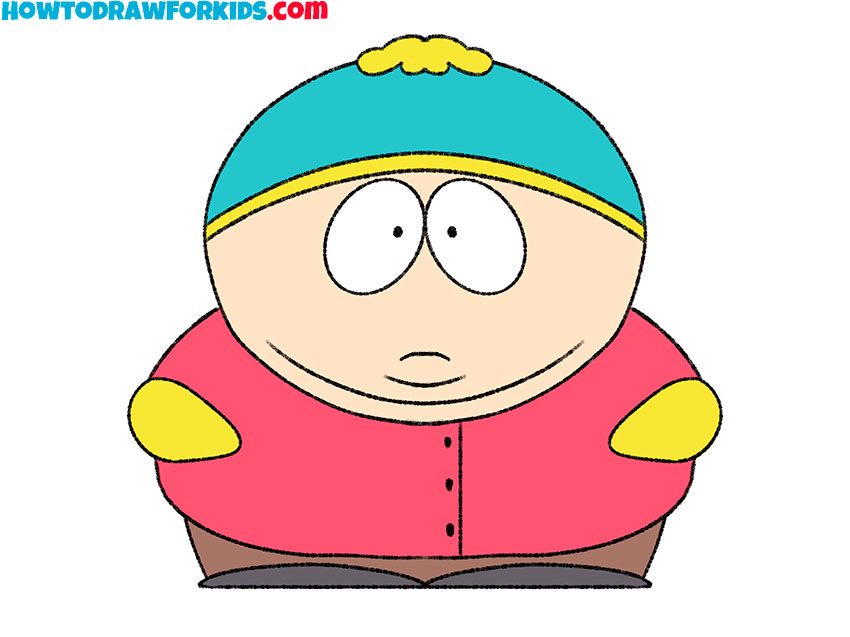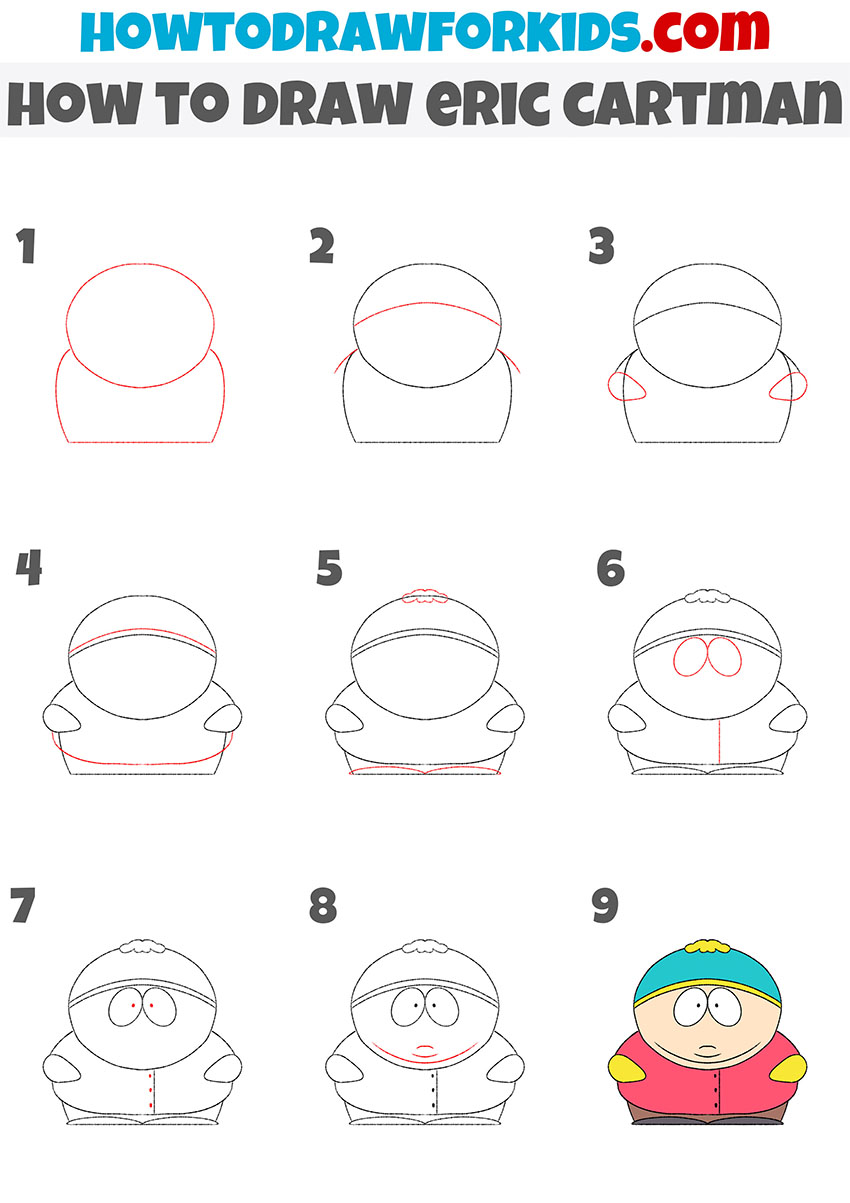 Table of Contents
Basic Information on How to Draw Eric Cartman
In this how to draw Eric Cartman guide, we'll delve into the animated world and bring to life one of its most iconic characters. Capturing Cartman's signature look is all about mastering the balance between his exaggerated features and his classic expressions.
We begin with broad, rounded shapes that form the foundation of his body, reflecting Cartman's larger-than-life persona. Pay special attention to the proportions—Cartman's head is large compared to his body, which is a hallmark of his design.
As we sketch, we'll also focus on Cartman's trademark beanie hat and his bright, button-like eyes that convey a wide range of emotions, from mischievous to downright devious. His small mouth and thick, mitt-like hands are essential to getting his character just right.
Each step in this Eric Cartman drawing will add layers to Cartman's personality, inviting you to explore line weight, shadow, and texture. So, grab your drawing tools and unleash your inner caricature artists to create a masterpiece of Cartman, full of attitude and ready to jump off the page.
Materials
Pencil
Paper
Eraser
Coloring supplies
Steps on How to Draw Eric Cartman
Time needed: 30 minutes
How to Draw Eric Cartman
Sketch the head and torso.

To draw the foundation for the Eric Cartman head, start by drawing a large oval shape. Next, beneath the head, draw another oval for the body, matching the example in size and proportion.

Depict the shoulders and outline of the hat.

Add short lines at the top sides of the body oval to draw the shoulders. On the head oval, add a curved line to indicate the division between the face and the top of the head.

Draw the Eric Cartman arms.

On each side of the body, add two short shapes to represent the arms. Ensure that these shapes are simple and proportional, mirroring each other.

Detail the clothes.

Draw a smooth, curved line at the bottom of the body oval to define the lower edge of the jacket. Add another curved line across the head oval to further detail the hat's brim.

Draw the shoes and pompom on the hat.

At the bottom of the torso oval, sketch two curved lines to draw the Eric Cartman shoes. Above the hat's brim line on the head, draw a jagged line to represent the fluffy pompom.

Draw the Eric Cartman eyes and element of the clothing.

Depict two oval shapes within the face to create the eyes. Then, add a straight vertical line on the oval of the body to delineate the jacket's opening.

Sketch out the pupils and buttons.

Inside each eye oval, place the small dot to represent the pupils. Then, draw three large dots vertically along the center line of the jacket to depict buttons.

Add details.

Draw curved lines of varying sizes at the lower part of the face to form the mouth and chin details. Make these lines smooth and contouring to the shape of the face.

Color the Eric Cartman drawing.

Select vibrant colors to fill in the Eric Cartman drawing: color the hat teal with a yellow trim, the jacket bright red with yellow gloves, and the pants brown.
Additional Content
I've prepared a PDF file that contains a condensed version of this drawing lesson, and I'm excited to share that it's completely free. Moreover, once you download the file, you can enjoy drawing even if you're offline, so you're not dependent on an internet connection.
This way, furthermore, you can practice your drawing skills anytime, anywhere. Additionally, this PDF is designed to be print-friendly, so you can easily have a physical copy to refer to.
Also, I've made sure that the steps are clear and easy to follow. Lastly, I hope this resource helps you improve your drawing skills and brings you joy in creating art.
Technical Nuances
These technical nuances will help you accurately capture the iconic character of Eric Cartman when drawing this character. Here's a brief summary of key points to keep in mind.
Start with a clean, smooth paper that won't smudge your lines as you sketch the Eric Cartman drawing.
Use a pencil with a good eraser, as you might need to make adjustments when you draw Eric Cartman.
Ensure that your initial outlines are light, so they can be easily modified or erased if necessary.
Be patient with your strokes; take your time to get the curves of Eric Cartman figure just right.
Pay attention to the proportions, especially when you draw Eric Cartman head and body, to maintain his characteristic appearance.
Add details gradually; don't rush into the final touches before the basic shapes are in place.
Remember that practice is paramount. Each Eric Cartman drawing you complete is a step forward in honing your skills. So, moreover, keep at it, and additionally, don't be discouraged by any mistakes—they're just learning opportunities.
Conclusion
In wrapping up this drawing lesson, I've walked you through each step to create an Eric Cartman drawing that captures his classic look. Firstly, starting with basic shapes allowed us to build a solid foundation.
Then, adding details brought the character closer to life. Furthermore, emphasizing the technical nuances ensured that the Eric Cartman drawing remained true to the character's iconic appearance.
Finally, I hope that through this lesson, your skills in creating an Eric Cartman drawing have grown and that you've found joy in the art of drawing. Keep practicing, and remember that each line you draw contributes to your journey as an artist.
Be sure to follow me on social media for more tips and updates, and check out my website for a variety of drawing lessons, including characters from "South Park"!