Now I want to show you how to draw Sub-Zero. With this simple instruction, you will once again train your skills in drawing characters.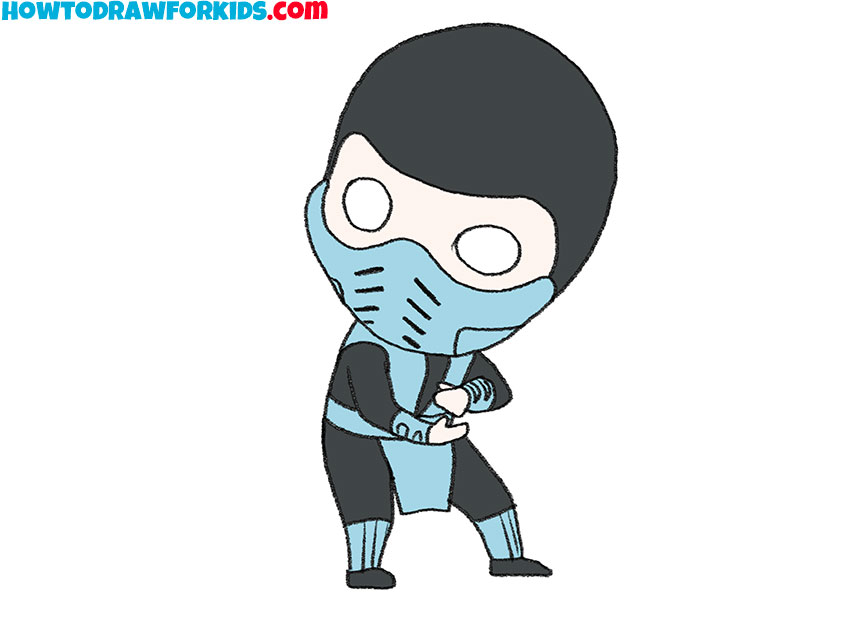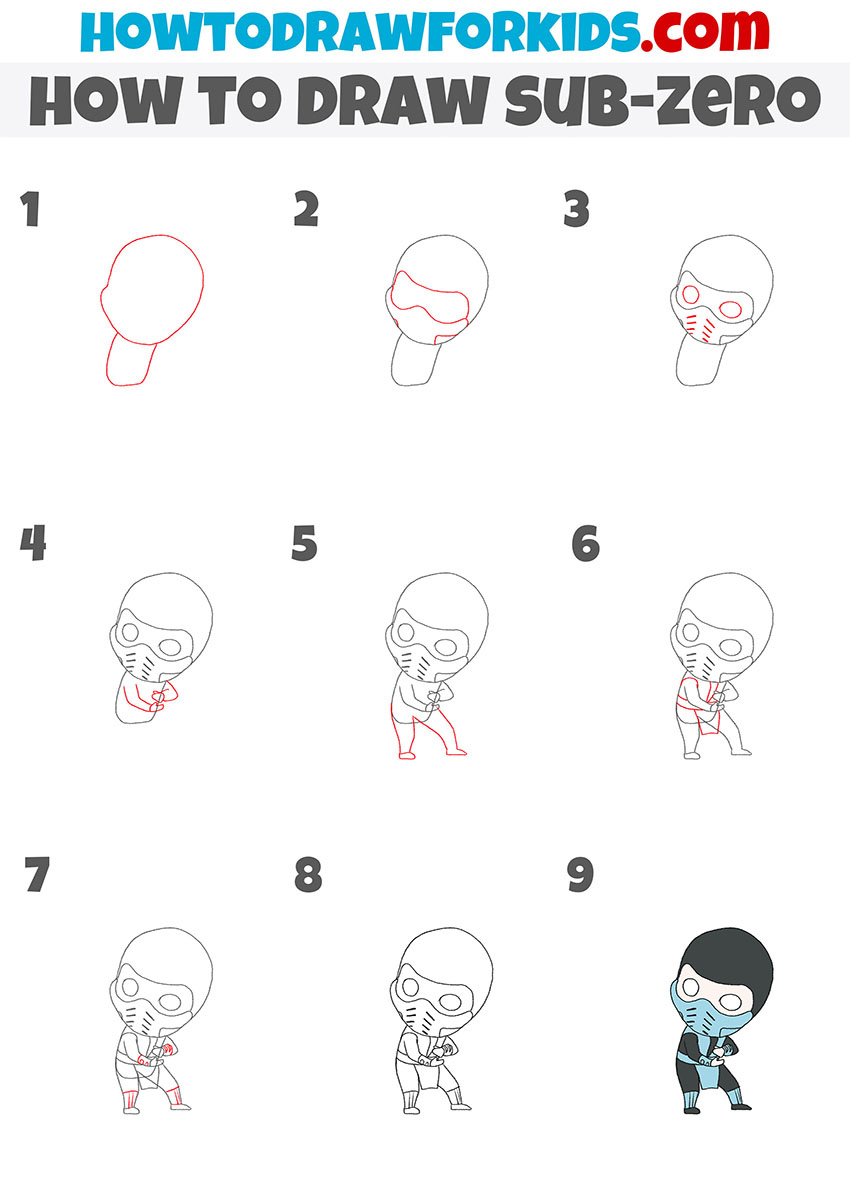 So, I invite you to a new, exciting drawing lesson in which you will learn how to draw Sub-Zero. He is a fictional playable character from the Mortal Kombat series. He appears in every game in the series. Sub-Zero also appears in Mortal Kombat: Defenders of the Earth and other popular TV shows. This is a strong and agile ninja who is excellent at martial arts.
Sub-Zero has an innate ability to control ice in various ways. Sub-Zero is dressed in a special combat suit and wears a mask over his face. In this tutorial, Sub-Zero is presented in the chibi style and has all the features that are characteristic of this style. As you can see, the character has a large head and a relatively small torso, very short limbs, yet the character is very recognizable.
So, I think that you want to quickly start the lesson. If you have all the art supplies at the ready, then you can begin work.
Materials
Pencil
Paper
Eraser
Coloring supplies
Time needed: 30 minutes
How to Draw Sub-Zero
Draw the head and torso.

The head is in the shape of an irregular circle. At the bottom, draw the small torso.

Add the elements of the face.

Using curved lines, add the mask on the eyes and curly elements in the lower part of the face.

Depict the eyes and detail the mask.

Draw oval eyes and successively add two rows of short strokes on the front of the face.

Sketch out the arms.

Just below the head, draw two short arms in the same position as in the example.

Draw the legs.

At the bottom of the torso, add two short legs, in which the feet.

Detail the clothes.

Depict the upper part of the clothes, draw the belt and the lower part of the suit.

Detail the cuffs and legs.

On the arms and legs, add the rest of the elements of different shapes.

Correct inaccuracies.

Using the eraser, carefully remove all extra lines in the drawing.

Color the drawing.

For coloring the Sub-Zero, use blue and dark gray.
By tradition, at the end of the lesson, you can use the link and download a short version of the lesson in PDF format for free. In this file you will find simplified instructions and additional training materials. Thus, you can return to the lesson at any time and complete it again.