I am glad to offer you a lesson in which I will show you how to draw a map. This step-by-step guide will be interesting and useful for you.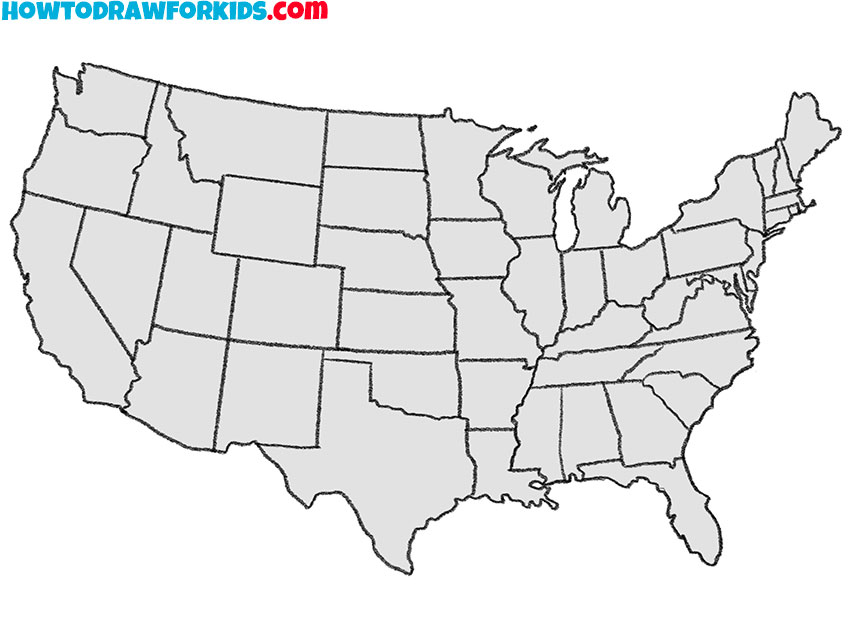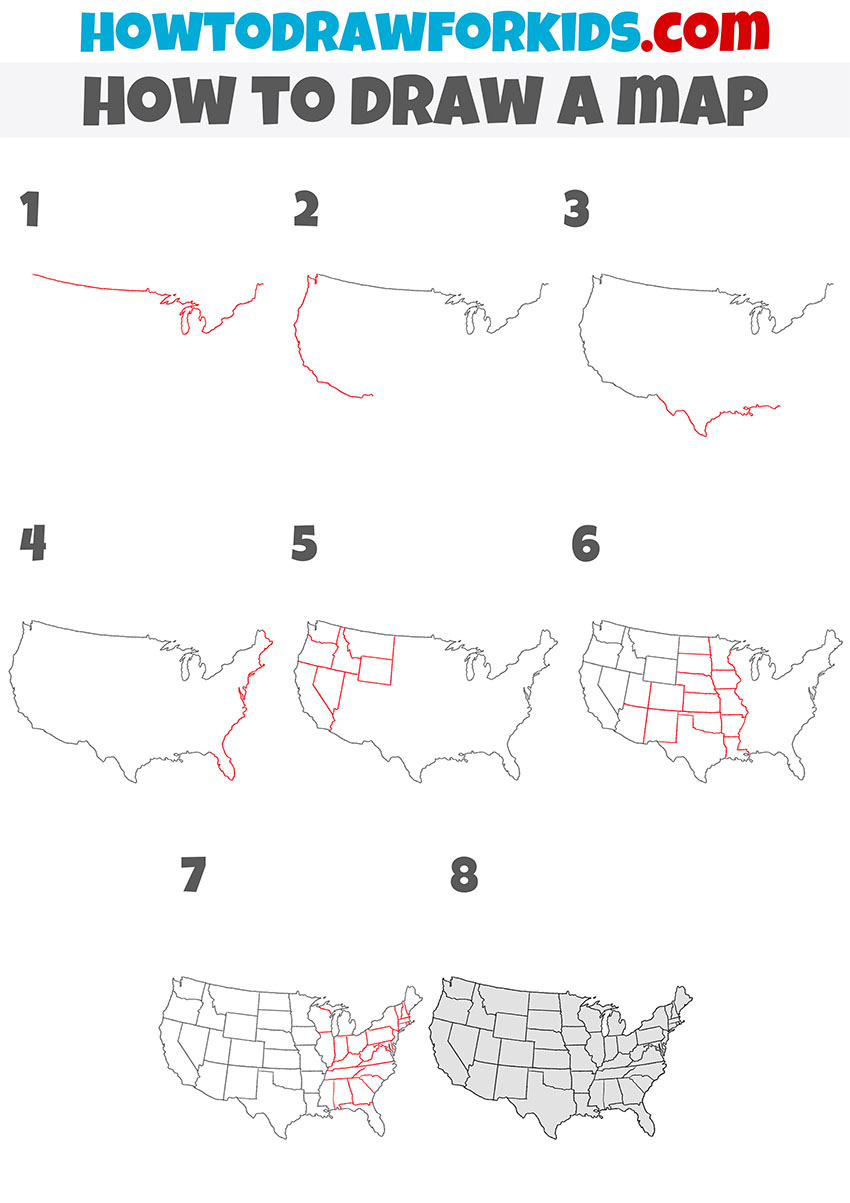 So, I suggest you complete a fascinating lesson on the topic of geographical objects, and now you will learn how to draw a map. This lesson will require patience and accuracy from you, because you must correctly depict all the objects on the map. Be very careful at every stage of drawing and try to draw the same lines as in the example.
So, now you have to draw a map of the state, which is located in North America. The main territory of the United States is formed by 48 states, which are located in the central part of North America. The 49th state is located in the northwest of North America, while the 50th state is located in the central Pacific Ocean.
In the figure, you see a simple geographic map, on which only state borders and the borders of individual states are indicated. This map does not include geographic data such as city names, mountains, rivers, roads, and other features.
You have a difficult task ahead of you, but I hope that you will cope with it if you are careful and careful. Take your time during the lesson, be attentive to details, and keep all proportions. To color the card, you can use the same color that is suggested in the instructions or any other color of your choice.
Materials
Pencil
Paper
Eraser
Coloring supplies
Time needed: 30 minutes
How to Draw a Map
Draw the top of the map.

Depict a straight line and add curved lines to represent the northern state line.

Add the western part.

On the left side, draw an uneven semicircular line, which is a continuation of the top line.

Depict the southern border.

At the bottom, continue the line and draw the bottom of the map.

Sketch out the east part.

On the right, draw an uneven line to end up with a closed path.

Start drawing state lines.

On the left side, draw several states using straight and curved lines.

Draw the state lines in the center of the map.

Repeat the previous step and depict several states using straight and jagged lines.

Add the rest of the states.

Now fill on the right side of the map and carefully draw the borders of the rest of the states.

Color the map.

For coloring, choose a light gray.
Finally, I suggest you download a short version of the lesson as a PDF file for free. This file contains simplified instructions and some additional materials with which you can complete the lesson at any convenient time.