In this drawing lesson, you will learn how to draw an American flag. This tutorial will be very useful for you!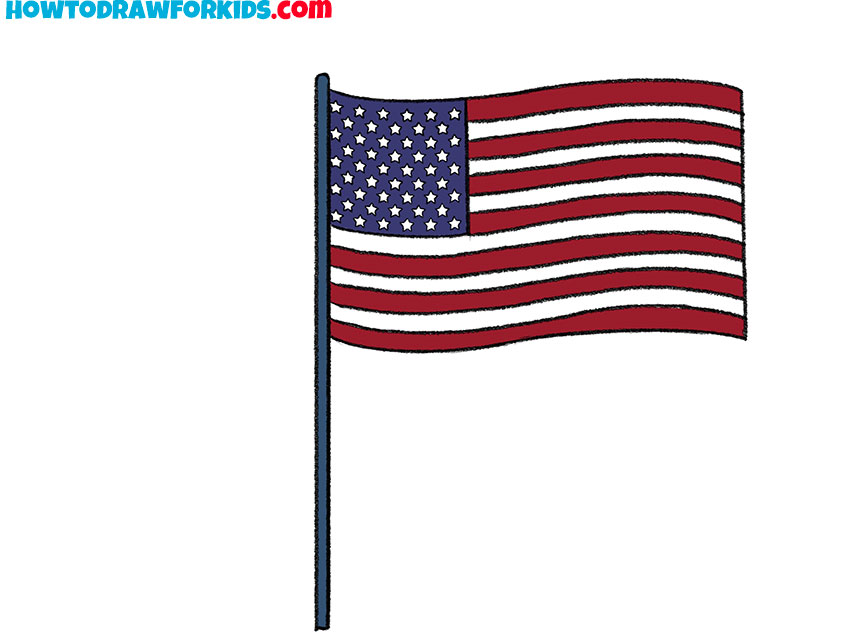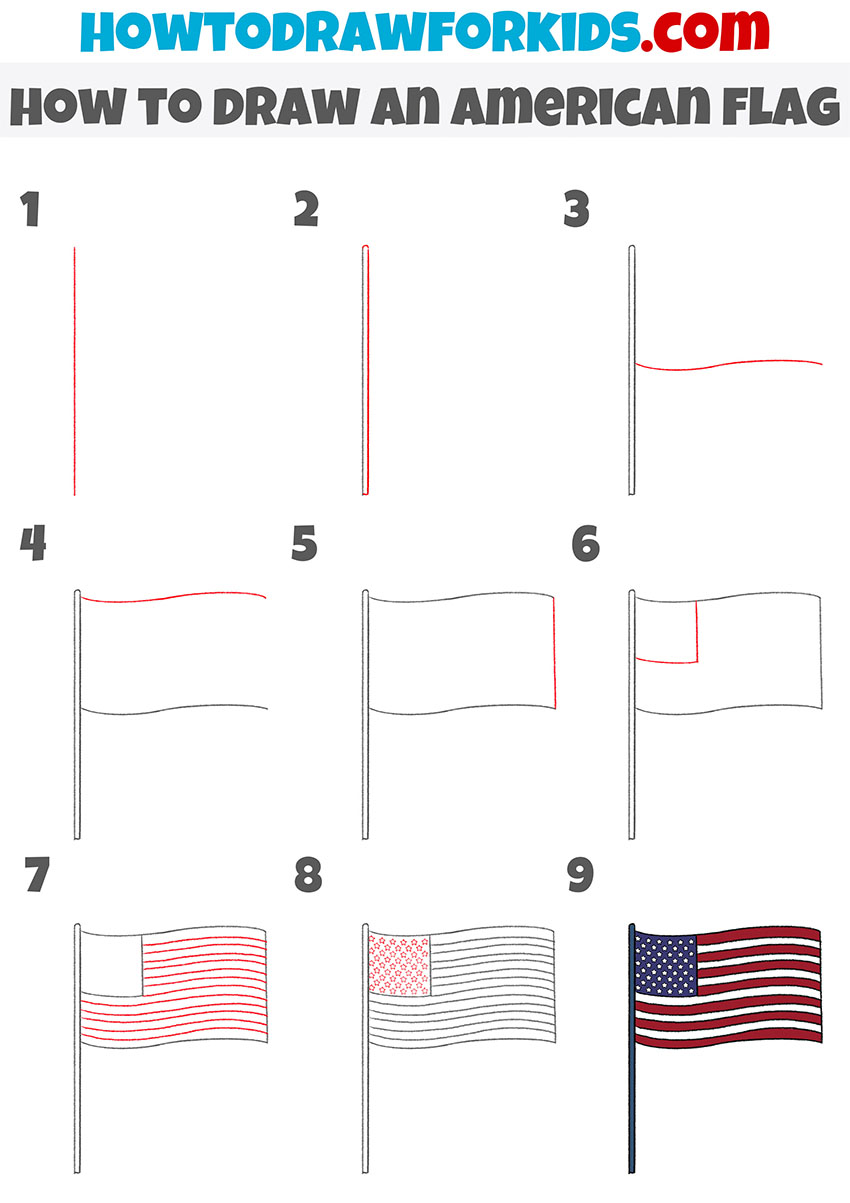 Learn how to draw an American flag quickly and easily with this step-by-step tutorial in just nine steps. I'm sure each of you knows what the American flag looks like. The flag of the United States of America is the national flag of the United States. It consists of thirteen equal horizontal stripes of red alternating with white, with a blue rectangle in the canton bearing fifty small, white, five-pointed stars arranged in nine offset horizontal rows, where rows of six stars alternate with rows of five stars.
The 50 stars on the flag represent the 50 U.S. states, and the 13 stripes represent the thirteen British colonies that declared independence from the Kingdom of Great Britain and became the first states in the U.S.
I think you were wondering about this information about the flag if you didn't know it before. I promise that it will be easy for you to do this drawing lesson because it is created especially for children and beginners. Prepare your drawing materials and have a great time drawing the American flag!
Materials
Pencil
Paper
Eraser
Coloring supplies
Time needed: 20 minutes
How to Draw an American Flag
Start drawing the flagpole.

To do this very simple step, you have to draw just one straight vertical line.

Complete the drawing of the flagpole.

Add another straight vertical line parallel to the previously drawn one and connect their ends.

Draw the bottom outline of the flag.

From the middle of the previously drawn line draw a curved wavy line.

Add the top outline of the flag.

Draw another curved line like the one in the previous step, placing it at the top of the flag.

Depict the side outline of the flag.

On the right side, connect the ends of the two previously drawn lines with a straight line.

Start drawing the pattern on the flag.

Depict a figure that looks like an angle with one curved side in the upper left corner of the flag.

Add the stripes on the flag.

Outline many curved lines of two different lengths on the flag.

Draw the stars.

To complete the drawing of the flag pattern, draw the stars in the top left corner of it.

Color the drawing.

To color this drawing, you should use blue and red.
This drawing lesson is over. For your convenience, I have prepared a PDF file with a short version of this guide. Download the file and complete the drawing lesson at any time.