Flip a coin and find out your fate is the main motto of this character. In this tutorial, I would like to show you how to draw Two-Face.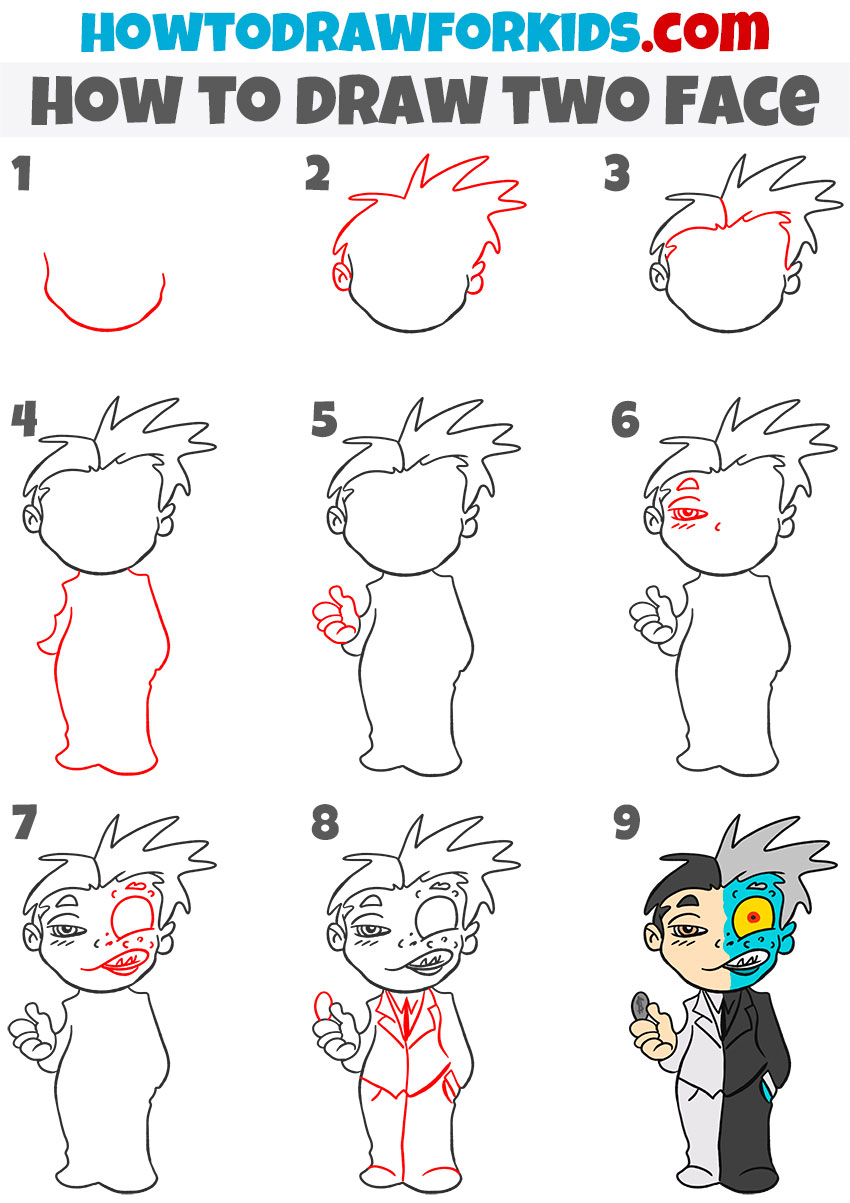 In this tutorial, I will show you how to draw Two-Face. I am sure that this lesson will be very exciting for you! You can easily cope with this task, even if you have no experience as an artist.
Two-Face is a comic book hero. This character is one of the most dangerous villains. Two-Face did not possess any supernatural powers, but his decisions were unpredictable and because of this, he was very dangerous.
Despite the fact that this character is negative, you will be able to draw a bright and beautiful drawing.
So, let's get down to the Two-Face drawing tutorial!
Materials
Pencil
Paper
Eraser
Coloring supplies
Time needed: 22 minutes
How to Draw Two-Face
Draw the bottom outline of the head.

You can depict this element using a curved line.

Add the hair outline at the top of the head.

Follow this step according to the sample. Two-Face's hair looks tousled.

Portray the hair parting line.

Depict this element as shown in the example.

Now sketch out the outline of Two-Face's body.

Use a curved line to add this element to the picture.

Create the hand.

Detail the fingers on his hand.

Draw the eye, brow, and nose on one side of the face.

This part of the face is similar to that of an ordinary person.

Now add the second part of the face.

In this part of the face, we can see that he is a supervillain.

Portray the details of Two-Face's costume.

To do this use curved lines as shown in the picture.

Color the drawing.

Use beige, gray, black, yellow, blue, and red.
So you were able to draw Two-Face! The Two-Face drawing tutorial is over. Hope you did a great job with this task.
If you have any questions while drawing, you can ask them in the comments. Also, leave your feedback and suggest ideas for new drawing lessons step by step. Don't forget to follow us on social media.
Traditionally, I have prepared the PDF version of this tutorial for your convenience. Download this file and you can enjoy this lesson at any time convenient for you, even without an Internet connection.