Dog's houses sometimes look even much better than some people's houses. In this tutorial, I would like to show you how to draw a dog house.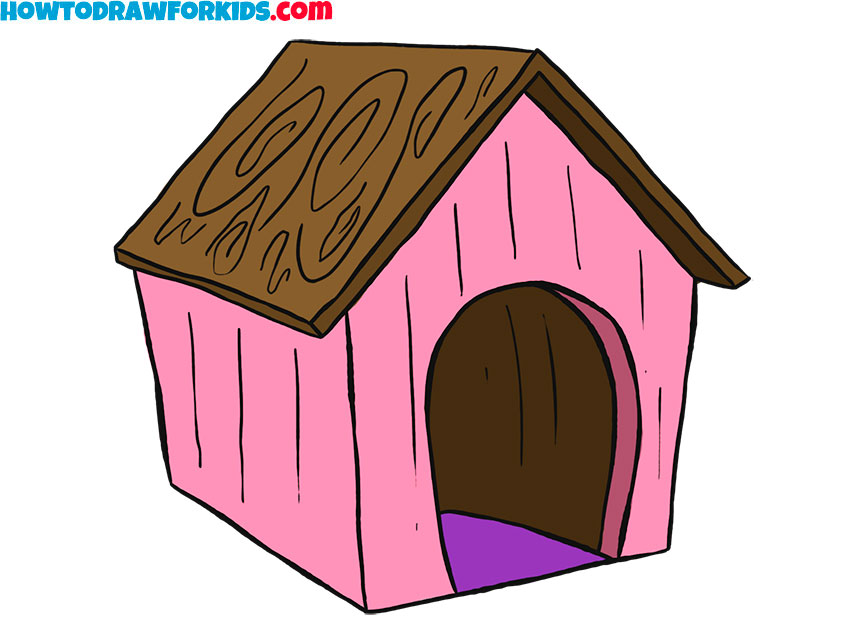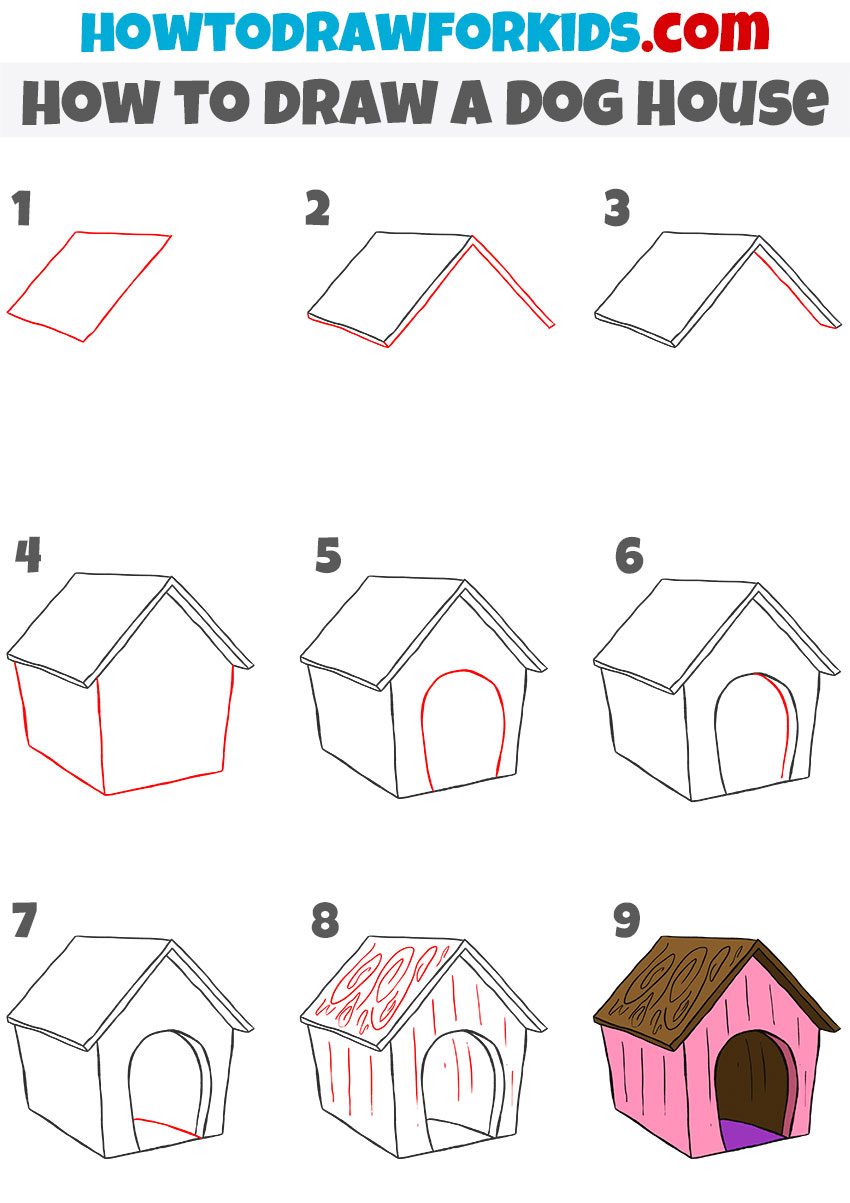 In this drawing lesson, I will tell you how to draw a dog house. I think you will enjoy this tutorial and be happy with the result of your work!
Dog's houses are usually built from wooden planks. These houses are made in the form of a box with a round or rectangular inlet. Dog's houses are most often located in the courtyard of a private house. This is a place for dogs to sleep or shelter during bad weather.
The dog house drawing tutorial consists of nine steps. I specially designed this lesson so that it can be easily completed by children and aspiring artists. To draw a dog house, you need to be able to draw straight lines.
Prepare the necessary tools and begin this lesson.
Materials
Pencil
Paper
Eraser
Coloring supplies
Time needed: 15 minutes.
How to Draw a Dog House
Portray the part of the roof of the dog house.

On the left side, draw the shape using straight lines.

Depict the second side of the roof.

To do this, you need to draw straight lines. Try to sketch this without using a ruler.

Create the inside of the roof.

To do this, you need to draw straight lines, as shown in the example.

Add the outlines of the walls.

Portray these details using straight lines. The dog house should resemble a box in its shape.

Sketch out the entrance to the booth.

You can draw this detail using a curved line.

Add the inside of the inlet.

Depict this using a curved line as shown in the picture.

Create the line for the floor.

The floor line inside the dog house should be slightly curved.

Sketch the decorative elements.

Add straight lines to the walls, and use curved lines to indicate the wood structure on the roof.

Color the drawing.

Use brown, pink, and purple colors.
The dog house drawing tutorial is over. Now you know how to draw a dog house. I hope this tutorial was useful to you and did not cause any difficulties.
If you liked this drawing lesson, you can share it with your friends. I will also be glad if you subscribe to our social networks and leave your comment on this lesson.
Traditionally, I have prepared for your convenience the PDF file. You can download this file and use it at any time convenient for you, even without the Internet.