I have prepared a new drawing tutorial for you in which you will learn how to draw a gift box. This drawing guide consists of eight quite simple steps.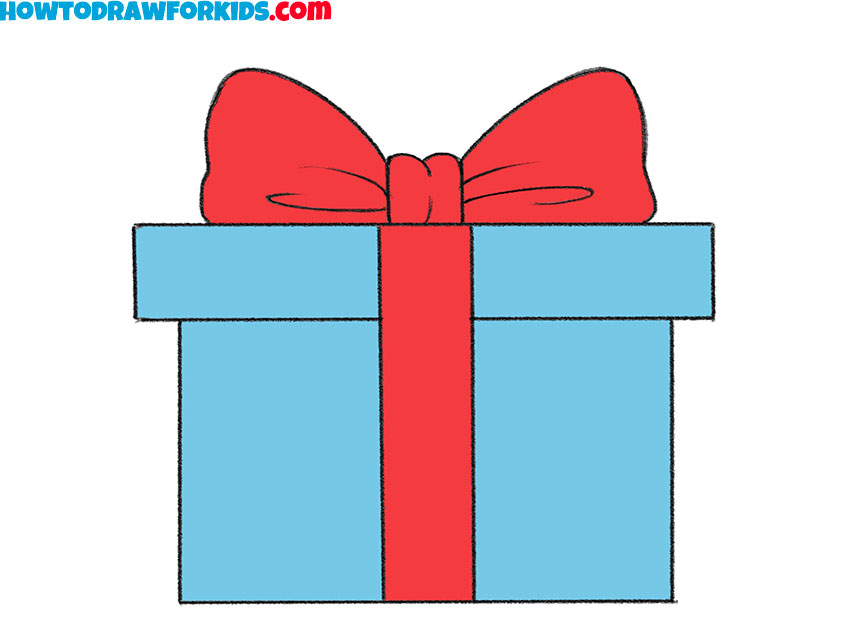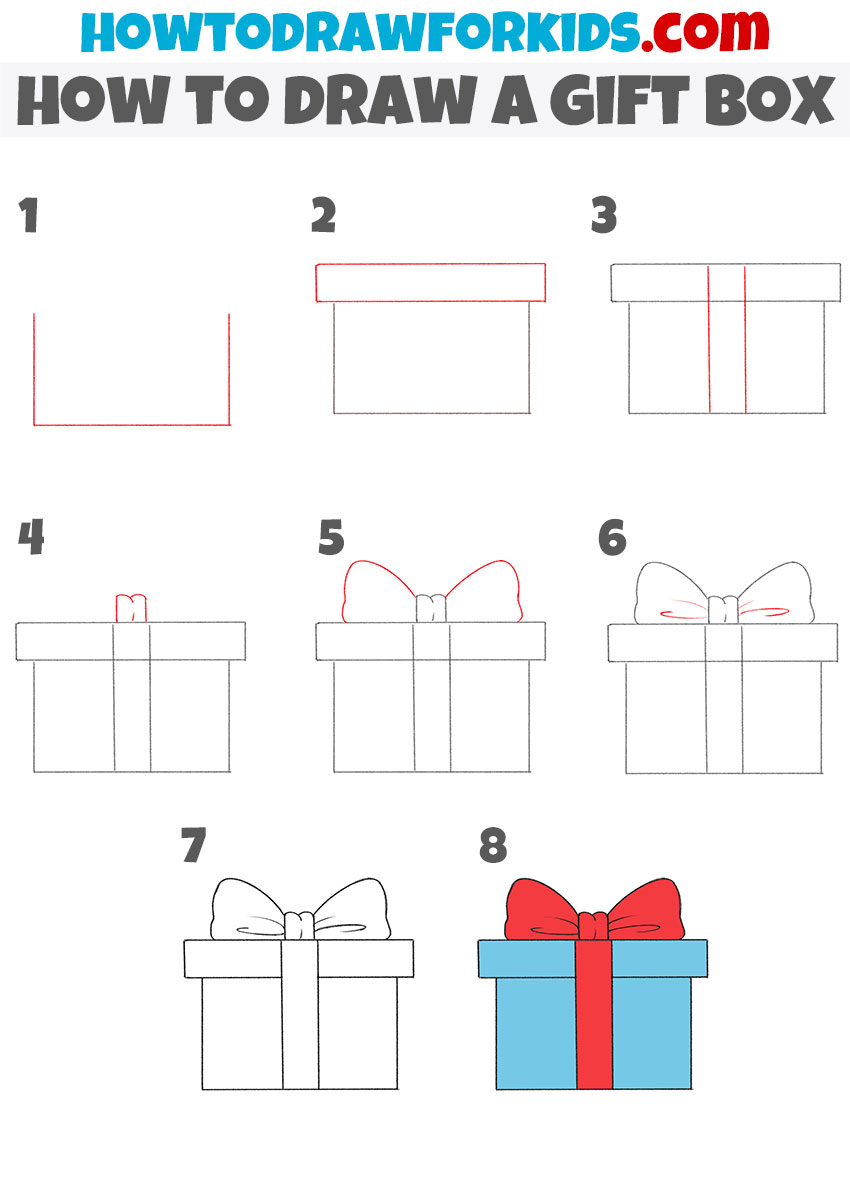 In this drawing lesson, you can learn how to draw gift box. This tutorial is adapted for aspiring artists. I'm sure you'll get in the holiday spirit by drawing this picture!
We often give gifts wrapped in a box. It' is a great way to keep your gift safe and protect it from any damage. Gift-wrapping is also an art form in which you can be creative. You can wrap the gift in a beautiful box and tie it with a colorful ribbon to make it even more pleasing to the person you are giving it to.
To draw this gift box, you need to be able to draw straight lines. Start painting and enjoy!
Materials
Pencil
Paper
Eraser
Coloring supplies
Time needed: 20 minutes
How to Draw a Gift Box
Draw the outline of the box.

To do this, draw a figure that looks like a rectangle without an upper side. Use straight lines.

Add the outline of the box lid.

Using straight lines, draw a rectangle with a long top and bottom side.

Draw the outline of the ribbon.

To draw a ribbon to tie the gift box, draw two vertical straight lines.

Start drawing the bow.

Outline the center of the bow on top of the box, using a curved line.

Add the bow loops.

Depict these parts being the same on the right and left sides.

Draw some pleats on the bow.

To make the drawing look voluminous, draw some curved lines on the bow.

Erase the auxiliary lines.

Remove any unnecessary lines from the gift box with an eraser.

Color the drawing.

Use blue to color the box and red to color the ribbon with the bow.
This drawing lesson has come to an end. Did you succeed in drawing a gift box? I hope you did a good job and are now happy with the result of your work! Subscribe to us on social networks and share the lessons that you liked the most. I have prepared a short version of this tutorial in PDF format, which you can download and use at any time convenient for you.
How to Draw a Gift Box: Alternative Method
This lesson will require your ability to draw smooth straight lines. In the process, you can use any tools at hand, or you can draw all the lines yourself. Remember the steps in sequence so that in the future you can easily draw such a gift if necessary.