I have prepared for you a new lesson on how to draw a flamingo, which consists of nine steps. This lesson will be useful and interesting for you!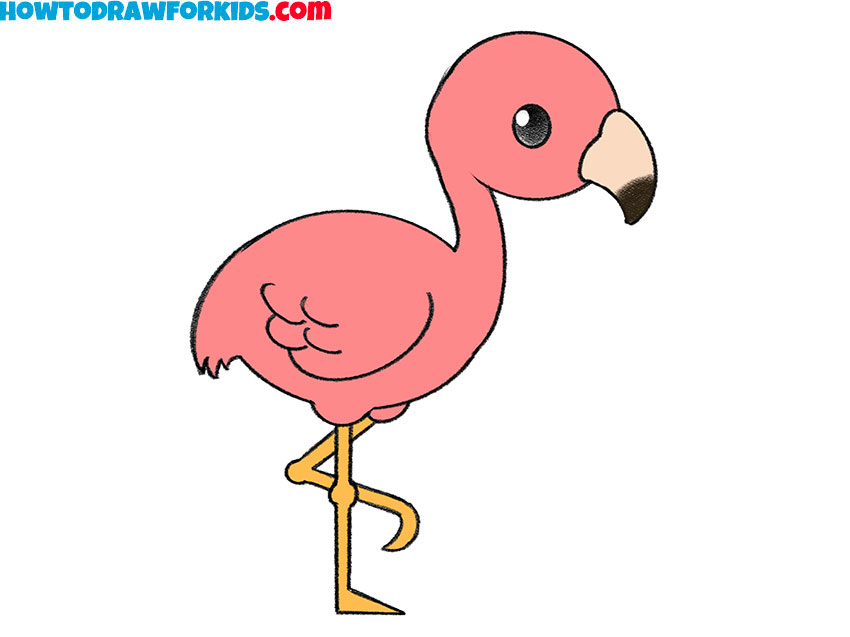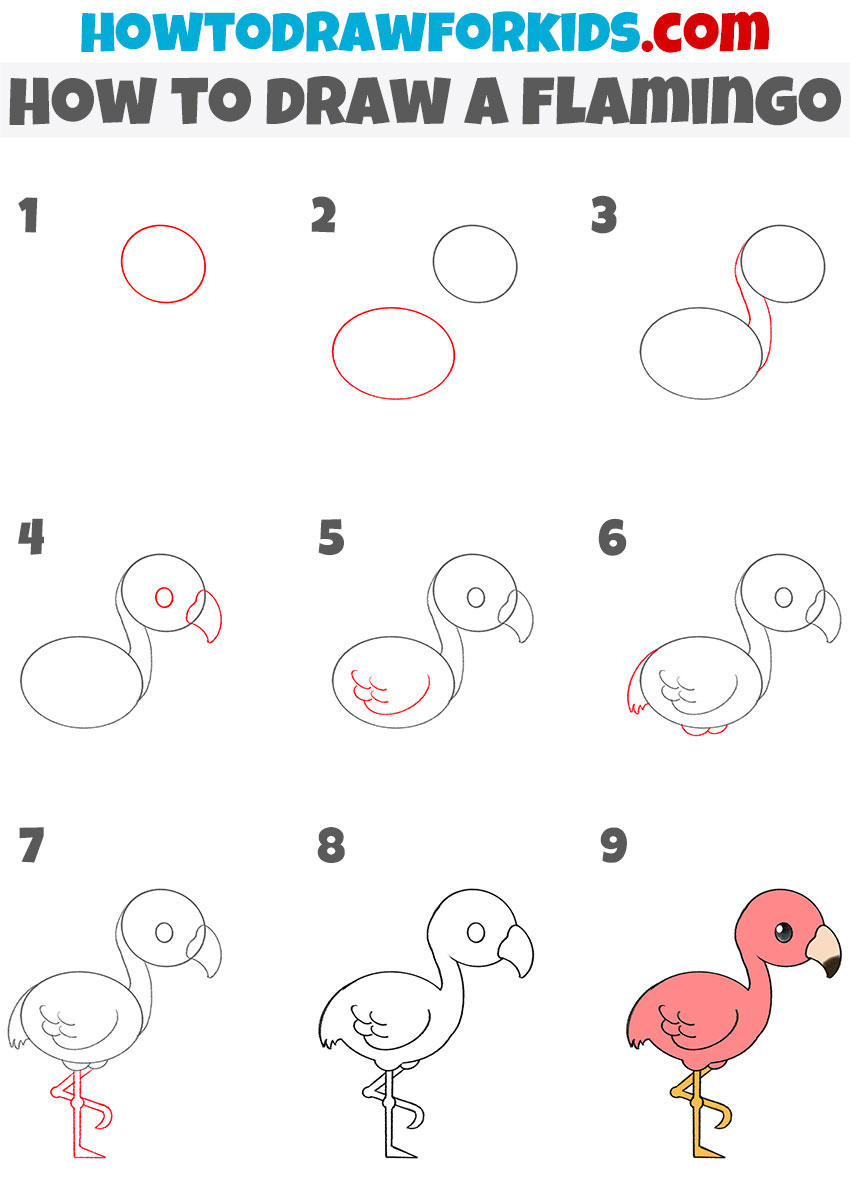 In this drawing tutorial, I will tell you how to draw a flamingo. I think you will enjoy this lesson and be happy with the result of your work! This lesson is specially developed for kids and aspiring artists.
Have you ever heard of the flamingo bird? Do you know what a flamingo looks like and where it lives? A flamingo is a large wading bird. Its defining features include a long neck, long legs, and feathers which vary in color from dark to light pink. The word «flamingo» comes from the Latin and Spanish for «fire» referring of course to their bright pink feathers. Flamingos usually stand on one leg, with the other being tucked beneath the body.
By following these simple instructions, you can easily draw a flamingo step by step. If you have already prepared all the supplies you need to draw, then you can get to work!
Materials
Pencil
Paper
Eraser
Coloring supplies
Time needed: 20 minutes
How to Draw a Flamingo
Draw the outline of a flamingo's head.

At the top of the sheet of paper, draw an oval shape with a curved line. 

Add an outline of the body.

Draw this below the flamingo's head, as a larger oval than the oval of the head.

Depict a flamingo's neck.

Use the two curved lines to connect the outline of the flamingo's head to its body.

Draw the bird's eye and beak.

Outline the flamingo's eye as a circle and also draw its beak pointed and downwards.

Add a wing.

Draw a flamingo's wing consisting of several feathers. Use rounded lines to draw these elements.

Draw the tail and underside of the flamingo's body.

To draw the tail, use a curved and zigzag line. Also, add the upper bases of the legs as semicircles.

Add the flamingo's legs.

Draw the legs long and thin, using straight and rounded lines. One of the legs looks bent.

Remove extra lines.

Use an eraser to wipe away the supporting lines on the flamingo's head and torso.

Color the drawing.

Use pink to paint the flamingo's body, yellow for the legs, beige, and black for the beak and eyes.
The step-by-step flamingo drawing lesson has come to an end. I hope you did a great job and are now happy with the result of your work. Traditionally, I have prepared a PDF file for you, which you can use whenever you feel like drawing. Download the file and enjoy a braid drawing lesson anytime.
Alternative Drawing Methods
Here you can see several more ways to draw this rare and beautiful bird. Choose any of them and write in the comments or on our social networks which one turned out to be the most optimal for you.
How to Draw a Flamingo for Kindergarten
In the picture, you see a flamingo, which is made in a cartoon style. It consists of a few simple elements. I am sure that you will easily cope with this task. It will be enough to carefully draw a few geometric shapes and complement the image of a flamingo with a few simple elements.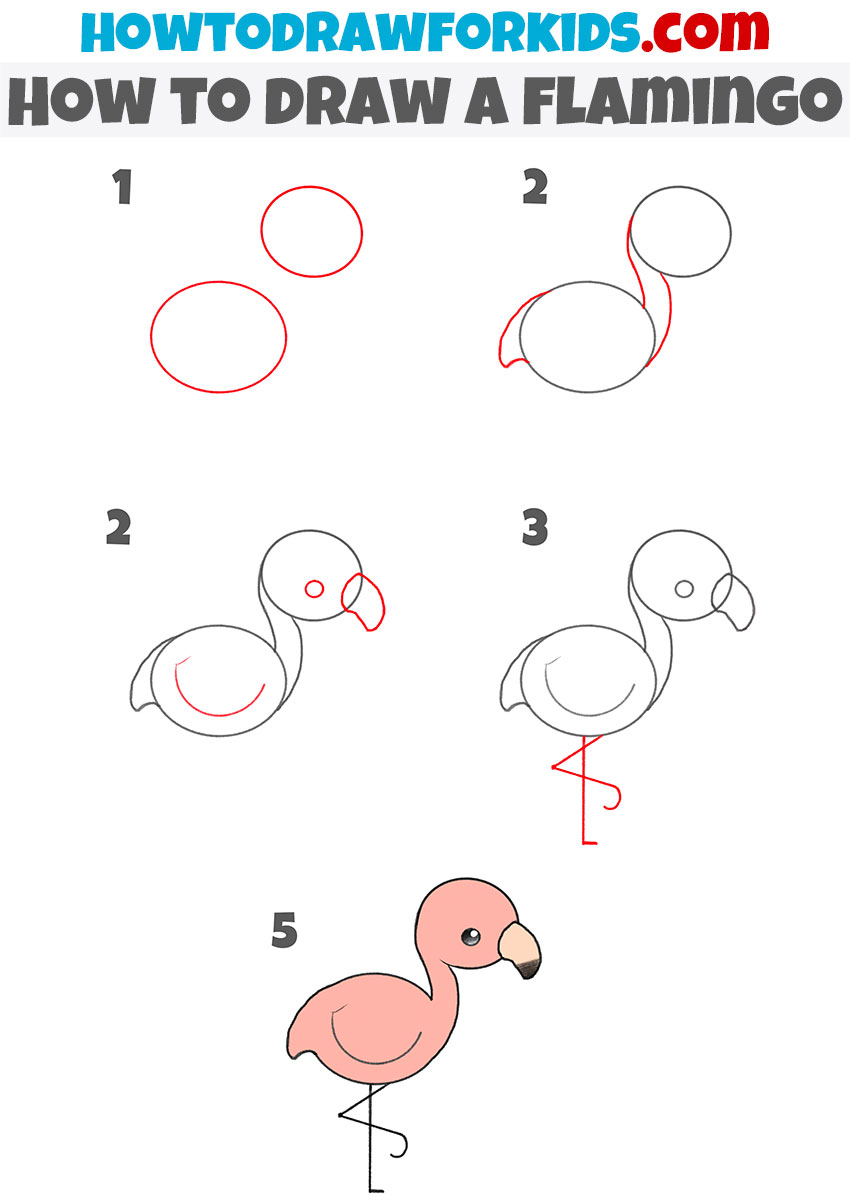 How to Draw a Flamingo Step by Step
This is a rather difficult drawing lesson, a little more difficult than the previous two. This is a rather difficult drawing lesson, a little more difficult than the previous two. This is a more mature and detailed bird. However, you can draw this flamingo if you follow the sequence of steps.