This time I have prepared for you a very interesting lesson on how to draw a forest. I hope that this lesson will be very useful for you.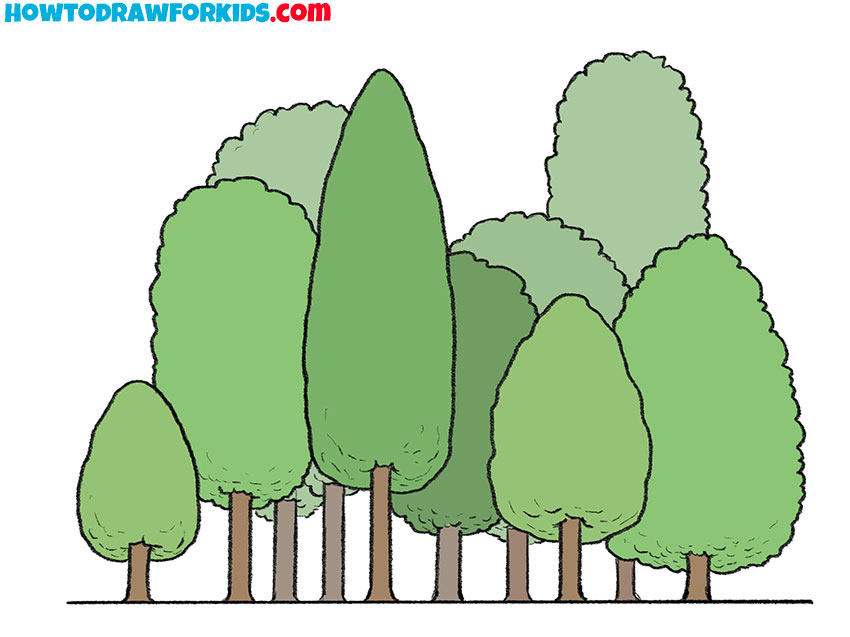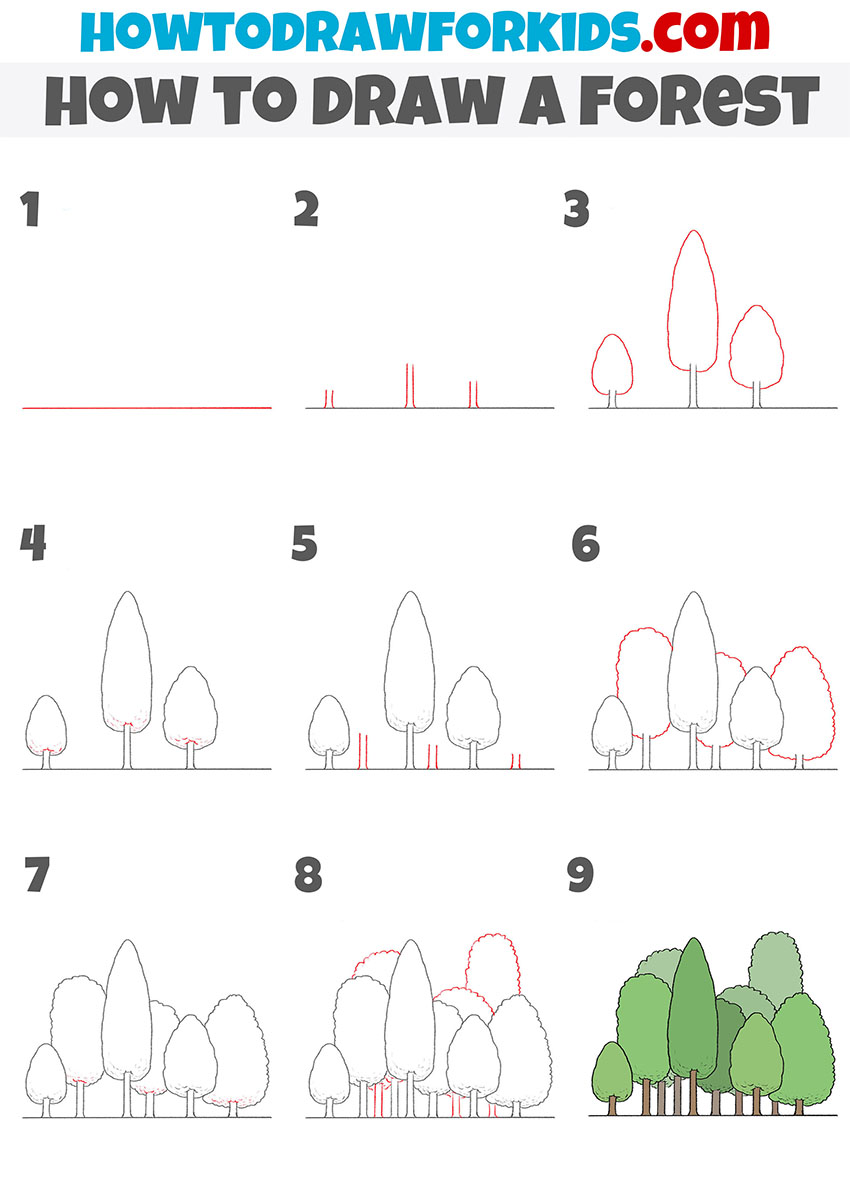 So in this tutorial, I would like to tell and show you how to draw a forest easily step by step. This lesson will be quite simple and very fun. With this step-by-step guide, you'll learn how to draw trees on their own and combine them into an overall picture to draw a forest.
Have you ever been to the forest? A forest is a large area of land planted with trees. There are many different kinds and sizes of forests. In this lesson, you will learn how to draw a deciduous forest.
Prepare your drawing materials and start drawing the forest with my instructions.
Materials
Pencil
Paper
Eraser
Coloring supplies
Time needed: 20 minutes
How to Draw a Forest
Draw the horizon line.

The first thing you need to do is draw a line on which the trees will be depicted.

Outline the trunks of the trees.

Above the previously drawn straight line depict curved lines of different sizes.

Add the tree crowns.

Above the three previously drawn trunks depict crowns of different sizes using curved lines.

Make the trees look three-dimensional.

To do this, add short curved lines at the bottom of each tree to represent leaves.

Draw a few more tree trunks.

Between the trees you drew, add a few more curved lines to draw three tree trunks.

Add the crowns of the other trees.

Above each trunk depict the tree crowns with wavy lines. Place these trees in the background.

Make these trees three-dimensional.

Add curved lines at the bottom of the crowns of these trees.

Draw some more trees.

In the background of these trees, add three more tree trunks and crowns above them.

Color the drawing.

To color the forest, use different shades of green and different shades of brown.
Great job! I'm sure you did a good job and now know how to draw a forest very well. Below you can see the PDF files I have prepared for your convenience so that you don't lose this lesson. Download this file with a short version of this tutorial so that you can return to it any time you want.
The trees here are depicted schematically and have an even vertical trunk, many short branches and a rounded crown. I hope that you will like this way of drawing and that you will be happy to complete this lesson.