Ready to make your holiday cards stand out? Learn how to draw a present with my easy, step-by-step instructions, and bring the spirit of giving to life on your canvas.
Discover the joy of gifting through art with my engaging tutorial on how to draw a present. My guide will walk you through the festive process of sketching the perfect gift, complete with a ribbon and bow. Follow my lesson to add that special touch to your festive illustrations, perfect for any celebratory occasion.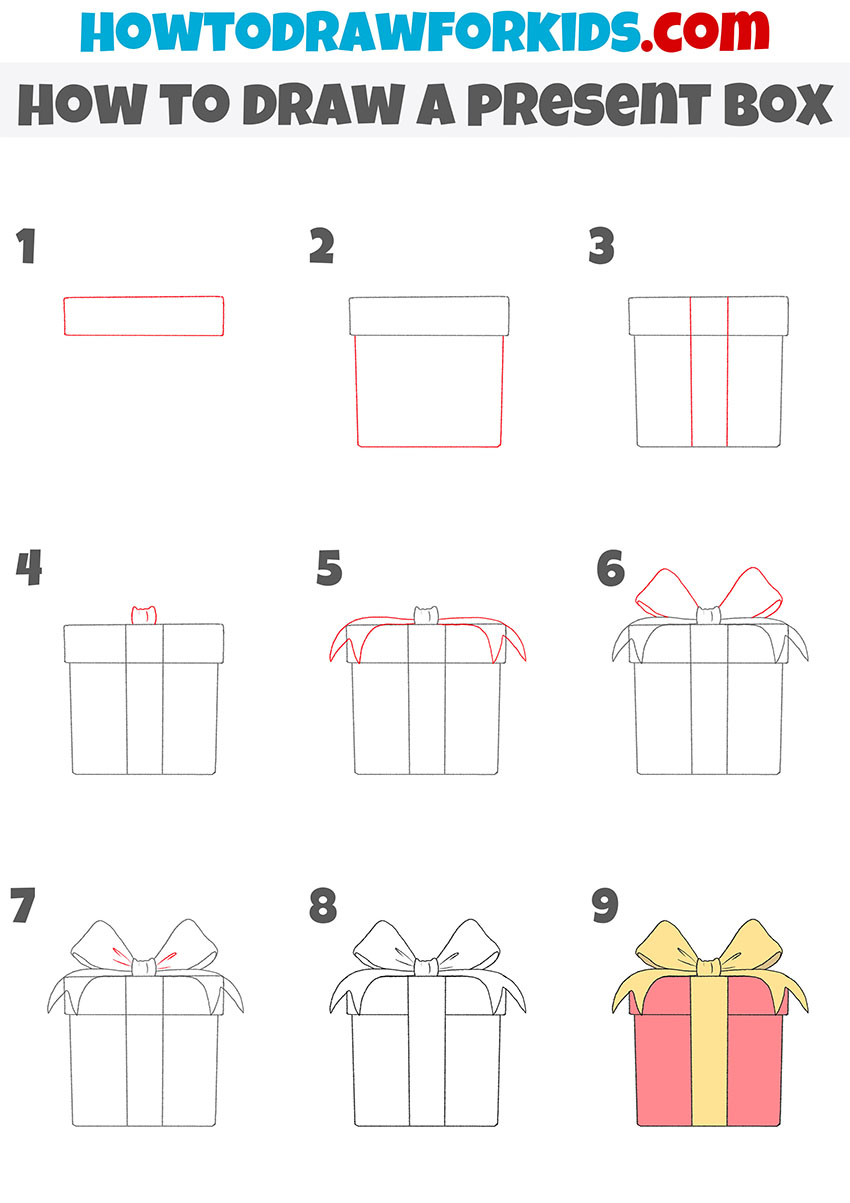 Table of Contents
How to Draw a Present: Basic Information
Get your crayons and markers ready because we're about to unwrap the secrets of how to draw a present that's just bursting with surprises! This drawing lesson is all about turning simple shapes into a fabulous gift that looks like it's straight out of a birthday bash or holiday party.
With each stroke of your pencil, you'll see how simple lines come together to draw a present that's almost too pretty to open. We'll start with a rectangle – not just any rectangle, but the base of what's going to be the best present ever.
So, step by step, we'll add layers, a lid, and that fancy ribbon on top. It's not just about the box; it's about making it pop with a big, loopy bow and lots of festive flair.
I've put together this lesson so you can learn to draw a present using my easy-peasy method. It's perfect for making a birthday card, a Christmas decoration, or just for fun anytime you feel like spreading a little cheer. So let's dive into this box of drawing joy and see what we can create!
Present Drawing Tutorial
Materials
Pencil
Paper
Eraser
Coloring supplies
Time needed: 30 minutes
How to Draw a Present
Depict the lid.

Select the drawing space size; carefully draw a lengthy, proportionate rectangle with straight lines, making it considerably longer compared to its width for the base.

Draw the main part of the present.

Add straight, precise lines to form the main part of the box. Make sure the vertical lines are parallel and the horizontal lines are level to outline a rectangular shape.

Sketch the ribbon.

In the center of the box, draw two vertical lines spaced evenly apart. So, these will represent the ribbon's edges and should be parallel to maintain the symmetry of your present drawing.

Start drawing the bow.

On top of the present's lid, draw the small bow's knot, following the shape shown in my example. This bow adds a decorative touch to the box, symbolizing a wrapped gift.

Add the ends of the ribbon.

Use curved lines to sketch the two ribbon tails on top of the box, ensuring they mirror each other to maintain symmetry. Thus, these flowing lines add a sense of realism to the bow.

Detail the bow.

Now, proceed to draw the remaining parts of the ribbon located at the top of the present box. Ensure these parts are flowing and appear to sit naturally on top of the box, as depicted in the example.

Add details.

Using fine lines, add small folds to the bow to create a realistic texture. These lines should be subtle, enhancing the bow's three-dimensional appearance without overwhelming the design.

Correct any mistakes.

Now, carefully erase any extraneous lines from your drawing and make corrections where necessary to clean up your present drawing, ensuring a polished and finished look.

Color the present drawing.

For coloring, apply vibrant pink to the main body of the box and yellow for the ribbon, or choose your own favorite colors to personalize your drawing. Use even strokes for a neat finish.
Additional Content
I've prepared a free PDF file that contains a concise version of this present drawing lesson. Additionally, by downloading this file, you can enjoy drawing anytime, even when you're offline. Furthermore, this convenience ensures that you can practice your drawing skills wherever and whenever it suits you best.
Alternative Way to Learn How to Draw a Present
I've put together another amazing drawing lesson on how to draw a present, designed to give you even more opportunities to develop your artistic talents. This new lesson is assembled with extra care to ensure that you have all the tools necessary to elevate your drawing abilities.
Present Drawing from a Side View
The second method of drawing a present is like peeking at it from the side – it's a whole new way to see it! Imagine you're sneaking up to the gift table at a party, and you tilt your head to get a better look at the presents; that's the angle we're going for.
You'll learn how each line connects to create the corners of the box and how the pretty ribbon looks like it's dancing around the corner, just waiting to be untied. So grab your pencils, and let's give that present some side-style swagger!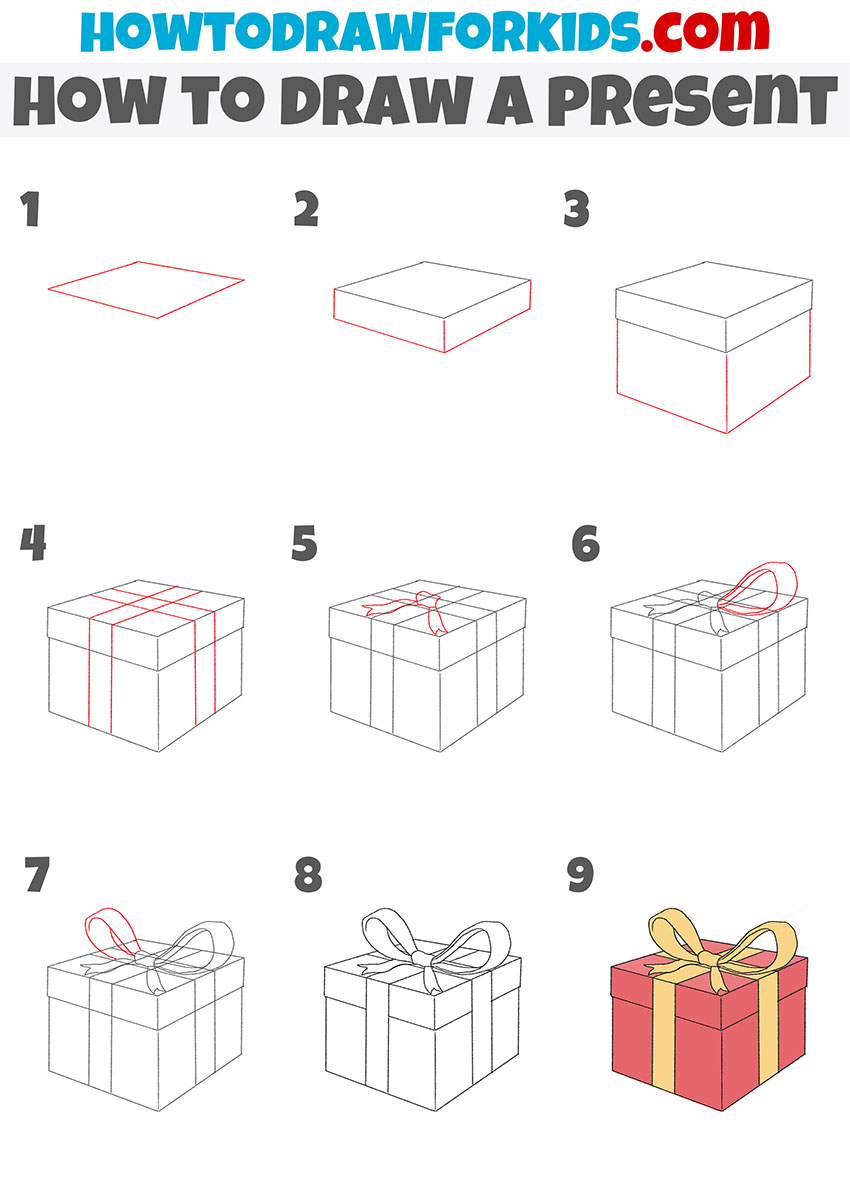 Create a Holiday Atmosphere
Drawing a present can be a joyful and creative activity. Whether you're looking to add a festive touch to a drawing or simply practice your skills, consider placing your present in various scenes to add context and charm.
Party Time: Imagine a present sitting right in the middle of a birthday bash! It could be next to a giant cake with candles that reach the sky, surrounded by balloons that look like they're ready to dance in the air.
Winter Wonderland: How about drawing a present snug under a Christmas tree, wrapped in the shiniest paper? Picture the tree lights twinkling like little stars, with stockings filled with treats hanging by a warm, crackling fireplace.
Lovey-Dovey Anniversary: Draw a tiny present on a table set for two, with sparkling dishes and a vase with the reddest roses you've ever seen. It's like a secret gift on a very special date!
Welcome Baby Party: A present at a baby shower could be as cute as a button! Place it among fluffy clouds and baby toys, with colors so soft and gentle, just like a baby's laugh.
Wedding Bells: Or maybe sketch a present on a table at a wedding, where it's all about love and happiness. Add some ribbons and lace, and don't forget the "Happily Ever After" sign!
Isn't it exciting to think about all the stories your present box can tell? Every time you add it to a drawing, it's like you're whispering a secret story that brings your drawing to life.
So, to create beautiful holiday pictures you can use my drawing lessons!
Conclusion
And just like that, you've stepped through the doors of creativity and finished a present drawing! Moreover, this is just the beginning of our fun-filled artistic journey. There's a whole world of festive drawing lessons waiting for you – from twinkling stars to the jolliest Santa you can imagine!
Furthermore, if you enjoyed this present drawing adventure, you'll be thrilled to know that there are many more where this came from. So why not dive into my other holiday-themed drawing lessons? They're just as fun and full of cheer!
Additionally, to make sure you're always in the loop and never miss out on any new drawing escapades, go ahead and follow me on social media. It's the place to be for the latest updates, tips, and tricks that will make your drawings stand out.
Lastly, remember that every time you pick up a pencil, you're not just drawing; you're creating little sparks of joy. So keep those sparks flying and your imagination soaring!