I suggest you complete a very useful drawing lesson, in which I will tell you how to draw a present step by step.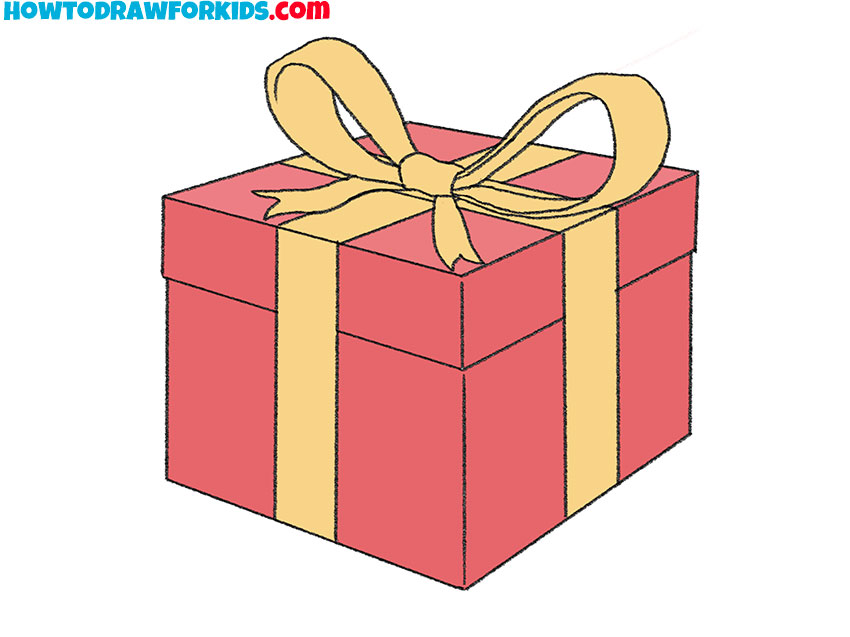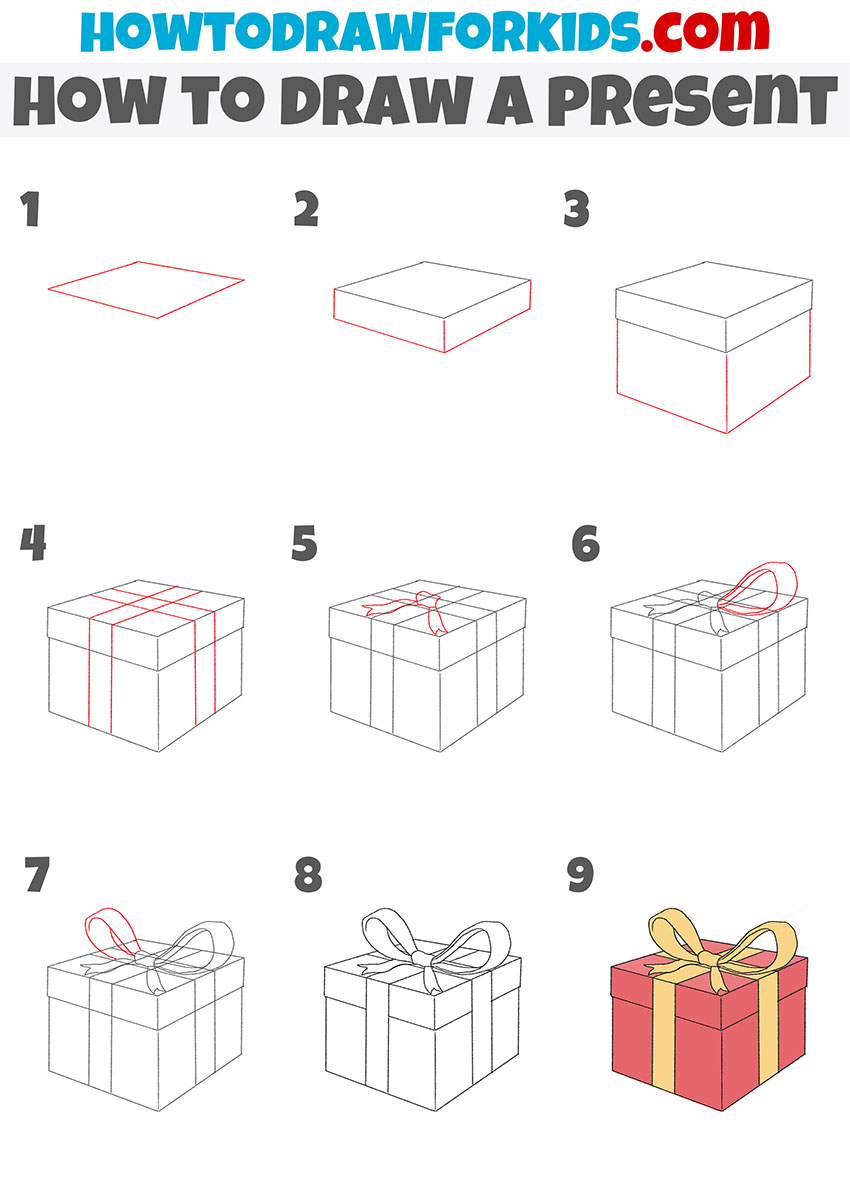 So, I have prepared for you a great drawing lesson with which you can learn how to draw a present step by step. Doing this tutorial is sure to lift your spirits as well as help you develop your artistic skills. In order to complete this drawing lesson well, you should be able to draw straight lines. To make your drawing more beautiful, you can use a ruler when necessary.
I am sure that each of you loves gifts very much. We usually associate gifts with Christmas or birthdays. We give gifts to our relatives and close people to give them pleasant emotions and memories, as well as to present some desired or useful thing. By learning how to draw a gift with the help of this instruction, you will be able to decorate your Christmas card with this image. For example, you can draw a Christmas tree, and then draw gifts near it in the form shown in this instruction.
Usually gifts in a red box with a gold ribbon look the most beautiful and festive, but if you wish, you can use other colors to color this picture. So, if you are ready to start this beautiful drawing lesson, you should prepare all the necessary art supplies, and then carefully follow my instructions and enjoy your creativity.
Materials
Pencil
Paper
Eraser
Coloring supplies
Time needed: 30 minutes.
How to Draw a Present
Draw the top face of the gift lid.

To depict this figure, you should draw four straight lines.

Depict the side and bottom faces of the box lid.

Add straight lines down from the corners of the drawn shape, and connect the ends with lines.

Add the bottom of the box.

You should draw three straight vertical lines and connect their ends with two straight lines.

Sketch out the ribbon on the gift.

Now you need to draw straight vertical and diagonal lines as shown in the picture.

Start drawing the bow.

At the top of the gift, draw a few curved lines to draw the knot and ribbons.

Draw one bow loop.

Near the previously drawn knot, draw curved lines to draw the loop of the bow on the right.

Add the second bow loop.

Now you need to draw some curved lines from the left side of the bow knot.

Prepare the drawing for coloring.

Before coloring the gift, remove unnecessary auxiliary lines with the eraser.

Color the drawing.

To color the present, use red and yellow.
You can also offer your ideas for future drawing lessons. Download the PDF file, which contains a short version of this lesson, as well as additional useful materials for you.