Perhaps you think that drawing a dog's face is very difficult? No, it's pretty simple. Now I will show you how to draw a Yorkie face.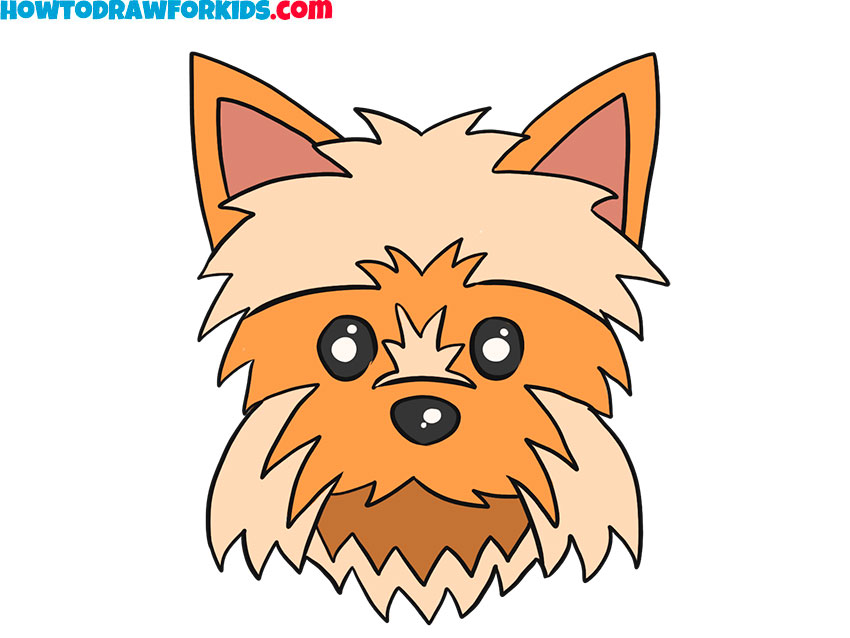 I welcome all novice artists and animal lovers to another interesting drawing tutorial. In this tutorial, I will show you how to draw a Yorkie face. Yorkshire Terrier is one of the smallest dog breeds. These dogs are very popular and many animal lovers keep a Yorkie at home. York has a charming appearance. This dog is affectionate, intelligent, friendly, and loyal to its owner. The Yorkie is a good friend for the kids because you can have fun with this dog. Such a small dog looks very much like a living toy.
In this tutorial, you will learn how to draw a Yorkie face. A distinctive feature of this breed of dog is the long, thin, shiny coat on the muzzle. Sometimes Yorkies do different haircuts and give their muzzle a certain shape. This is what you must show in your drawing. Here the wool is slightly trimmed and sticks out on the sides. The coat has several shades of brown.
In this tutorial, you will draw the dog's fur using zigzag lines.
Materials
Pencil
Paper
Eraser
Coloring supplies
Time needed: 17 minutes.
How to Draw a Yorkie Face
Draw the outline of the head.

To do this, draw a zigzag line of the same shape as in the example.

Depict the ears.

The ears are shaped like small triangles.

Detail the coat color.

Use zigzag lines to mark the boundaries where the color of the coat differs.

Add the details of the face.

Draw the eyes in small circles. Create a small nose and highlight the chin.

Color the Yorkie.

Use several shades of brown. Add highlights on the eyes and nose.
Now you know how to draw a Yorkie face. By the same principle, you can draw other animals that have long hair on their faces.
I hope that you did a great job with this assignment and that you enjoy the result of the work. I will wait for your feedback in the form of questions and comments. Share your opinion, and I will take into account all your wishes in my next lessons.
Especially for you, I have prepared a PDF file with a short version of the Yorkie face drawing tutorial. This is for your convenience. Download the file and draw at any convenient time, even when there is no Internet access.