Today you will learn how to draw a horseshoe. I am sure that this lesson will be interesting and useful for any aspiring artist.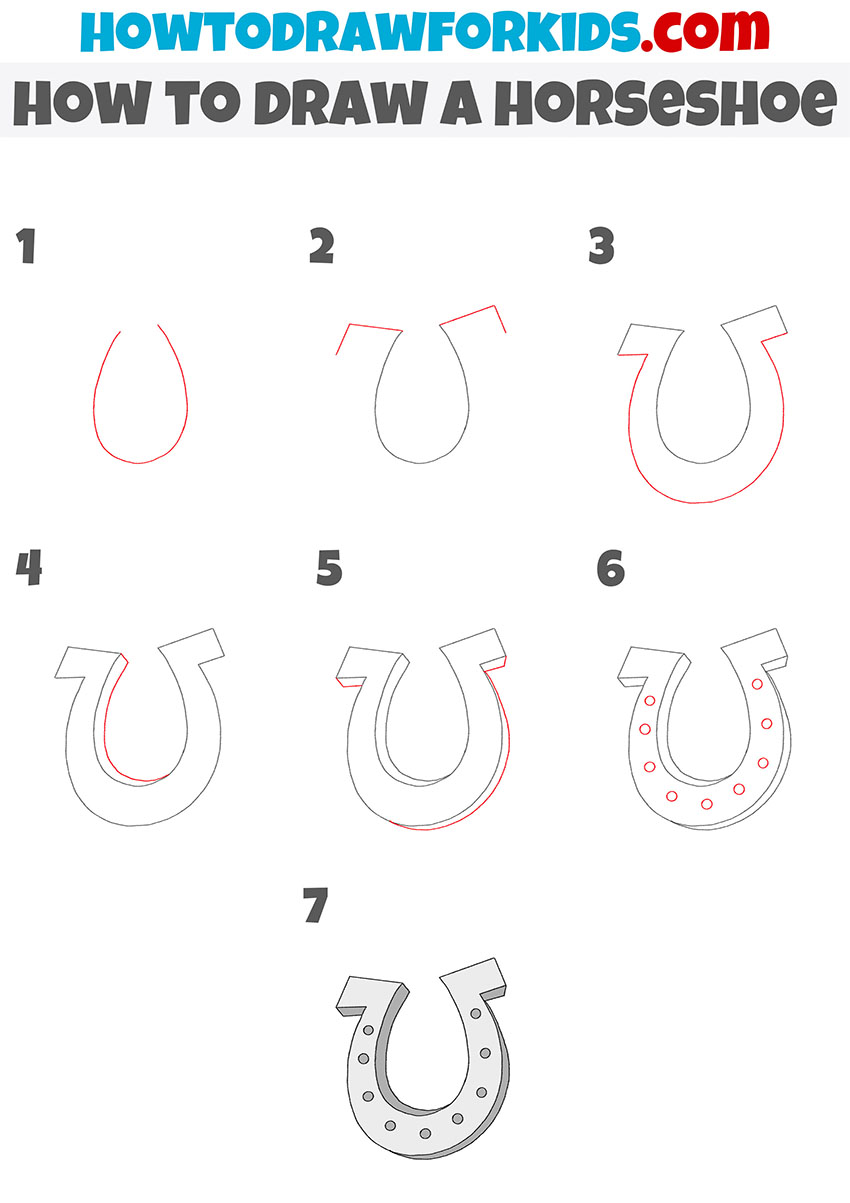 So, now I will show you in detail how to draw a horseshoe step by step. This is a great object for drawing and if you complete this lesson, you will once again train your creative abilities.
The horseshoe is a curved iron plate that is nailed to a horse's hoof. The horseshoe protects the hoof from damage and slipping. For many peoples, the horseshoe has long been a symbol of wealth. A horseshoe is sometimes used as a talisman.
The instruction includes seven steps, where each step is one simple action that you can easily perform. First you have to depict the outer contour and then depict the thickness of the horseshoe. In the process, take your time and carefully draw all the lines. If the art supplies are already at the ready, then you can start the lesson.
Materials
Pencil
Paper
Eraser
Coloring supplies
Time needed: 30 minutes
How to Draw a Horseshoe
Draw the inner outline.

Determine the size of your drawing and draw a curved line.

Depict the top outline of the horseshoe.

At the top of the drawing, add straight lines, as shown in my example.

Add the rest of the outline of the horseshoe.

Draw straight lines at the top and draw a long connecting line to make a closed path.

Depict the thickness of the horseshoe.

Add a line along the inner outline of the horseshoe to represent its thickness.

Draw the thickness of the side parts of the horseshoe.

Add lines along the outer outline, just as you did in the previous step.

Sketch out the holes.

Consistently draw small identical circles on the surface of the horseshoe.

Color the drawing.

For coloring, use different shades of gray.
As usual, at the end of the lesson, I have prepared a PDF file for you, in which you will find a brief instruction and additional training materials.