Today I will show you how to draw a Kitsune step by step. This simple lesson will not leave you indifferent.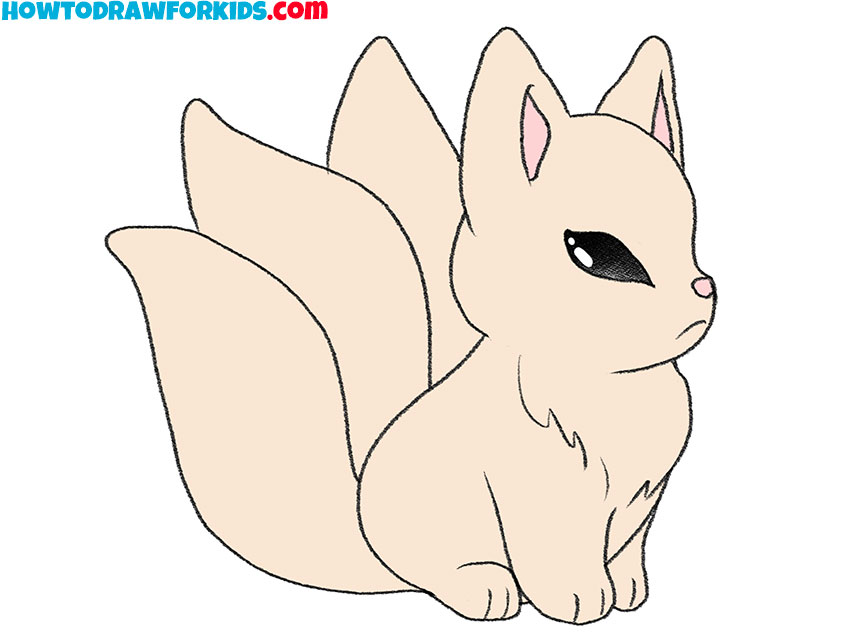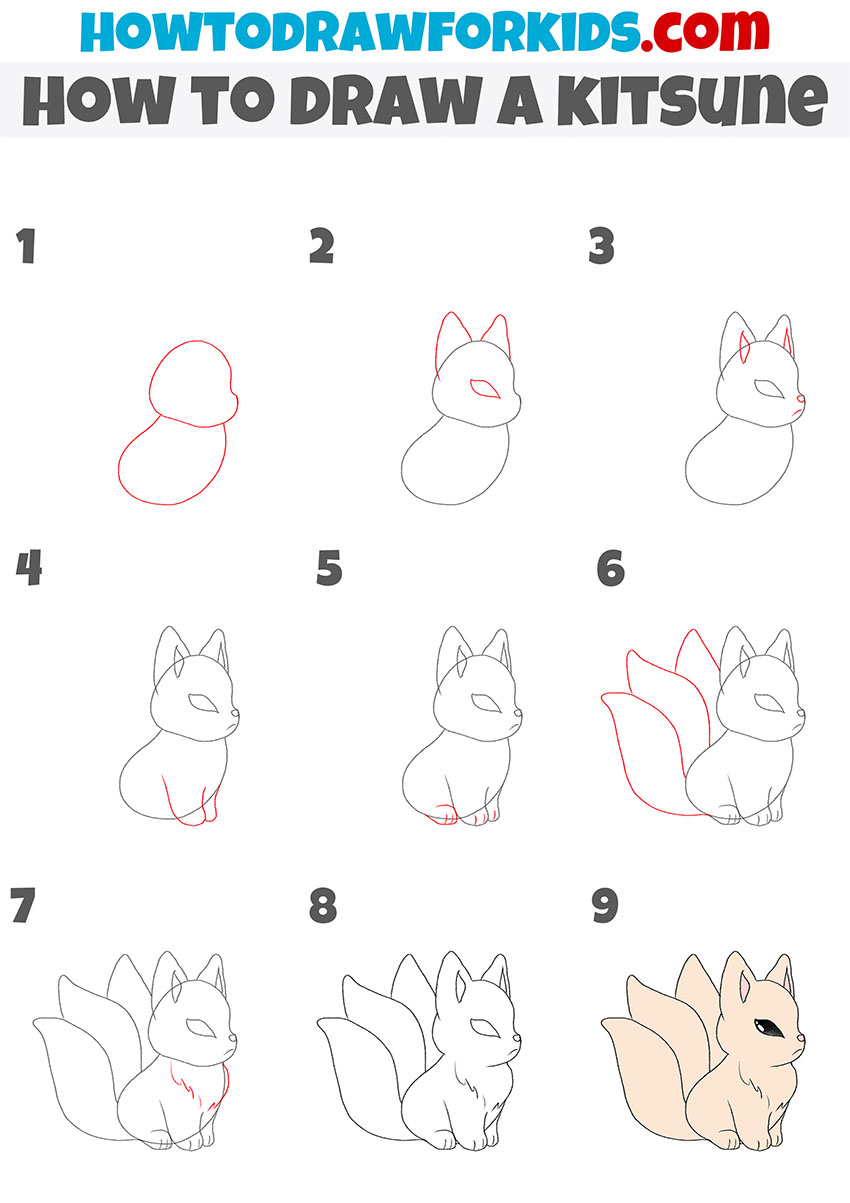 If you like to draw unusual characters, then be sure to follow the fascinating lesson on how to draw a Kitsune. It is a mythical creature in Japanese mythology. Kitsune are foxes with supernatural powers. Kitsune has great strength and can transform into other animals or into a human.
The main feature of this creature is that it has many fluffy tails. Kitsune is a long-liver and every hundred years a Kitsune has another tail. The maximum Kitsune can have is nine tails.
The drawing shows a young Kitsune who has three fluffy tails. You can apply the acquired skills in the future when you go to draw an ordinary fox.
Materials
Pencil
Paper
Eraser
Coloring supplies
Time needed: 30 minutes
How to Draw a Kitsune
Draw the head and torso.

Determine the size of the drawing and draw two shapes of the same shape as in my example.

Depict the eyes and ears.

On the top of the head draw two pointed ears and in the middle of the head draw the eye.

Add the inner parts of the ears and the rest of the muzzle.

At this stage, in each ear, depict the inside, sketch out the nose and mouth.

Sketch out the front paws.

In front of the body, draw the short legs that are located together.

Draw the hind paw and toes.

Depict the hind paw in a sitting position and draw the toes on the paws.

Depict the fur on the chest.

With the help of curved lines depict the lush hair on the chest.

Draw the tails.

With the help of smooth lines draw three fluffy spiky tails.

Correct inaccuracies.

Take the eraser and carefully remove the extra lines on your drawing.

Color the drawing.

Color the fur with orange and color the eye with black. Add the highlights.
This is the end of another fascinating drawing lesson. I would be interested to know your opinion about this tutorial, and I will ask you to leave a little feedback in the comments. Don't forget to download the short version of the lesson in PDF format so that you can return to the lesson at any time and do it again if necessary.