Now I will show you in detail how to draw a tree trunk. This lesson will be very easy to follow, and soon you will see for yourself.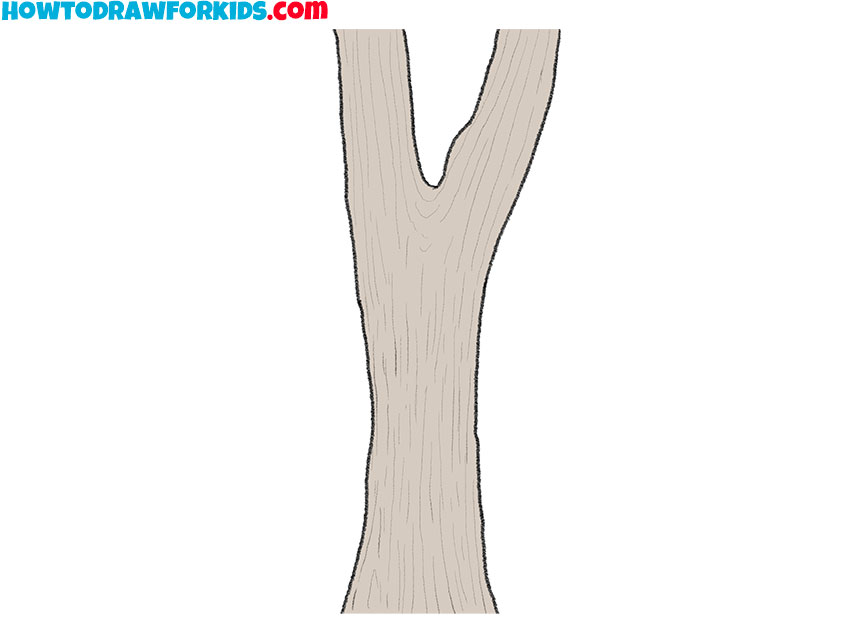 So, here is a simple instruction on how to draw a tree trunk step by step. You will quickly complete this creative task, because the instruction includes only six simple steps.
This lesson will be useful for all children and beginner artists who want to learn how to draw a tree trunk. This tutorial allows arbitrary lines, so the shape and thickness of the trunk may differ slightly from my example.
The figure shows a trunk that forks at the top. The surface of the tree is detailed and therefore the trunk in the picture looks realistic. So, grab all the art supplies you need to complete this tutorial and get down to some fun creative work.
Materials
Pencil
Paper
Eraser
Coloring supplies
Time needed: 30 minutes
How to Draw a Tree Trunk
Draw the bottom of the trunk.

Determine the width of the trunk and draw two curved lines at some distance from each other.

Depict one branch.

At the top of the trunk, draw the large branch on one side.

Add the second branch.

Repeat the previous step and draw another large branch on the other side of the trunk.

Detail the bottom of the trunk.

Draw many thin lines of different sizes to depict the texture of the tree bark.

Detail the branches.

On the branches, draw thin, uneven lines, just as you did in the previous step.

Color the drawing.

For coloring, use any shade of brown.
The next lesson has come to an end, and now you know how to draw a tree trunk step by step. If you liked this tutorial, then leave a little feedback in the comments. I will be glad to receive feedback from you. Don't forget to download the PDF file, which contains a brief instruction and additional training materials necessary for the quality implementation of this lesson. At any convenient time.