In this lesson, I will tell you and show you in detail how to draw a cheeseburger. The instruction includes eight easy steps.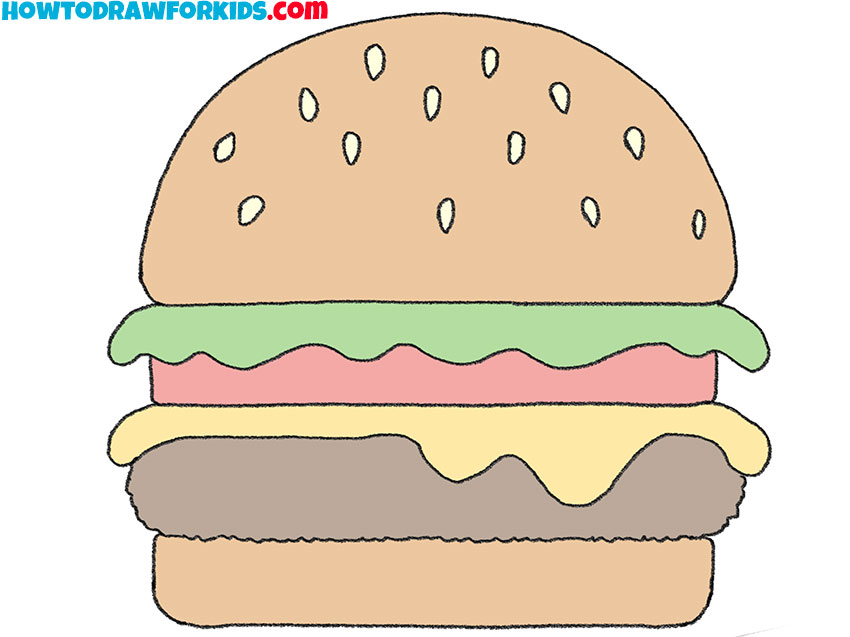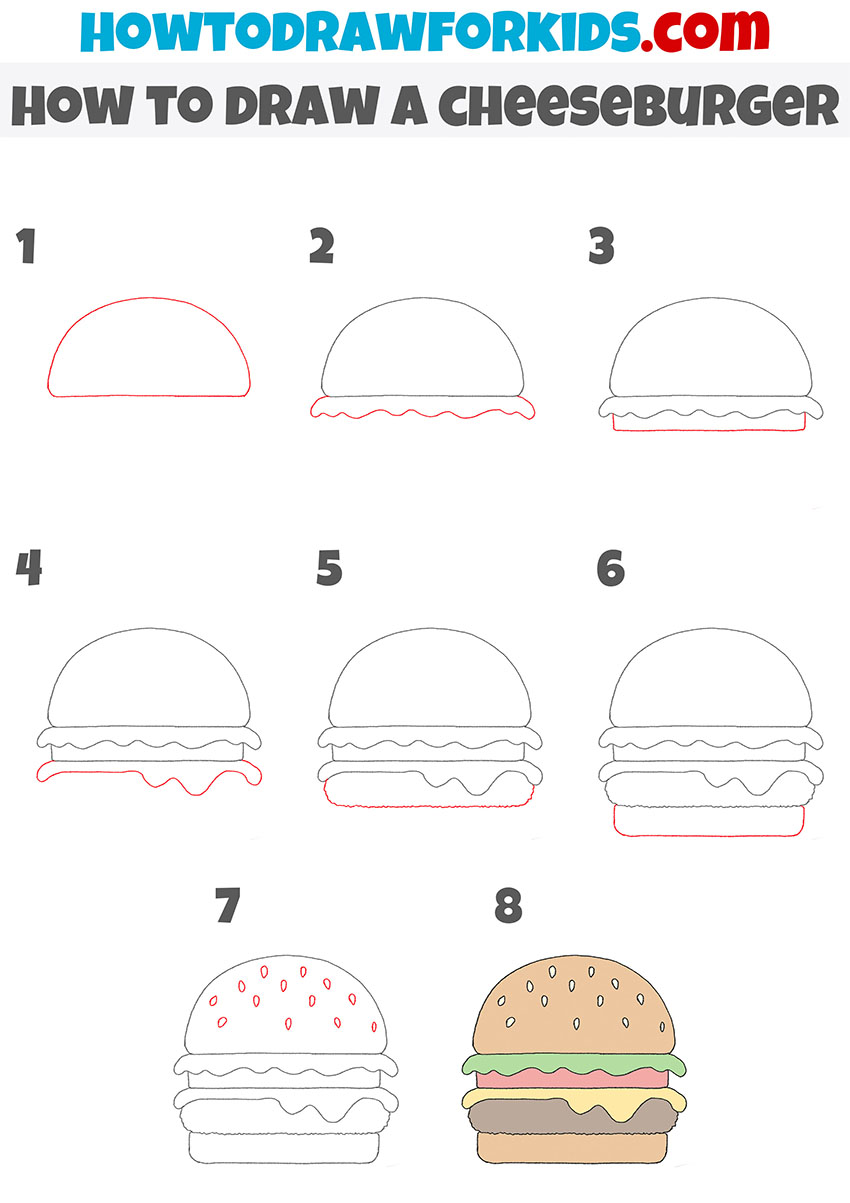 I decided to devote this lesson to drawing delicious food, and now you will learn how to draw a cheeseburger. This is a small burger bun that can satisfy your hunger well.
Traditionally, a meat cutlet, a slice of cheese, a tomato, and lettuce are used as a filling. All these elements you have to depict in your drawing. You will start drawing from the top of the cheeseburger and gradually add all the components.
If all the art supplies are already at the ready, then you can get to work. Consistently follow all the steps in this instruction, and you will get an excellent result. I wish you enjoy the creative process and have a good time.
Materials
Pencil
Paper
Eraser
Coloring supplies
Time needed: 30 minutes
How to Draw a Cheeseburger
Draw the top bun.

Determine the size of your drawing and draw the figure in the form of a semicircle.

Depict the greenery.

Using wavy lines, draw the lettuce leaf that is located below the bun.

Add the tomato slice.

Below the lettuce, draw the slice of the tomato using a few straight lines.

Sketch out the cheese.

With the help of smooth curved lines depict the piece of the cheese.

Draw the cutlet.

Below the cheese, depict the flat meat cutlet using smooth lines.

Depict the bottom of the bun.

Add the bottom of the bun, this will be the last element of the cheeseburger.

Sketch out the sesame.

Draw the small sesame seeds on the top of the bun.

Color the drawing.

For coloring, you will need different shades of brown, as well as green, red, and yellow.
The cheeseburger is ready! Now you are convinced that drawing a cheeseburger is not at all difficult. Try other fun tutorials on this site to learn how to draw different types of food. At the end of the lesson, I suggest you download a simplified instruction in PDF format. Thanks to this, you can return to the lesson at any time and perform it again if necessary.