I bring to your attention a lesson on how to draw a flying dragon. I promise that an interesting and useful pastime awaits you ahead.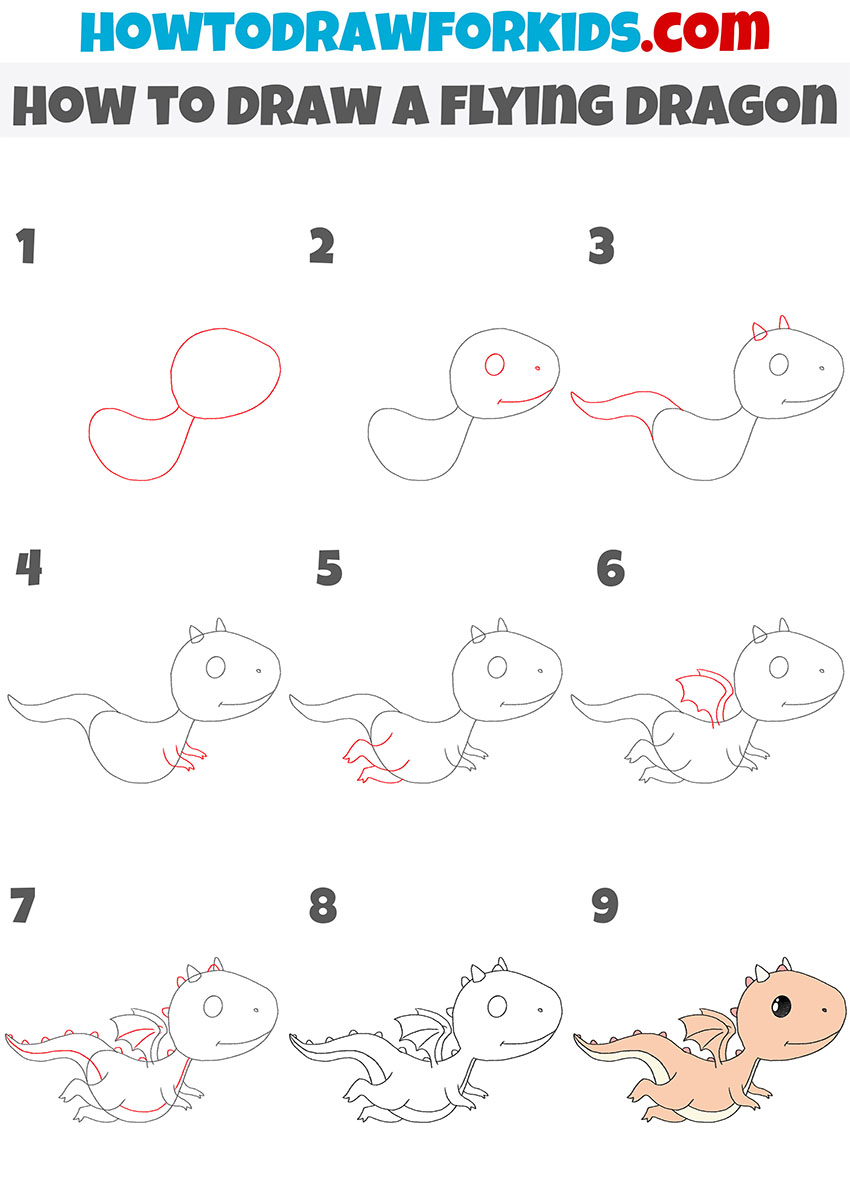 Here is a clear and accessible instruction on how to draw a flying dragon. The dragon is a fairy tale character in the form of a lizard that can fly and exhale flames. Now you will draw a small dragon that is in the process of flying.
Usually the dragon is depicted as a formidable and dangerous creature, but in this drawing the dragon looks very cute, funny, and he is not scary at all. Try to carefully draw all the lines that are marked in red and keep the proportions.
So, prepare all the materials that you need to complete this tutorial and start the fun creative work.
Materials
Pencil
Paper
Eraser
Coloring supplies
Time needed: 30 minutes
How to Draw a Flying Dragon
Draw the head and torso.

Depict two figures of the same shape as in my example.

Add elements of the muzzle.

Draw the oval eye, small nostril and the wide mouth.

Depict the horns and tail.

Draw two small pointed horns. With the help of smooth curved lines depict the long tail.

Sketch out the forelimbs.

Draw two short legs in front of the body.

Draw the hind limbs.

Using curved lines, depict two hind legs that have a wide base and taper downwards.

Depict the wings.

On the back, draw two small wings using curved lines.

Add the spikes and detail the color.

Draw the spikes, detail the wings and draw a smooth line along the lower part of the body.

Correct inaccuracies.

Carefully remove the extra lines in the drawing and correct the mistakes if necessary.

Color the drawing.

Color the body orange and color the eyes black. Don't forget to add the highlights.
The lesson is over. I hope that the dragon in your drawing looks very cute, and you are proud of yourself. Show the drawing to your friends and try this lesson together. For your convenience, I have previously created a PDF file that contains a brief instruction and additional materials necessary for the effective implementation of this lesson.