In this drawing guide I will show you how to draw a T-Rex. This is the short name for Tyrannosaurus Rex, one of the largest carnivorous dinosaurs ever.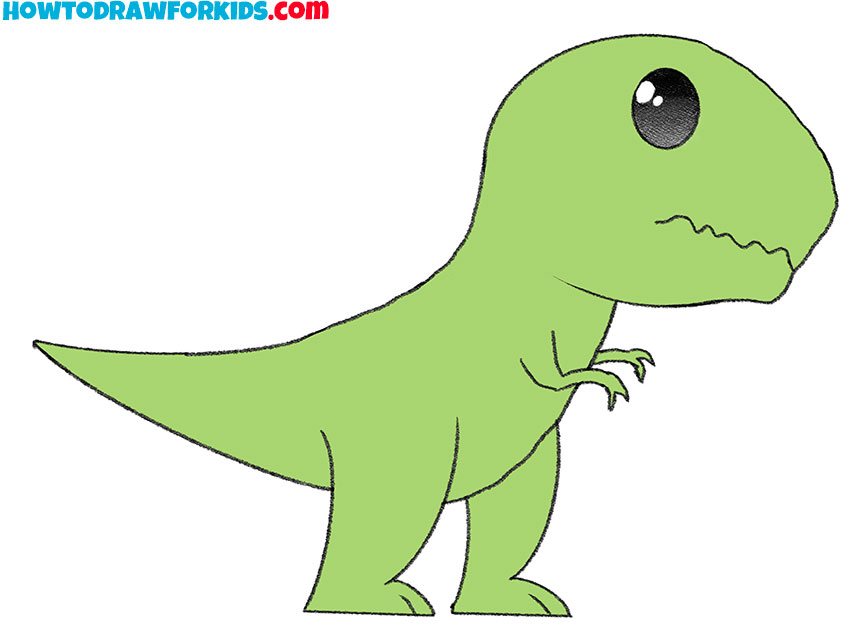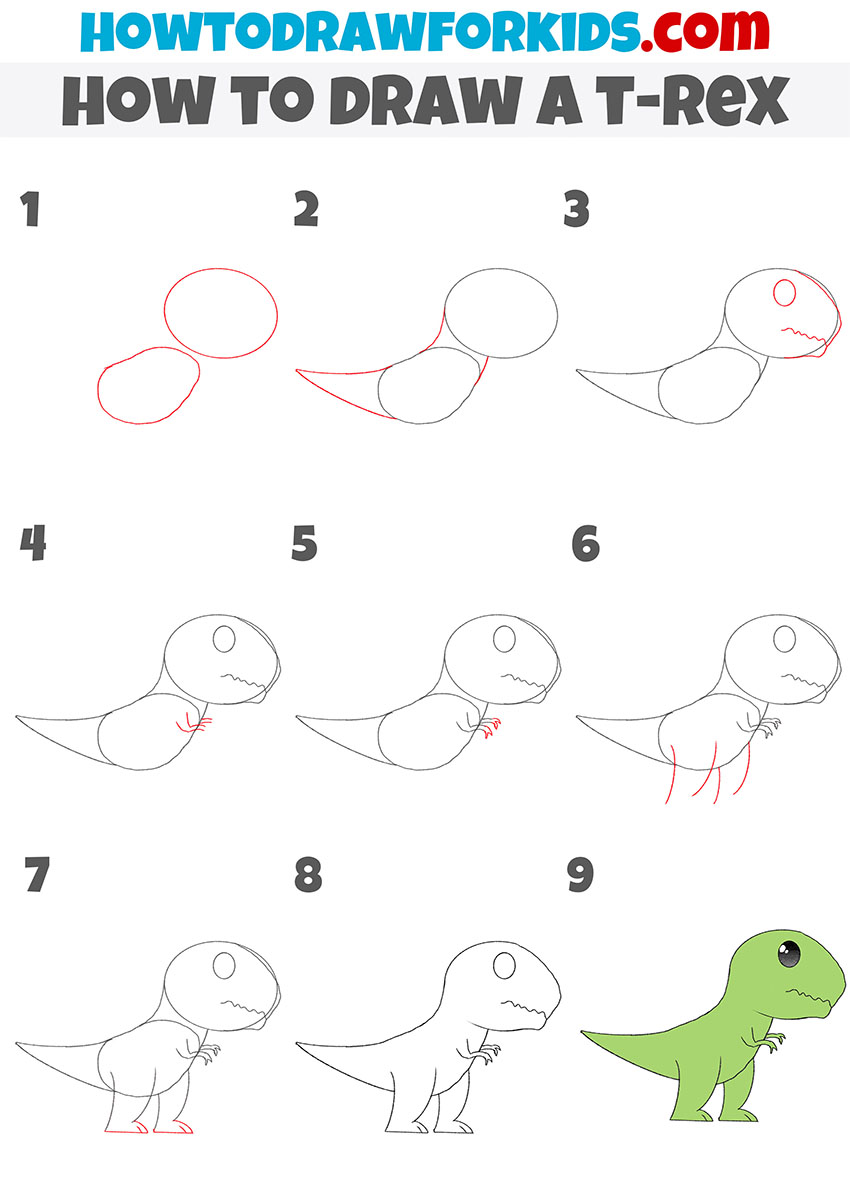 Table of Contents
Basic Information on How to Draw a T-Rex
To draw T-Rex in the simplified cartoon style you're familiar with, I used several techniques. Firstly, I tried to maintain the proportions of this particular type of dinosaur. You will probably notice a large head, a powerful tail, and very small front legs. Especially in comparison with the hind legs. So, i hope I managed to maintain these very important proportions.
At the same time, I decided to abandon everything that creates the menacing appearance of the tyrannosaurus. I didn't draw huge teeth, scales, or realistic reptilian eyes. Instead, this drawing looks like an illustration from a children's book. Our Tyrannosaurus has very rounded and simplified body contours. A large eye with a glare makes this drawing even more friendly.
By the way, I created a few more lessons on drawing a T-rex. You will find this just below the main tutorial. These are slightly different drawings that will help you draw a dinosaur in different ways.
Materials
Pencil
Paper
Eraser
Coloring supplies
Steps on How to Draw a T-Rex
Time needed: 30 minutes
How to Draw a T-Rex
Start drawing the outline of the t-rex body.

Draw a very large head and a small body of our dinosaur. Place the head at the top right of the paper and the torso just below the center. These two round shapes do not have to be perfectly symmetrical.

Draw the neck and tail of the t-rex.

Connect the two previously drawn figures with two curved lines and add a large pointed tail. The neck and tail should be located in the same plane and form the outline of the dinosaur's body.

Improve the head outline and add facial features.

Change the outline of the oval of the head a little. Draw a slight narrowing downwards, and add the contours of the lower jaw. Then draw a large oval eye and a curved line of teeth.

Add the outlines of the upper limbs..

Tyrannosaurus is a very formidable guy, but he has very weak and small arms. Draw the outlines of the upper limbs that are located just below the neck as in my example.

Picture the fingers.

The upper limbs of our dinosaur are very small. This is true for any style of dinosaur drawing. Draw proportionately small fingers with sharp claw outlines.

Draw the lower limbs.

Now we can add the outlines of the powerful, large lower limbs. The leg farthest from us looks a little smaller. Both limbs gradually taper downwards with a slight bend.

Outline the paws.

Use straight and curved lines of different sizes to draw the bottom parts of the t-rex's legs.

Erase unnecessary lines.

Use an eraser to remove auxiliary lines that appeared during the drawing process. Check all the previous steps again, correct all inaccuracies and mistakes.

Color the drawing.

You can choose any color for your T-Rex. The most optimal is green, dark green or light brown. Don't forget about the white highlights inside the eye contour.
Additional Сontent
This drawing lesson has come to an end. I hope you had a great time drawing the t-rex and learned some useful new skills. Traditionally, I have prepared a short PDF version of this tutorial for your convenience.
Alternative ways to learn how to draw a T-Rex
So, we just drew a Tyrannosaurus. However, I have created a few more T-Rex drawing guides. I tried to preserve the cartoon style of drawing and at the same time show the familiar appearance of a tyrannosaurus with its characteristic appearance.
Method 1: How to Draw an Easy T-Rex
This dinosaur looks even more cartoonish and cute than our main subject. That being said, I decided to draw this T. Rex a little more frontally. Also, here I used more rounded outlines – you can see this, for example, on the lower limbs of the T-Rex.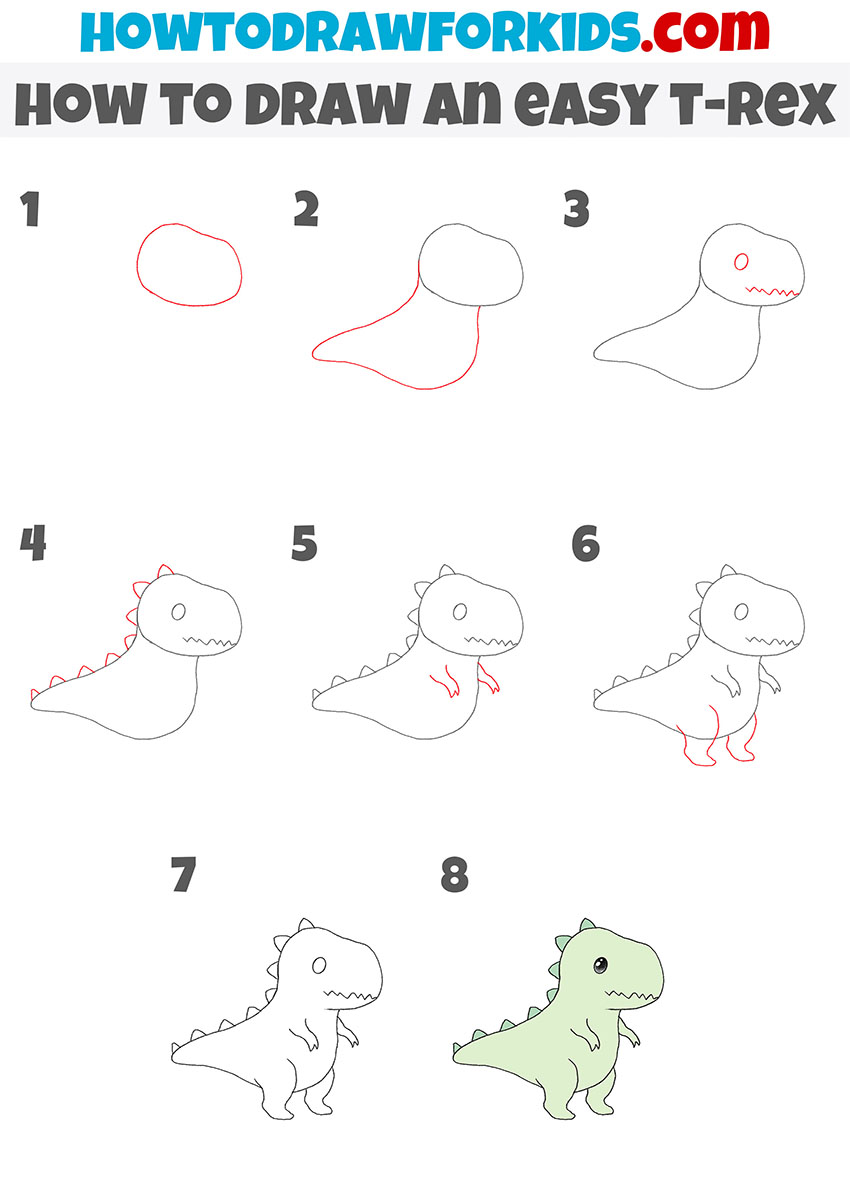 Method 2: How to Draw a Dinosaur Easily
The Tyrannosaurus in this tutorial looks more upright due to the lack of neck tilt. Also, here I drew the contours of large sharp teeth – this technique added a little realism. In my opinion, this drawing has an excellent balance of tail and head sizes that are proportional to the dimensions of a real dinosaur.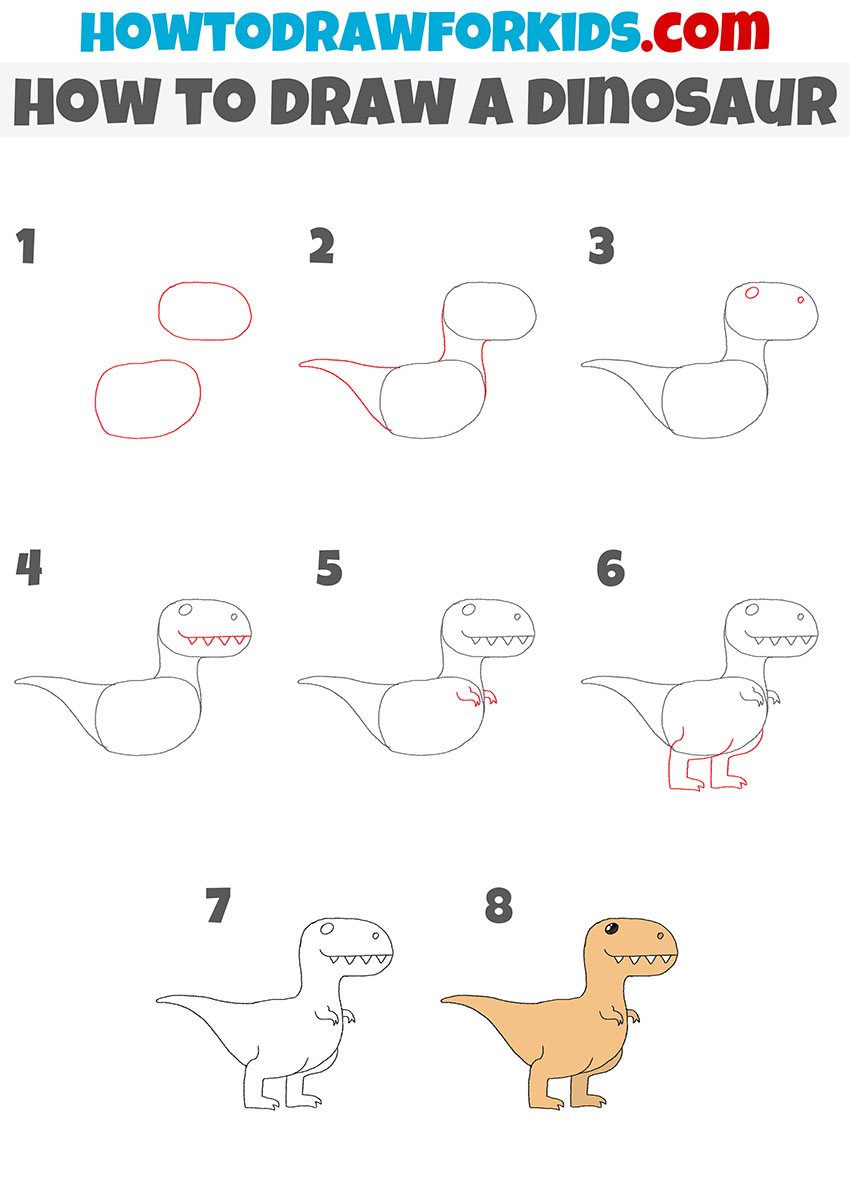 Method 3: How to Draw an Easy Tyrannosaurus
In this drawing lesson you can see a Tyrannosaurus rex with slightly unusual proportions. Here I tried to create the effect of a baby dinosaur as much as possible. Children's proportions are always associated with a large head and a small body – this is noticeable if we draw an ordinary human child. The familiar rounded contour, large eye with a glare and a very static, friendly pose perfectly complement this effect.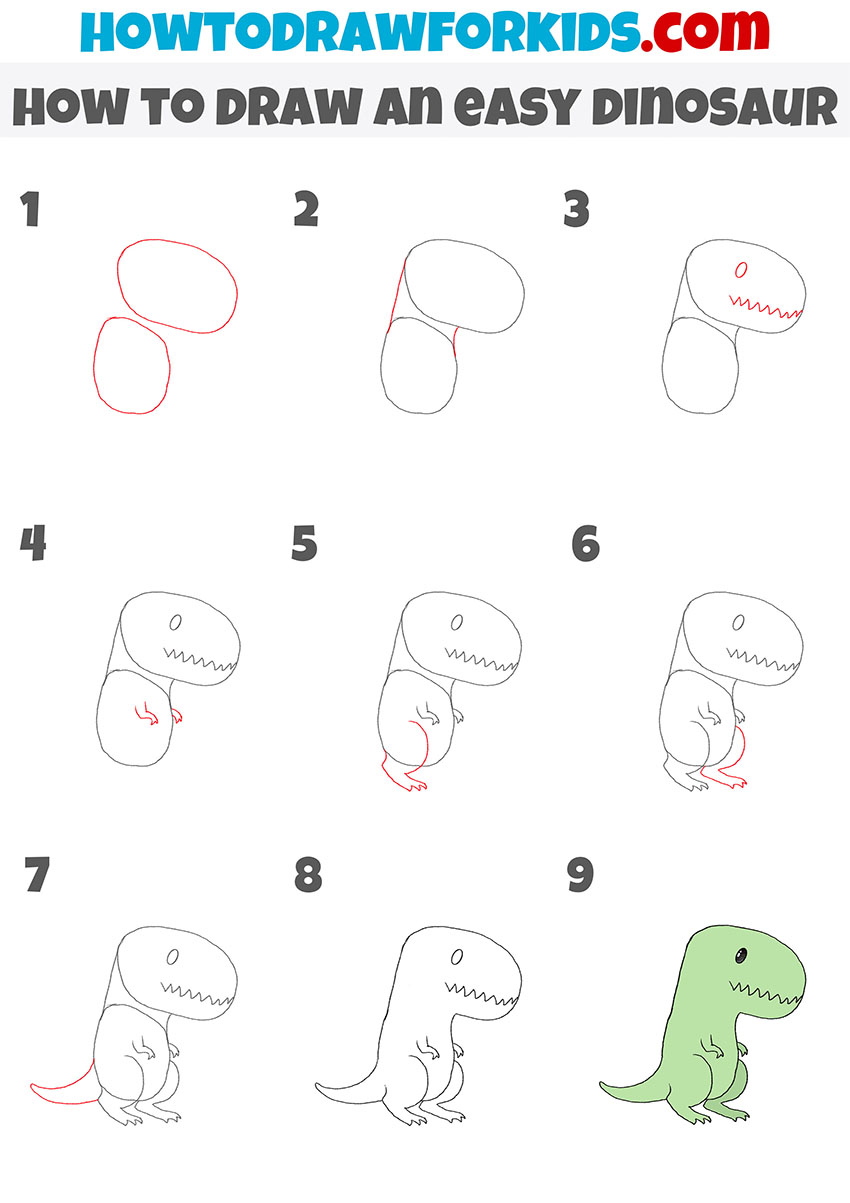 Conclusion
I hope this T-Rex drawing lesson was helpful to you. I am sure that you were able to choose the most attractive guide for you from all that I created. By the way, write in the comments what you liked the most. I will also be very glad to see your subscriptions and comments on my social networks.