In this drawing lesson you will learn how to draw a superhero. This tutorial will be very useful and interesting for you.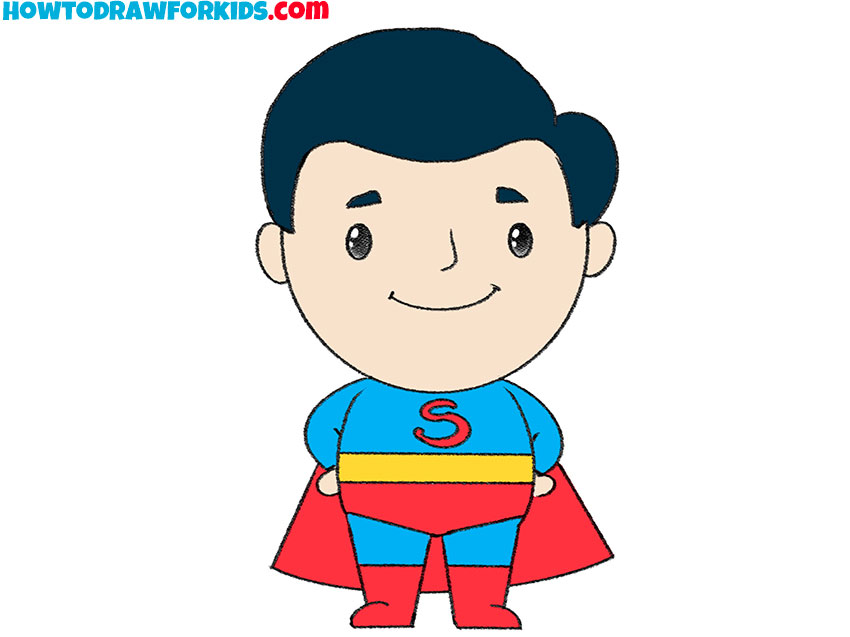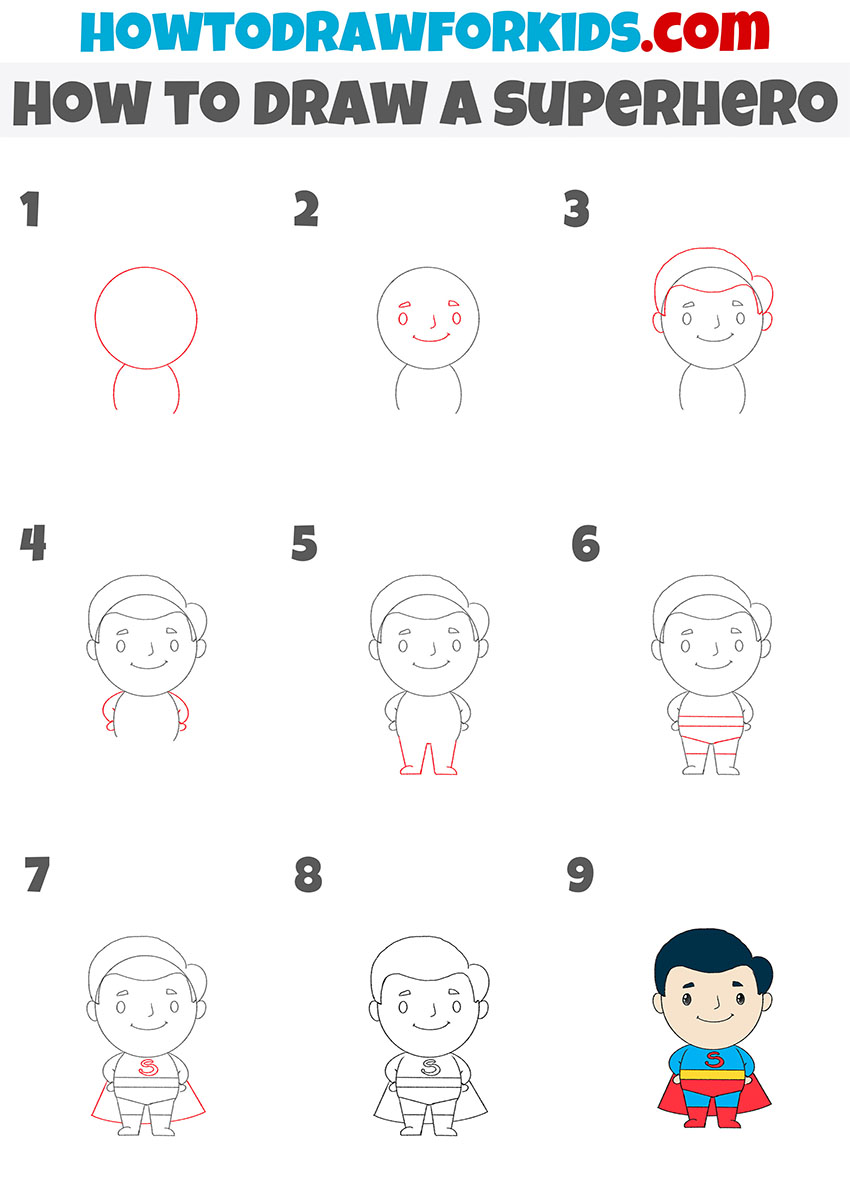 So, I am glad to offer you this excellent step-by-step instruction on how to draw a superhero. I have prepared this lesson especially for children and beginner artists, so there are no too difficult elements in it, and all the steps are described very simply and clearly.
A superhero is a character equipped with extraordinary physical abilities, which he uses to perform feats for the common good. This character has definitely encountered you many times in various films and cartoons. Superheroes are also frequent characters in comics.
In this tutorial, you will draw a cute superhero in cartoon style. Prepare the drawing materials to begin this lesson. I wish you to draw a great superhero!
Materials
Pencil
Paper
Eraser
Coloring supplies
Time needed: 20 minutes
How to Draw a Superhero
Draw the outline of the superhero's head and torso.

You should draw the character's head as a circle and his torso as two rounded lines.

Depict the character's facial features.

Picture the eyes as two identical ovals, and his mouth, nose, and eyebrows with curved lines.

Add the superhero's ears and hair.

Draw the ears in the form of two same semi-ovals, and the hair with curved lines and arcs.

Outline the character's hands.

Draw the arms symmetrical by adding the same curved lines on both sides of his torso.

Add the legs of the superhero.

These body parts should also look symmetrical. Use straight and curved lines to draw them.

Draw the elements of the costume.

In the middle and at the bottom of the superhero's torso, add a few straight lines.

Add the decorative elements.

Draw a superhero's cape using straight and curved lines, and add the letter «S» to his torso.

Erase unnecessary lines.

Use an eraser to remove auxiliary lines that appeared during the drawing process.

Color the drawing.

Use blue, red, yellow, black, and also any color you want to color the superhero's skin.
This drawing lesson has come to an end and I hope you enjoyed it! Below you can view and download the PDF, which contains a short version of this lesson and other useful materials. If you download this file, you will be able to return to this lesson at any time, even without an Internet connection.
The simple superhero that you will draw with this tutorial will be made in a cartoon style. His head will look quite big compared to his body. If you already want to start this drawing lesson as soon as possible, then you can prepare the necessary art supplies right now, and then draw a simple superhero step by step and enjoy the creative process.