In this tutorial, I will show you how to draw Cinderella. The lesson is designed specifically for beginners.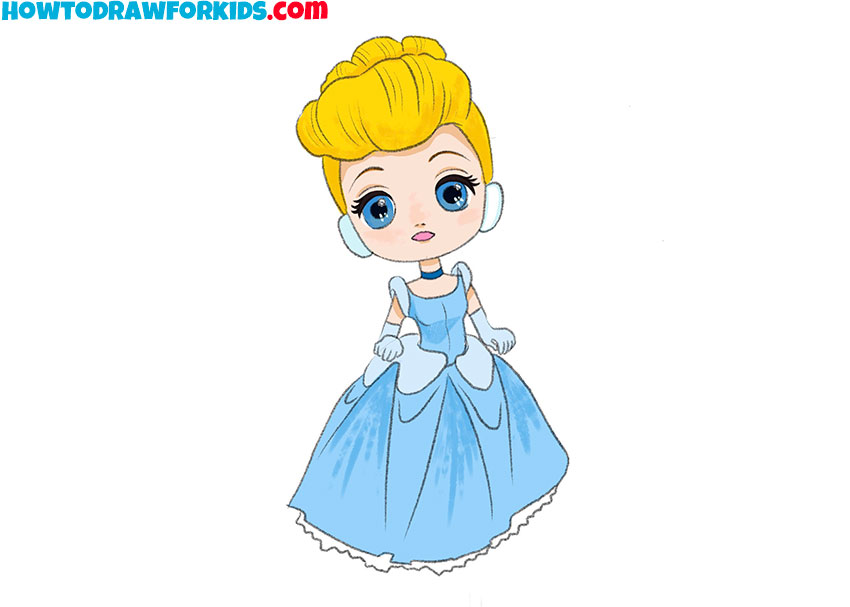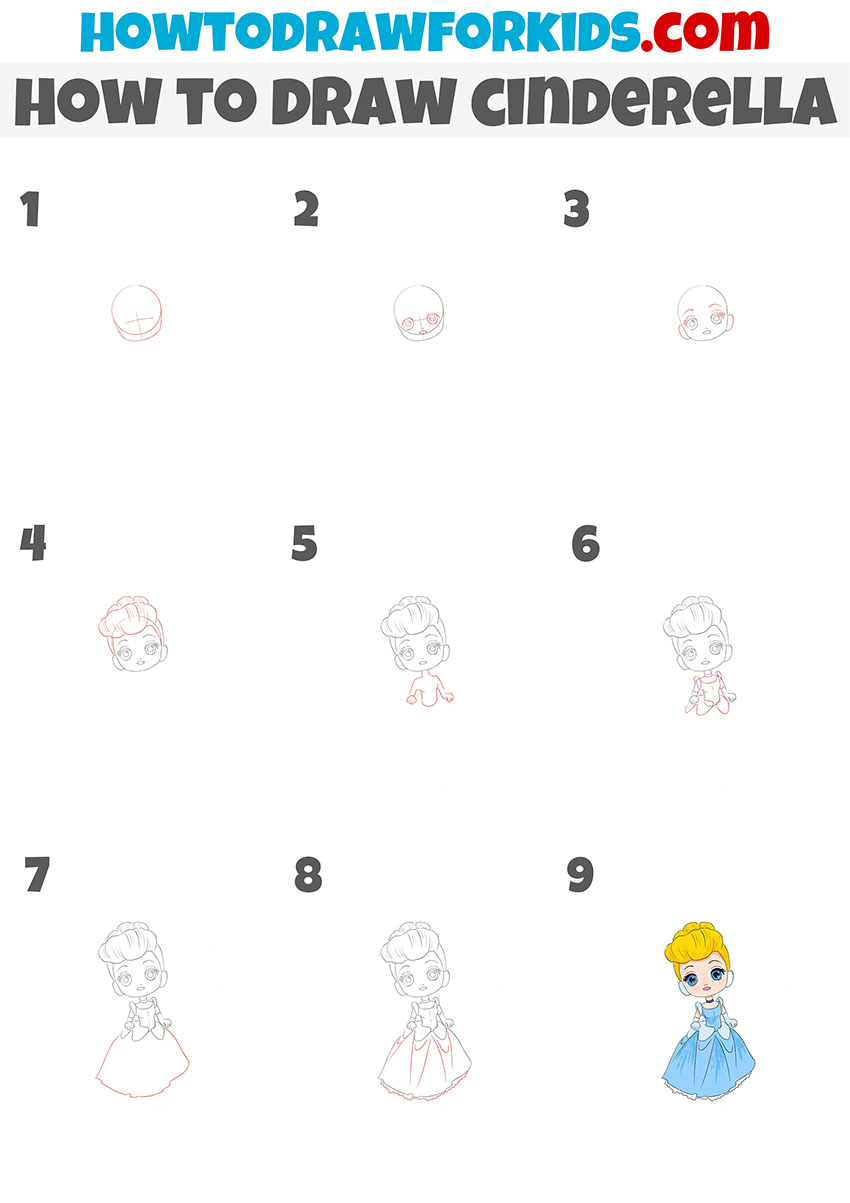 I invite you to complete a new lesson that is dedicated to drawing famous fairy tale characters, and now you will learn how to draw Cinderella step by step. Surely you love this fairy tale and watched the cartoon based on the fairy tale.
The image of Cinderella can be found in the folklore of different peoples of the world. This is a fascinating story about a sweet, hard-working girl who experiences difficulties, but in the end becomes the chosen one of the prince and her life changes completely.
In this tutorial, you will draw Cinderella in chibi style. This style is characterized by certain proportions of the body, when facial features are very expressive, the head is much larger than the body, arms, and legs are short.
In general, the image of Cinderella is easily recognizable, and if you follow all the drawing steps correctly, then you will get a cute Cinderella. So, prepare all the necessary supplies and start the lesson.
Materials
Pencil
Paper
Eraser
Coloring supplies
Time needed: 35 minutes
How to Draw Cinderella
Draw the head.

Depict a circle and detail the bottom. Add a mark in the middle.

Add facial features.

Draw the large eyes, nose, and mouth.

Depict the ears and other elements of the face.

Add the oval ears, draw the eyebrows, eyelashes, upper eyelids and the highlights on the eyes.

Sketch out the hair.

With the help of smooth curved lines, depict the same hairstyle as in my example.

Draw the arms and upper body.

Depict the thin neck, the short torso and thin arms that are bent at the elbow joint.

Add the top of the clothes.

Draw the rounded neckline, sleeves, bodice and puffy flounces at the waist.

Sketch out the bottom of the dress.

The top of the skirt is narrow, and the bottom is wide. Draw an uneven line at the very bottom.

Add the pleats to the dress.

Use smooth, thin lines to depict the folds. Draw an uneven line at the bottom.

Color the Cinderella.

Use beige, yellow, and blue.
It was a fascinating lesson in which you learned how to draw Cinderella. If you have any questions, you can ask them in the comments. At the same time, offer your ideas for new lessons.
For your convenience, I have previously created a PDF file that contains a brief instruction and additional materials for the effective implementation of this lesson.