In this lesson, you will learn how to draw a fairy. I promise that this lesson will be very useful and enjoyable for you.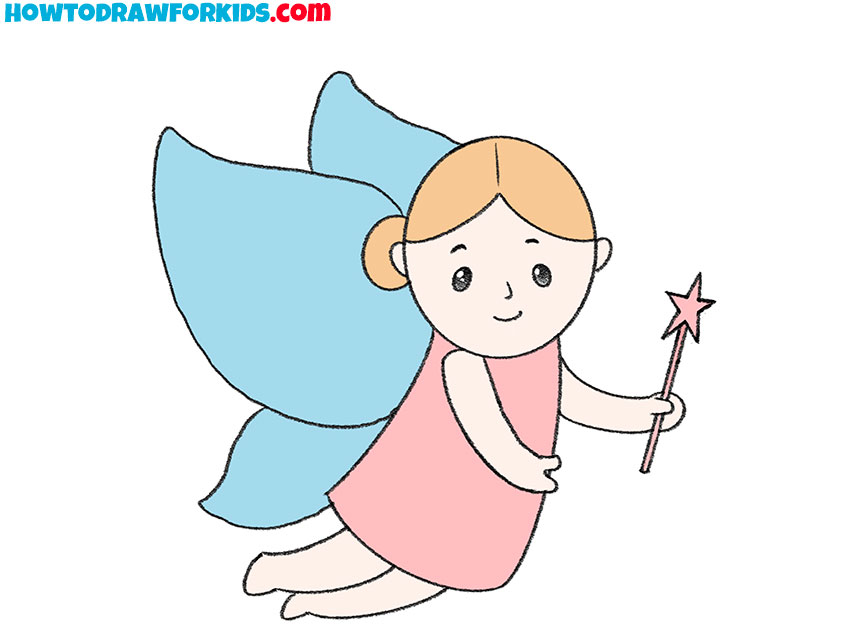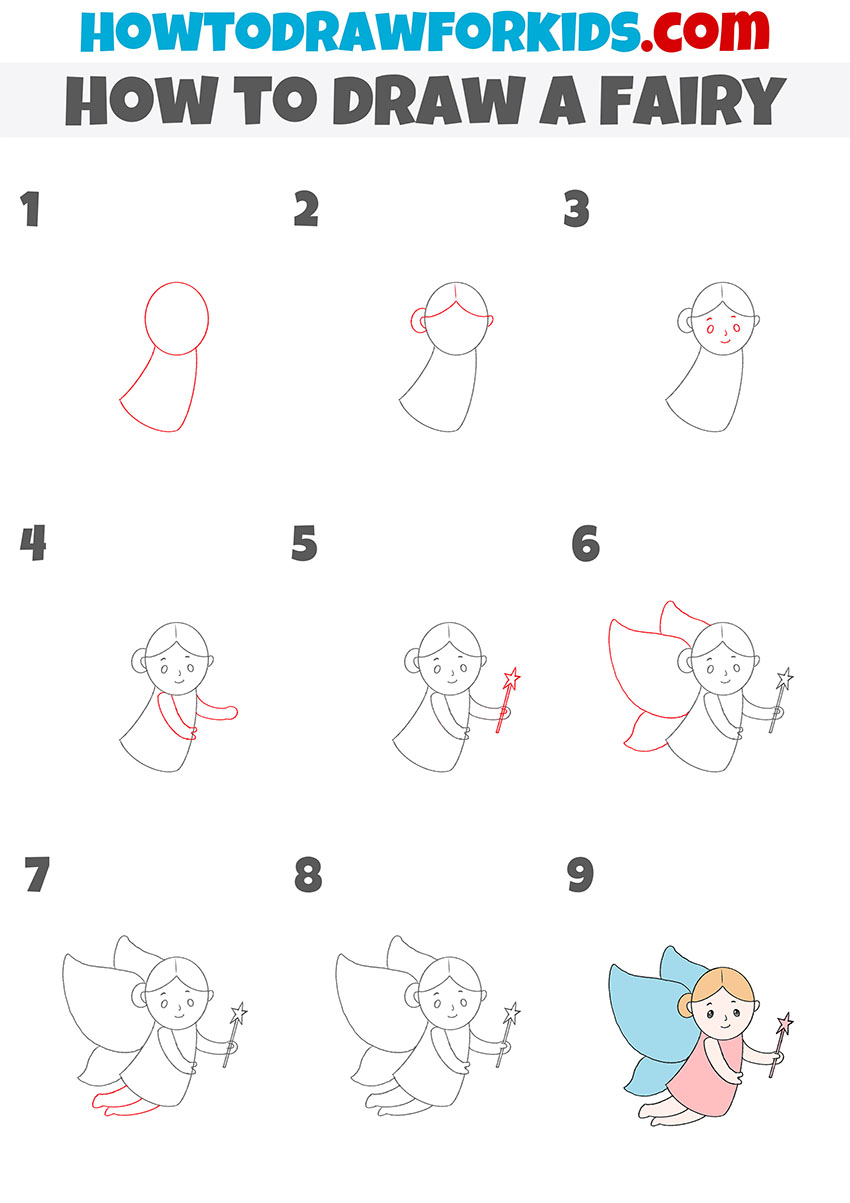 I have prepared for you a wonderful lesson on how to draw a fairy step by step. A fairy is a mythical creature who usually looks like a very small girl with wings and a magic wand. In ancient times, it was believed that fairies really existed. People also believed that fairies could heal and had magical skills.
You have surely seen the fairy many times in various cartoons, movies, or video games, as this character is quite common and popular. Follow these instructions carefully to draw a beautiful and cute fairy.
Prepare the materials that you need to draw and then start the step-by-step drawing of the fairy.
Materials
Pencil
Paper
Eraser
Coloring supplies
Time needed: 20 minutes
How to Draw a Fairy
Draw the outline of the fairy's head and torso.

Depict the head of the fairy in the form of an oval, and add her torso by using curved lines.

Add the outlines of the fairy's hair and ear.

On the previously drawn oval, draw straight and curved lines.

Picture the facial features.

Draw the fairy's eyes, eyebrows, nose, and mouth by using ovals and curved lines.

Add the hands of the fairy.

You can draw these parts of the fairy's body using curved lines. Both hands look slightly raised.

Outline the magic wand.

In one hand of the fairy draw a magic wand with straight lines and the outline of a star.

Add the fairy's wings.

On the left side, depict the big wings by using curved lines.

Draw the fairy's legs.

Below the fairy's torso draw her legs with curved lines. One leg partially covers the other.

Erase unnecessary lines.

Use an eraser to remove auxiliary lines that appeared during the drawing process.

Color the drawing.

Use blue, pink, orange, black, and any color you like to color the fairy's skin.
So, you have learned how to draw a beautiful fairy step by step. Write in the comments about your impressions of this lesson. For your convenience, I have prepared a PDF file in which you can find a short version of this drawing lesson and additional useful materials.
Alternative Drawing Techniques
Now we can work with other techniques for drawing a fairy. We slightly changed the appearance of this fairy-tale character in each lesson so that you can choose the most suitable lesson for you.
How to Draw an Easy Fairy
In this lesson, the fairy has some characteristic appearance features. For example, these are pointed ears and a typical fairy costume.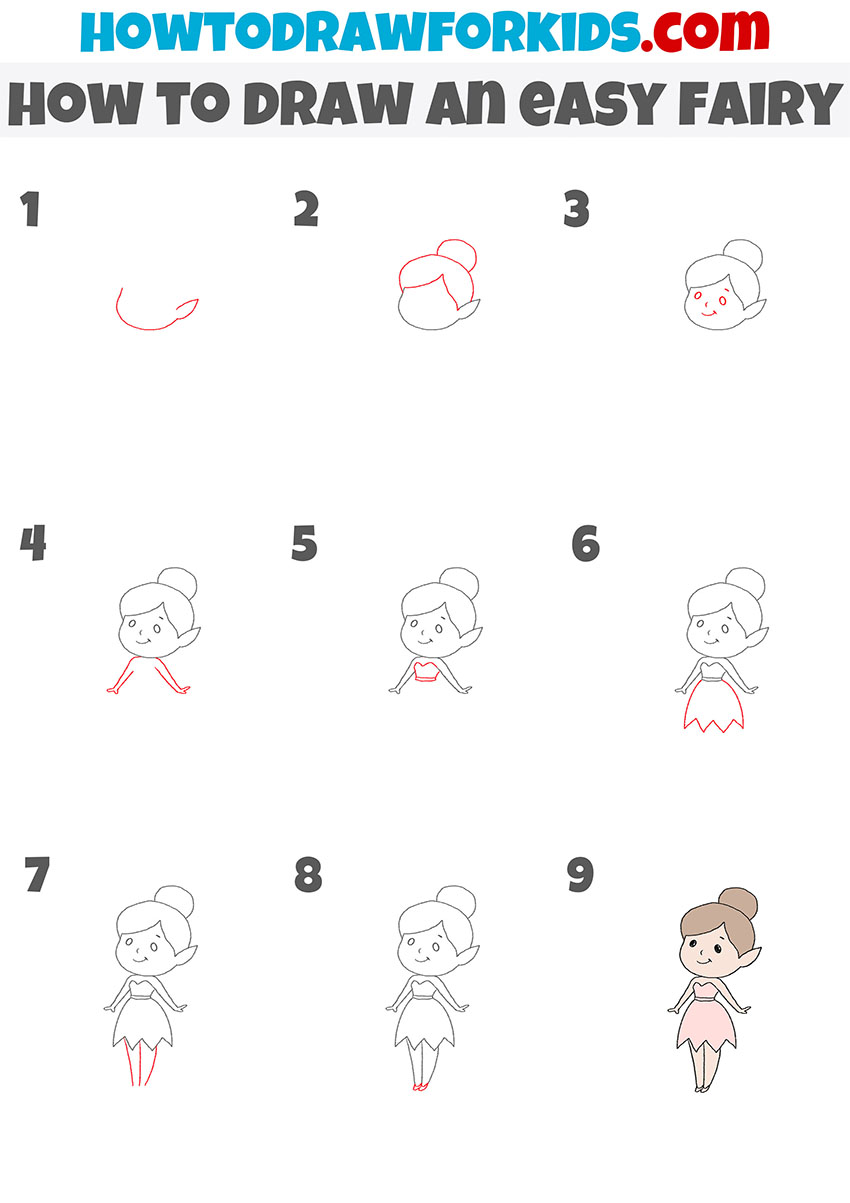 How to Draw a Fairy Step by Step
This drawing lesson consists of nine simple steps that you can easily follow. As a result of your work, you will get a drawing of a beautiful, cute and bright fairy.