Today with this step-by-step tutorial, you will learn how to draw an elf ear in just nine easy steps with helpful tips for you.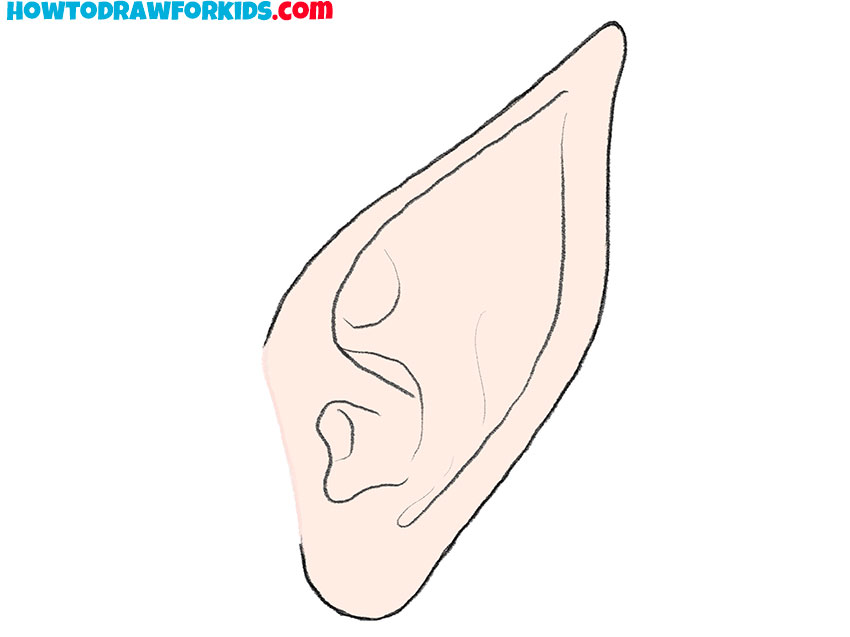 I have prepared for you a new, interesting and useful lesson, in which I will show you in detail how to draw an elf ear. I hope you enjoy the clear and accessible instructions, which include seven simple steps.
I propose to complete another fascinating lesson in which you will learn how to draw an elf ear. An elf is a fabulous creature that is mentioned in the legends of different peoples.
The elf has an unusual appearance. The elf has a small stature and large pointed ears. We can say that this is the main feature of the elf, thanks to which he is easily recognizable.
In the picture, you can see that the upper part of the ear is stretched upwards and has a pointed shape. Try to correctly depict the outer kennel of the ear, and you will draw the inner part without difficulty.
Materials
Pencil
Paper
Eraser
Coloring supplies
Time needed: 25 minutes.
How to Draw an Elf Ear
Start drawing the top of the ear.

This is a very simple step in which you have to draw a smooth diagonal line.

Add the outer outline of the ear.

Carefully draw a smooth line to depict the outer edge and earlobe.

Sketch out the bend.

Draw one curved line as shown in the example.

Add another curve.

Depict another smooth line along the outer edge.

Sketch out the ear canal.

Use curved jagged lines to depict the ear canal.

Add the relief.

Draw thin rounded lines near the ear canal.

Color the elf ear.

Use any color for the skin.
Another lesson is over! I hope that you have a great drawing, and you are convinced that drawing an elf ear is very easy. Subsequently, you can apply the acquired skills and draw the whole elf.
Share your impressions about the lesson in the comments. I would be interested to know your opinion. You can also suggest your ideas for the following drawings. I will take into account your wishes and prepare new instructions.
By tradition, I have created a PDF file in advance, which contains a short version of the lesson and additional useful materials. Download this file and use it every time you need to return to this lesson again.