This is a very interesting and useful lesson on how to draw a school bus. This drawing tutorial includes nine simple steps.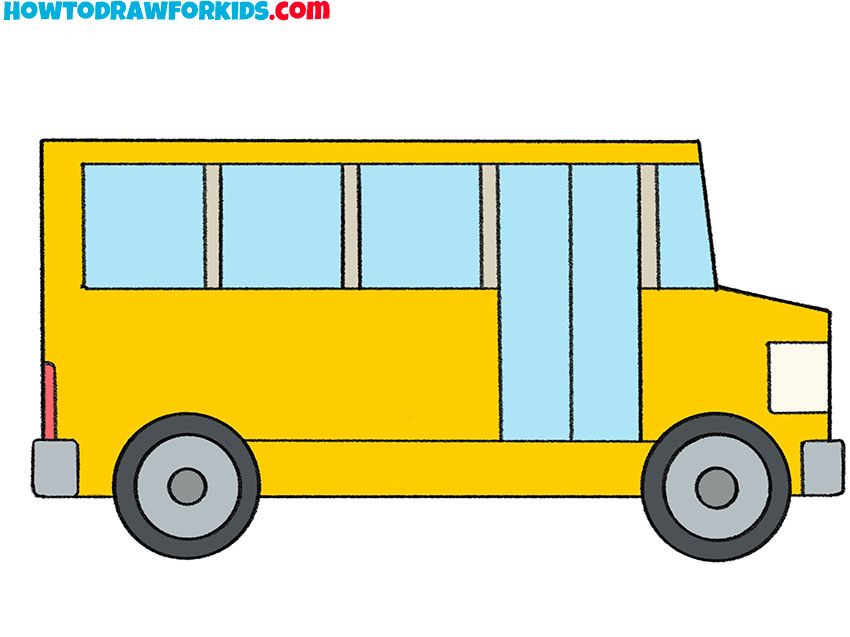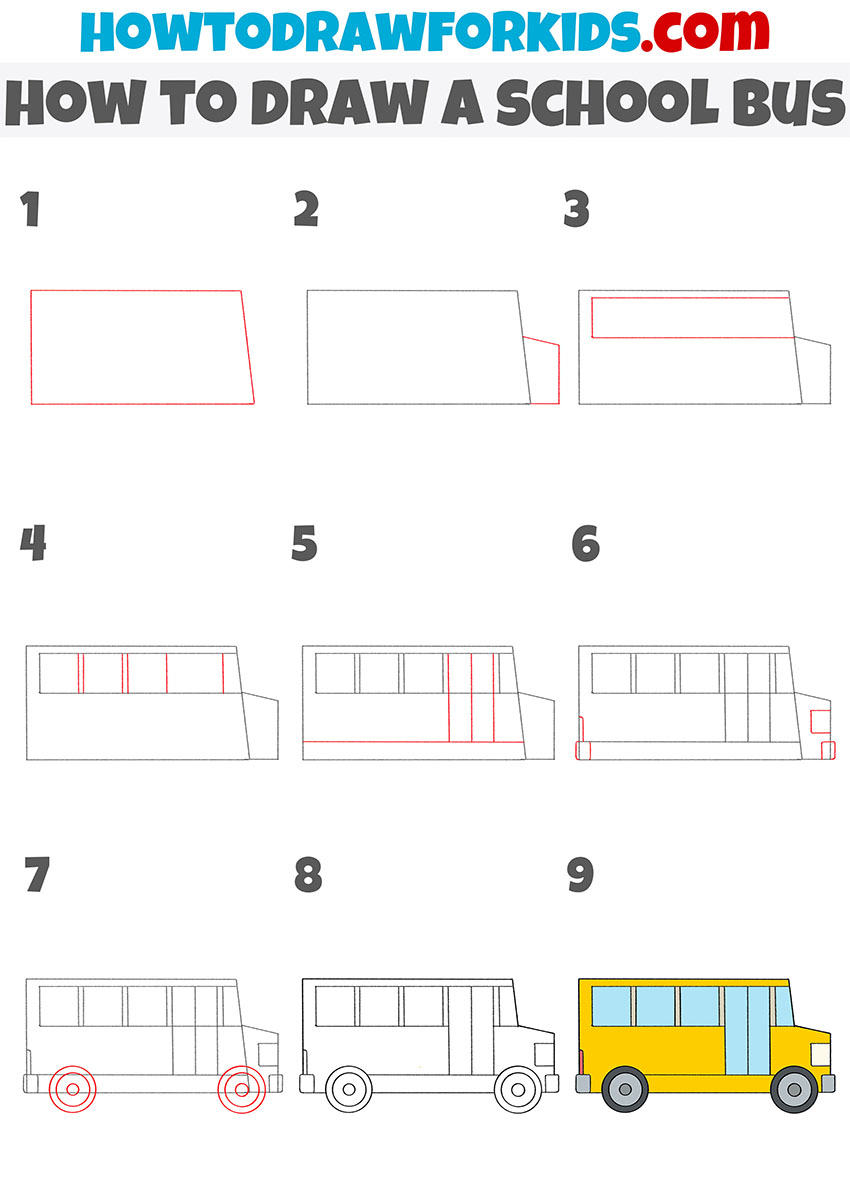 You can learn to draw another common vehicle with the help of this tutorial on how to draw a school bus step by step. A school bus is a type of bus owned or operated by a school or school district. It is regularly used to transport students to and from school or school-related activities. Different types of school buses are used all over the world.
The most famous examples of school buses are the yellow school buses of the United States and Canada, which are also found in other parts of the world. In this drawing lesson, you will learn to draw just such a school bus.
Your finished drawing is sure to turn out very colorful and beautiful. Prepare your drawing materials and get to work. I wish you draw a great school bus and have a good time!
Materials
Pencil
Paper
Eraser
Coloring supplies
Time needed: 20 minutes.
How to Draw a School Bus
Draw the outline of the main part of the bus.

To complete this step you need to draw a rectangular trapezoid using straight lines.

Add the front of the bus.

On the right side of the trapezoid, draw a straight oblique, vertical and horizontal line.

Depict an outline of the bus windows.

Inside the trapezoid, draw two straight horizontal lines and connect them with a vertical line.

Draw the boundaries of the windows.

Between the two horizontal lines draw several straight vertical parallel lines of the same size.

Add the doors and the bottom of the bus.

On the right side add straight vertical lines and add a horizontal line at the bottom of the bus.

Picture the headlights.

In the back and front of the bus add rectangles and incomplete rectangles using straight lines.

Picture the wheels.

To draw two wheels, depict two circles and add inside each of the circles of smaller diameter.

Erase unnecessary lines.

Use an eraser to remove auxiliary lines that appeared during the drawing process.

Color the drawing.

To color this bus, you should use yellow blue, red, and shades of gray.
The lesson is over! Now you know how to draw a school bus. You can share your impressions about the lesson in the comments. Finally, I suggest you download a PDF file with a short version of this lesson. Thus, you can repeat the lesson at any convenient time, even if you do not have an Internet connection.