I have prepared for you the most simple tutorial on how to draw a road. This instruction contains nine very easy steps.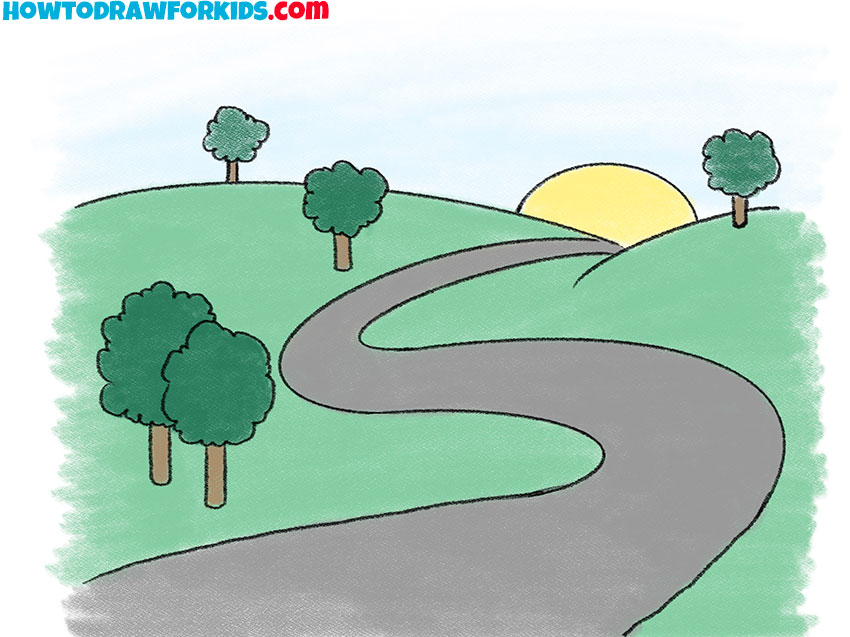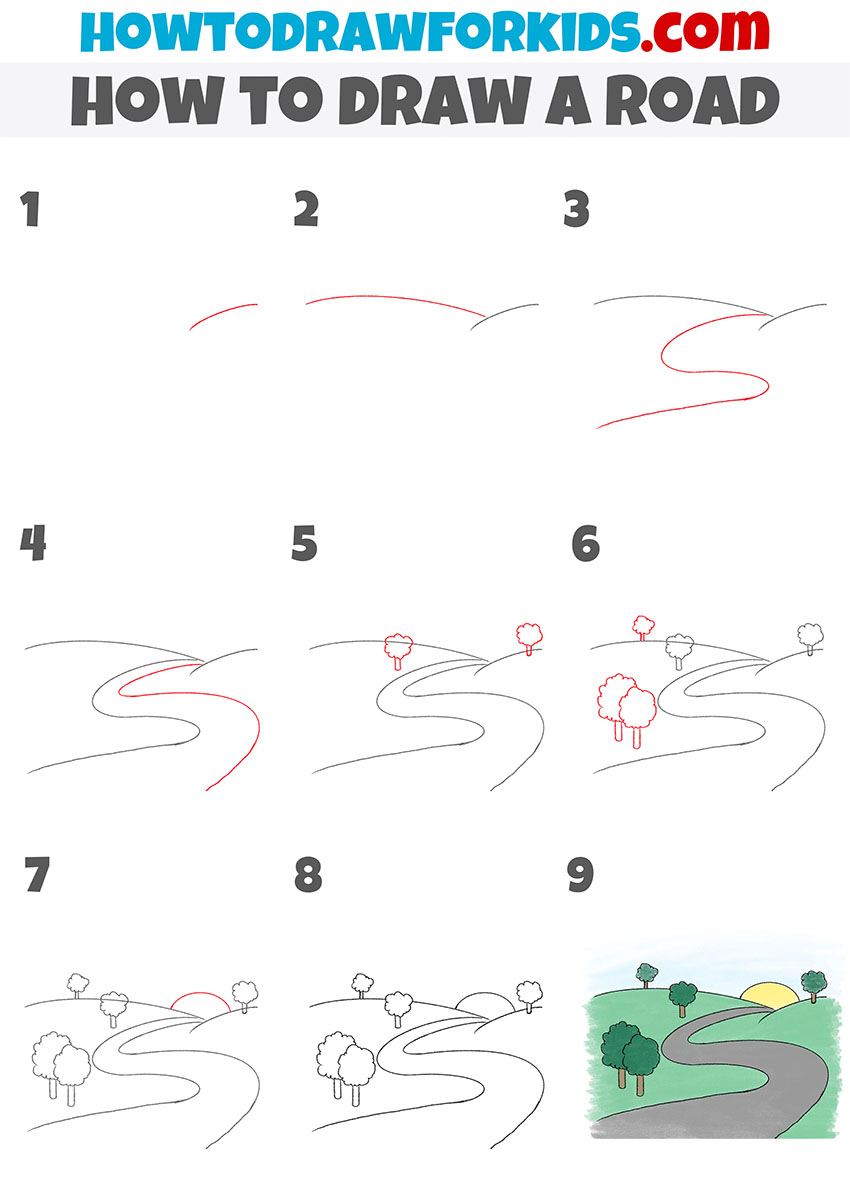 Today I will show you how to draw a road. In this step-by-step tutorial, you will learn useful skills that will come in handy for painting any landscape in the future.
This tutorial will be very simple. Each step is one simple action. Follow all the steps sequentially and use my tips, then you will get a good result.
The figure shows simple objects. The main part is occupied by a road, you can also see meadows, mountains, and clouds in the sky. This picture looks very attractive. To make the landscape look more realistic, paint objects in the foreground in brighter colors, and paint distant objects in lighter shades.
Materials
Pencil
Paper
Eraser
Coloring supplies
Time needed: 30 minutes
How to Draw a Road Step by Step
Draw the outline of the field.

This step will definitely not cause you difficulties, you should draw just one curved line.

Add the outline of another field.

On the left side of the previously drawn curved line add another line that is slightly longer.

Start drawing the outline of the road.

Below the previously drawn lines, draw a long curved line.

Complete the outline of the road.

Opposite the curved line that you drew earlier, add one more curved line.

Draw the trees.

On the right and left sides of the road, draw trees using straight and curved lines.

Add a few more trees.

On the left side add three trees of different sizes. One of them is partially covered by the other.

Draw the sun.

Above the horizon line add a semicircle to represent the sun.

Erase unnecessary lines.

Use an eraser to remove auxiliary lines that appeared during the drawing process.

Color the drawing.

To color this drawing you should use gray, yellow, blue, brown, and shades of green.
Subscribe to us on social networks so as not to miss new interesting lessons. I suggest you download and print a PDF file for free which contains a quick guide and some helpful tools.
How to Draw a Road: Alternative Method
This lesson does not contain any difficult steps and uses only simple details for drawing, as it is created especially for children and beginners.
In this lesson, you will draw a road, fields, trees, and other elements to make your drawing more realistic and fulfilling. If you already want to start drawing the road, you can prepare the materials you will need for drawing and start doing this lesson. I wish you a great job!