Learn how to draw a skateboard with this step by step tutorial. This guide contains nine very easy steps.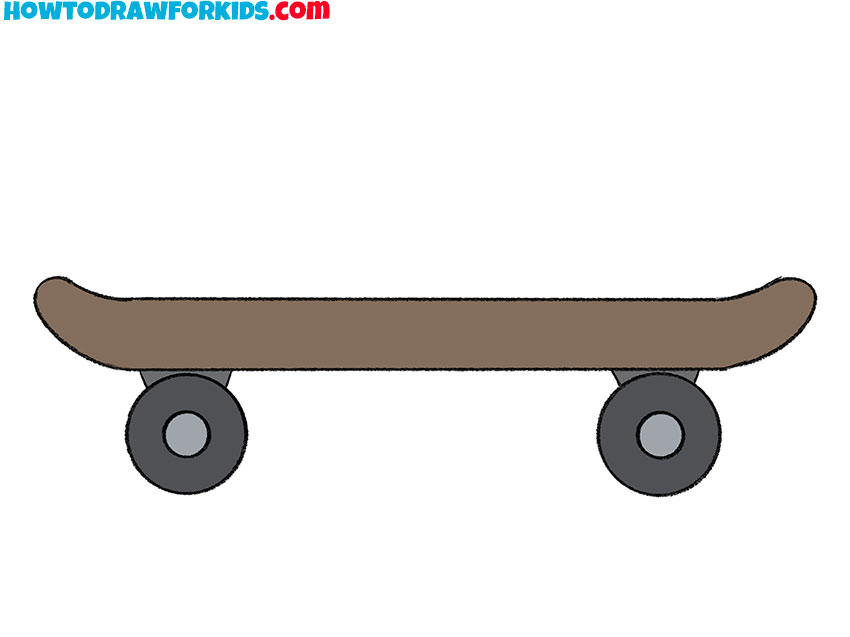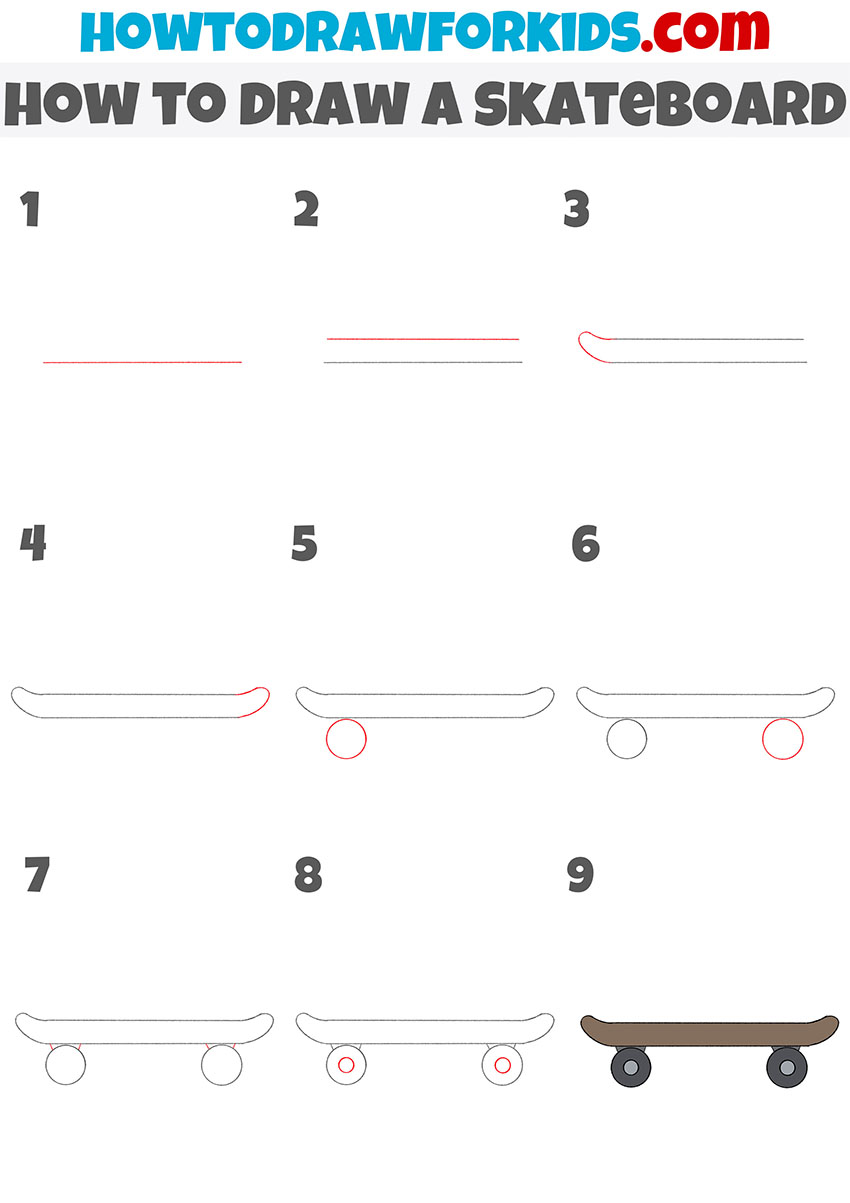 I promise that you will really enjoy this fascinating lesson on how to draw a skateboard. A skateboard is a type of sports equipment used for skateboarding. If you are fond of skateboarding, then this lesson will definitely not leave you indifferent. Skateboarding is one of the most popular and iconic street sports.
Skateboards are usually made of a specially designed 7-8 ply maple plywood deck and polyurethane wheels attached to the underside by a pair of skateboarding trucks. The bottom board of the skate can be straight or curved. This lesson is created for children and beginners, so you can easily cope with it.
After learning this lesson, you can use these skills in the future, for example, if you want to draw a skateboarder. Now I suggest you prepare the drawing materials and start drawing this skateboard.
Materials
Pencil
Paper
Eraser
Coloring supplies
Time needed: 20 minutes.
How to Draw a Skateboard
Start drawing the board of the skateboard.

To represent the bottom of the skateboard, draw a straight horizontal line.

Add the top part of the skateboard.

Above the previously drawn straight horizontal line add another line parallel to it.

Draw the edge of the skateboard.

On the left side connect the two previously drawn straight lines with a curved line.

Add another edge to the skateboard.

Now you should connect the horizontal lines with a curved line on the right side.

Draw the wheel.

On the left side, draw one circle below the board of the skateboard.

Add the second wheel.

Under the previously drawn skateboard, draw another circle on the right side.

Connect the wheels and board of the skateboard.

Connect the outlines of the board and the wheels of the skateboard with short oblique lines.

Add the inside of the wheels.

Inside each of the previously drawn skateboard wheels, draw circles of smaller diameter.

Color the drawing.

To color this skateboard, you should use shades of gray and brown.
Great job! I hope you really enjoyed this tutorial. Below you can see and download the pdf file that I prepared for your convenience. It contains a short version of this tutorial and useful additions.