In this lesson, I want to show you how to draw Moon Knight step by step. The instruction includes nine steps.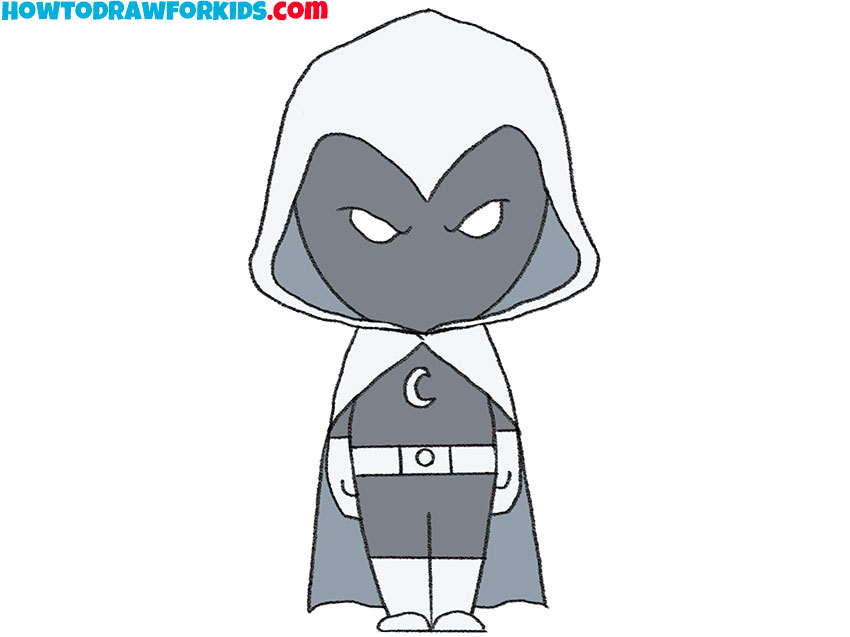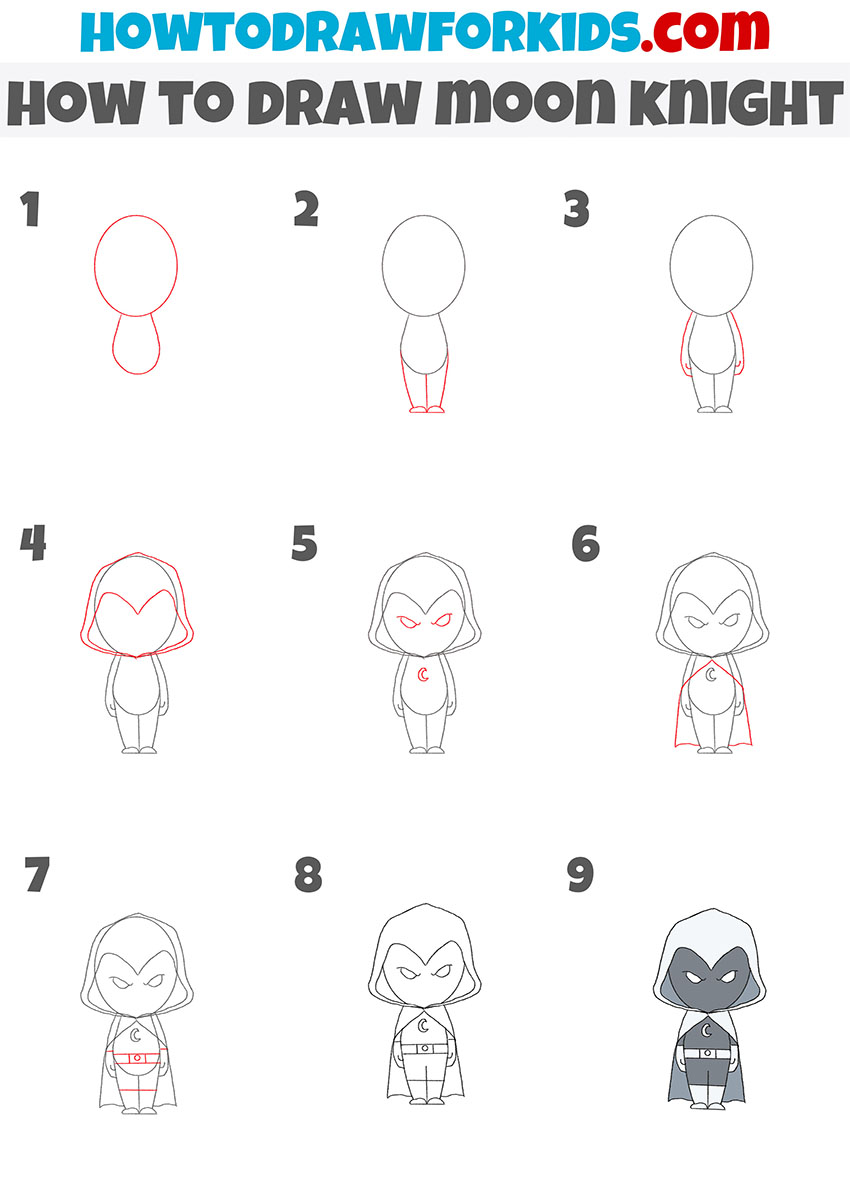 Let's continue drawing popular characters, and now you will learn how to draw Moon Knight. This is a superhero from Marvel Comics. Moon Knight is a mysterious character that draws deep interest from comic book fans. Moon Knight's real name is Mark Spector. From childhood, he was fond of boxing and saw his vocation in military service. Mark devoted many years to military service in the Marine Corps and the CIA. During this time, he perfectly mastered the techniques of martial arts and learned how to use various types of weapons. He has amazing strength, speed, agility, and the ability to regenerate. Moon Knight is ruthless with his enemies.
You can see that Moon Knight is wearing a cloak with a hood, under which it is difficult to see the features of his face. In this tutorial, Moon Knight is presented in the chibi style and therefore has all the features that are characteristic of this style. Moon Knight has a large head, small torso and short limbs, yet the character is easily recognizable. During the lesson, carefully draw all the lines that are marked in red.
Now you can take your art supplies and start the lesson, and I wish you creative success!
Materials
Pencil
Paper
Eraser
Coloring supplies
Time needed: 30 minutes
How to Draw Moon Knight
Draw the head and torso.

Depict an even oval and add the small torso below.

Sketch out the legs.

Draw straight lines below the torso and add legs that are located together.

Depict the hands.

From the head, draw down smooth lines and draw the arms that fit snugly against the torso.

Add the hood.

With the help of smooth curved lines, depict the hood of the same shape as in the example.

Draw the eyes and emblem.

Depict two eyes and draw the emblem in the form of the crescent moon on the chest.

Add the rest of the cape.

Using a few smooth lines, draw the bottom outline of the cape.

Draw the rest of the elements.

Depict the outline of the sleeve and shoes. Draw the belt with the buckle in straight lines.

Correct inaccuracies.

Correct the mistakes if necessary and remove the extra lines in the drawing.

Color the drawing.

For coloring, use different shades of gray.
By tradition, I have prepared for you a simplified version of the lesson in the form of a PDF file, which contains a brief instruction and other useful materials necessary for the effective implementation of the lesson. This way, you will always have access to this lesson, regardless of the Internet connection.