With this simple guide, you will learn how to draw Batman logo. Start the tutorial and enjoy the drawing process.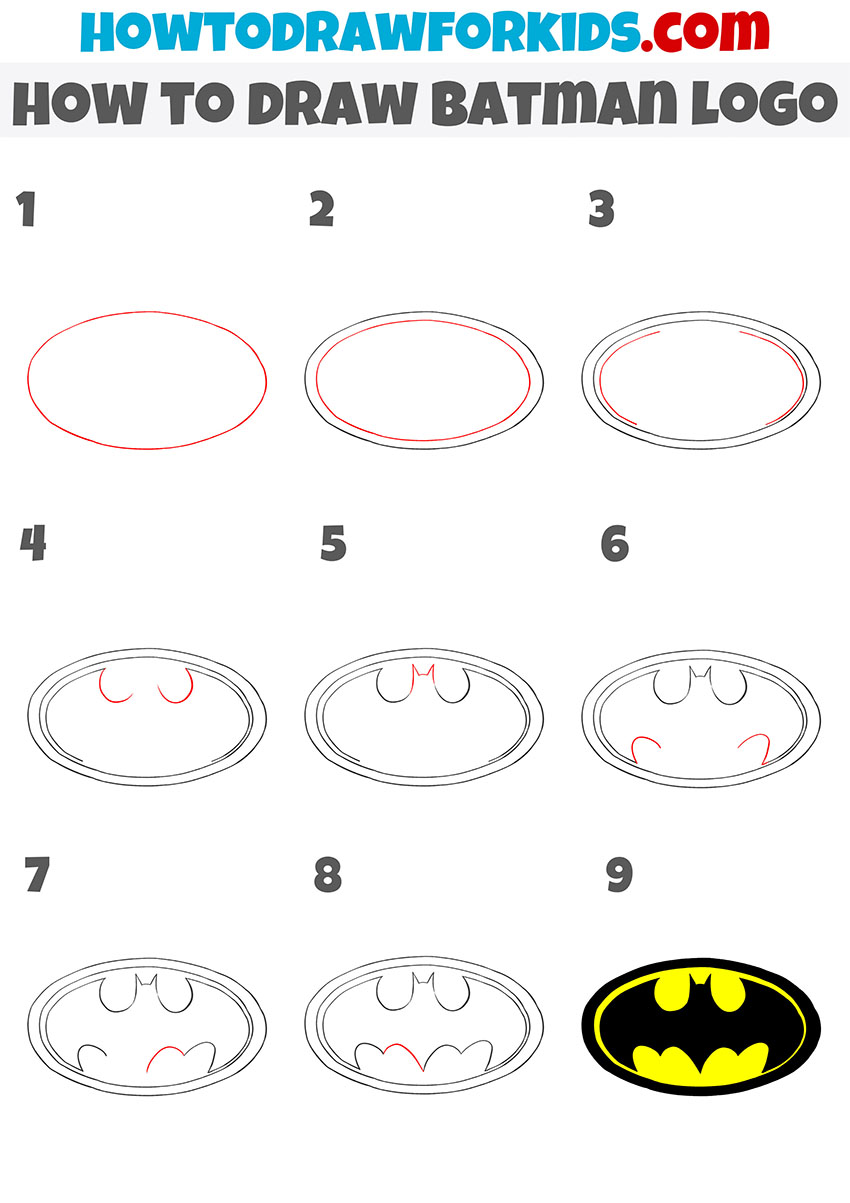 Now you will learn how to draw Batman logo. Batman is a popular comic book character, a brave superhero who fought against evil and injustice. The bat became the epitome of such a battle, so the logo looks like a bat that spread its wings wide. I think you have come across this logo many times. This image can often be seen on various items and clothing.
This logo was created many years ago and has changed over time. In the picture, you can see one of the latest versions of the logo. The logo is shaped like an oval. The designers decided to use two colors – yellow and black.
To complete this lesson, you will need to be able to make straight, rounded lines, so be patient and careful at every step. Make sure that both sides of the logo are symmetrical.
Materials
Pencil
Paper
Eraser
Coloring supplies
Time needed: 15 minutes
How to Draw Batman Logo
Draw an outer path.

Determine the size and location of the logo and draw an oval.

Depict the inner path.

Sketch out the same smaller oval.

Draw the outline of the wings.

Add semicircular lines on the sides.

Depict the upper part of the wings.

Draw two rounded lines as shown in the example.

Add the head.

The head is small, the ears are small, and protrude upwards.

Draw the lower part of the wings.

To do this, sketch out two rounded lines.

Add details.

Using a smooth line, connect the wing and torso.

Add more details.

Repeat the previous step on the other side.

Color the drawing.

Use only two colors – yellow and black.
Now you have learned how to draw Batman logo. Hope you enjoyed this tutorial. You can show the result of the work to your friends and invite them to do drawing lessons together.
Don't forget to follow us on social networks. I suggest you download the PDF version of this guide for free. Use this file anytime, even if there is no Internet access.