In this lesson, you will find useful information on how to draw a cheetah. With a simple instruction, you can easily draw this animal.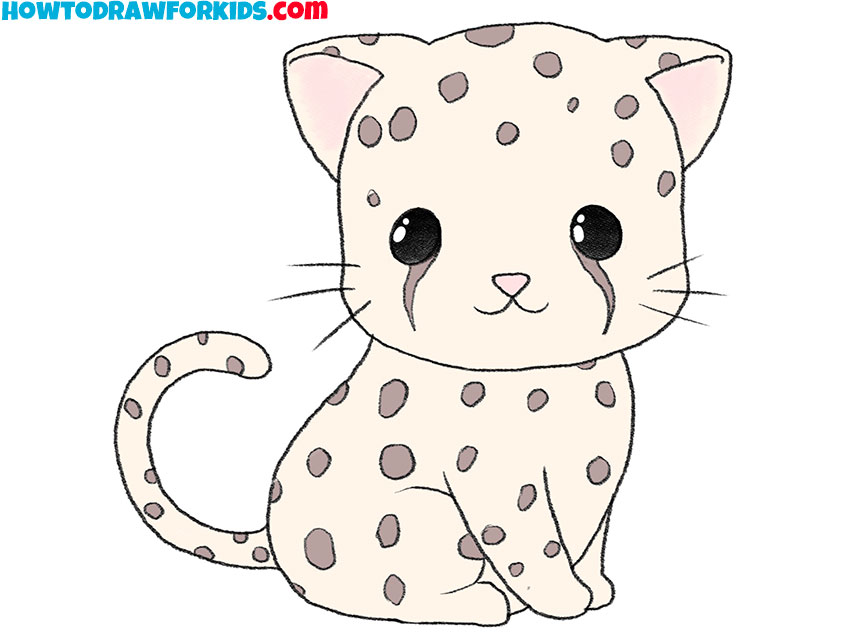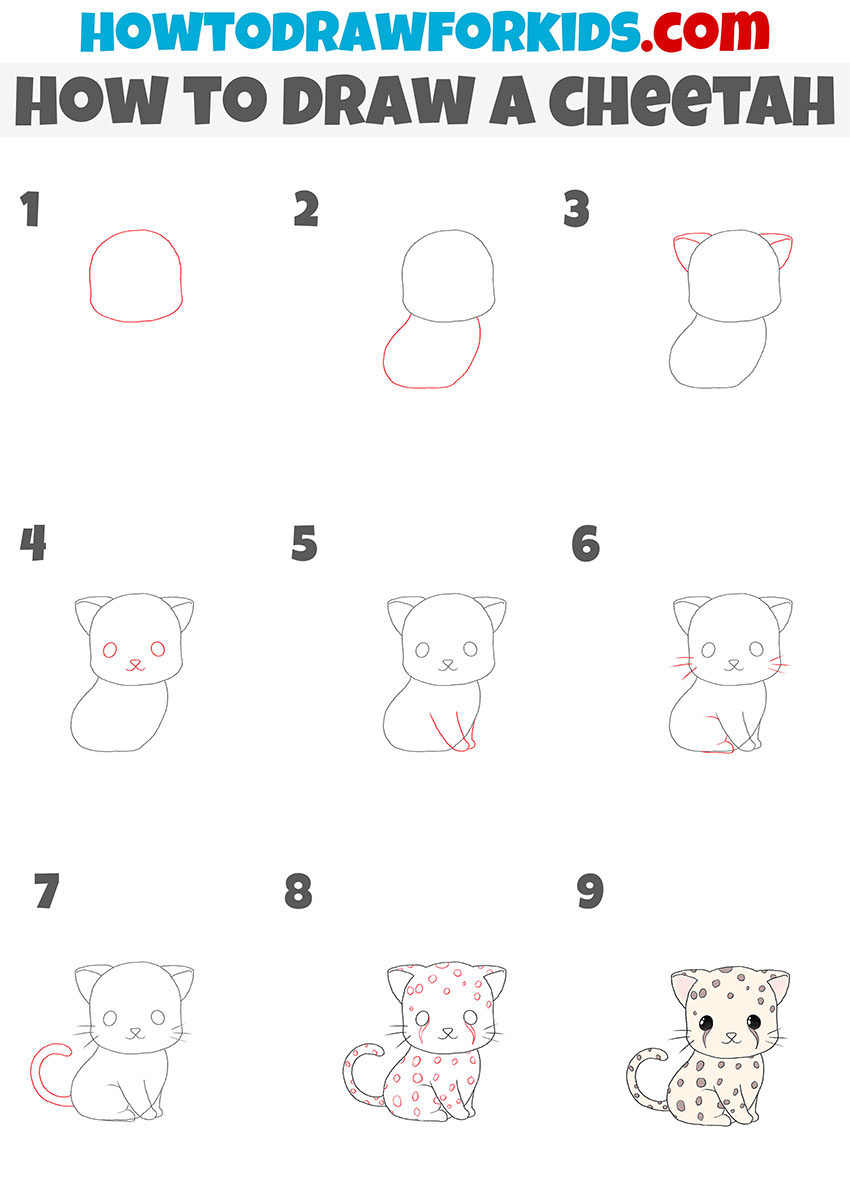 I present to your attention a new, exciting lesson in which you will learn how to draw a cheetah. It is a carnivorous mammal of the cat family.
The cheetah is able to develop tremendous speed and therefore is considered the fastest of all land mammals. The cheetah has a very beautiful coloration, in which small spots of contrasting black are located on a light orange background.
The picture shows a baby cheetah, which looks very cute. The cheetah is depicted in a sitting position and turned its head towards the viewer. Here the cheetah is very similar to a regular kitten, so you can use the skills you have learned if you want to draw any other feline animal. To do this, you need to change the color and shape of the ears.
This instruction includes nine steps, each of which contains an illustration and a brief description. It will help you draw a cheetah correctly step by step. All you need is patience and the correct execution of each step.
Materials
Pencil
Paper
Eraser
Coloring supplies
Time needed: 30 minutes
How to Draw a Cheetah
Draw the head.

The head has a rounded shape, while the lower part is flat and the upper part is convex.

Depict the torso.

With the help of a curved line, draw the torso of the same shape as shown in the example.

Sketch out the ears.

On the sides of the head, draw the small pointed ears and immediately add the inner outline.

Add the elements of the muzzle.

Draw the eyes in the form of ovals. The nose is shaped like a triangle and add the mouth.

Sketch out the front paws.

With the help of smooth lines, draw two front paws that are located side by side.

Add the back paw and whiskers.

Use a curved line to draw the hind paw. With short strokes, draw the whiskers.

Sketch out the tail.

The cheetah has the long tail that is turned up.

Detail the color.

Draw small spots all over the body. Depict thin lines down from the inside of the eyes.

Color the cheetah.

Use beige and dark gray.
You can now download a PDF file that contains a brief instruction and additional useful materials for the successful completion of the lesson.
How to Draw a Standing Cheetah
The first drawing lesson on this page showed you how to draw a cute cartoon cheetah in a sitting position. Now I'll show you how to draw a slightly more realistic cheetah in a standing position.