Today, you will learn how to draw Mewtwo. This simple lesson consists of nine steps with a detailed description.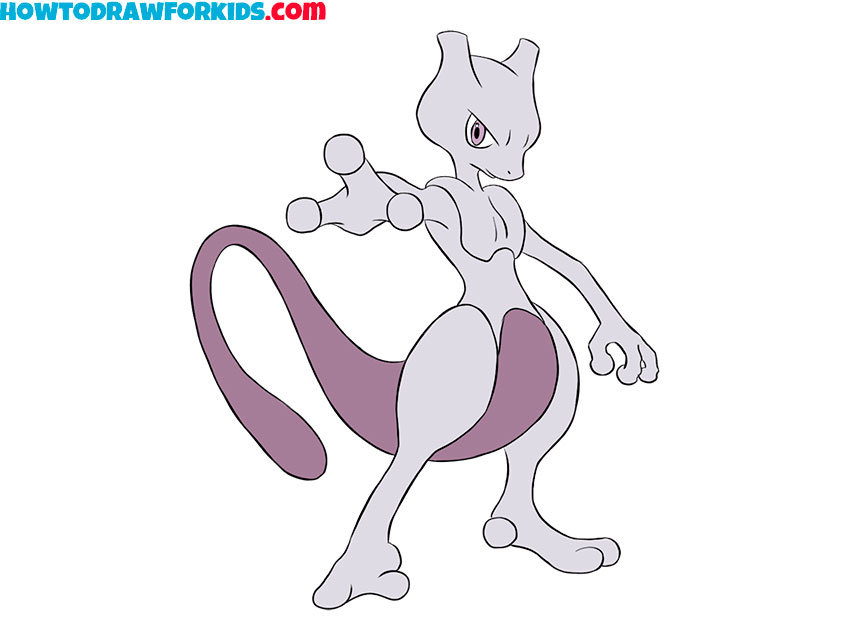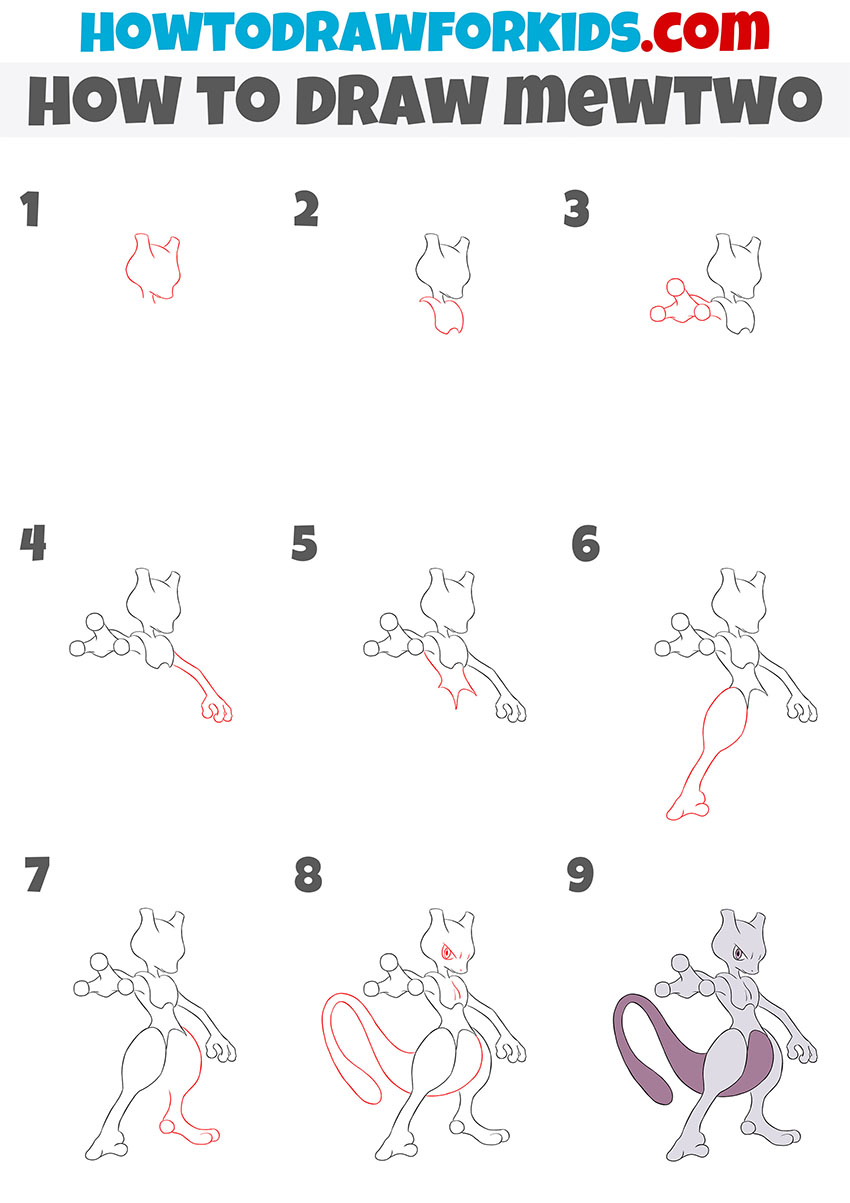 I suggest you complete this drawing lesson, in which you will learn how to draw Mewtwo step by step. This drawing lesson will be appreciated by fans of manga and anime, and it is also great for children and budding artists who do not have much drawing experience.
Mewtwo is an anime and manga character, a "psychokinetic" type Pokémon. Created by scientists by manipulating DNA. It is one of the most aggressive Pokémon. Mewtwo's creators did not endow him with compassion for others, and therefore he is always ready for battle.
The combat and psychokinetic abilities of this representative are developed at the highest level. Mewtwo looks like a mixture of a cat and a kangaroo with a big tail. It is white and purple, very similar to an alien. Instead of ears, Mewtwo has two small, short horns. When attacking or defending, Mewtwo's eyes glow blue.
In this lesson, you will first draw the outline of the character's head and torso, and then add his protruding limbs and tail. Completing this drawing lesson will greatly help you improve your artistic skills.
By learning how to draw Mewtwo with this tutorial, you will be able to use these skills to complete your other manga drawings. I wish you enjoy the creative process!
Materials
Pencil
Paper
Eraser
Coloring supplies
Time needed: 30 minutes
How to Draw Mewtwo
Draw the outlines of the character's head and neck.

Use curved lines. At first, these details seem complicated, so be careful.

Add the outline of the character's chest.

Below the previously drawn contours of the head and neck, draw a few two different sizes.

Sketch out one arm of the character.

This arm is stretched forward, and for its draw you need to use three circles and curved lines.

Add the character's second hand.

Unlike the previously drawn hand, this hand is lowered down. Use straight and curved lines.

Depict the character's lower torso.

Draw several curved lines of different lengths, as shown in the figure.

Draw the outlines of one leg of the character.

This foot looks wide at the base and narrow at the bottom. Use rounded and straight lines.

Add the outlines of the character's second leg.

This leg is turned to the right side. Part of the leg outline is not finished.

Depict the tail and facial features of the character.

Draw a long curved tail as a curved line, add eyes, nose, and lines on the chest.

Color the drawing.

To color this drawing, use different shades of purple.
For your convenience, I have prepared a PDF file in which you can find a short version of this tutorial and additional useful materials for completing it. Download this file to return to the lesson at any time.