How to Draw a Skateboarder
In this drawing guide I will show you a very easy way to draw a fairly realistic skateboarder for beginner artists.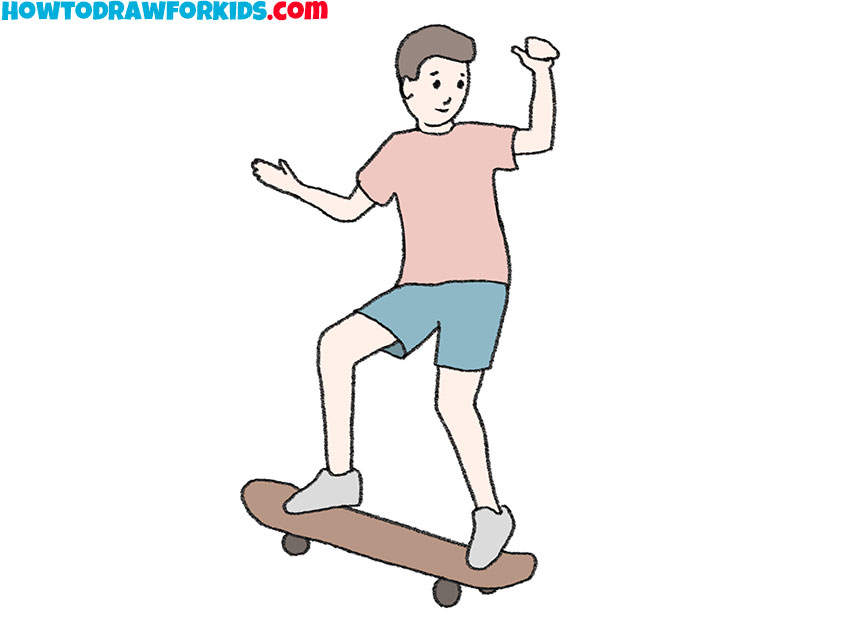 Let's continue drawing human figures and in this tutorial you will learn how to draw a skateboarder. This is a person who is engaged in skateboarding, that is, riding a skateboard.
This is an extreme sport that involves skateboarding and performing various tricks. Skateboarding is perfect for a great time in the city and is popular all over the world due to its simplicity and affordability. Practicing this sport causes a thrill, it is drive, high speed and satisfaction with the successful execution of the next trick.
The figure shows a skateboarder at the moment of movement. He tries to take a stable position on the skateboard and maintains balance with his arms raised up. The lesson will be useful for you, as you will practice drawing a human figure in motion.
Materials
Pencil
Paper
Eraser
Coloring supplies
Steps on How to Draw a Skateboarder
Time needed: 30 minutes
How to Draw a Skateboarder
Draw the head and torso.

The head is oval, the body is a rounded figure.

Add the elements of the head.

Sketch out the hair and facial features—eyes, eyebrows, nose, and mouth.

Sketch out the T-shirt.

Use smooth lines to draw the t-shirt with short sleeves.

Depict the arms.

Be careful at this step and try to correctly depict the position of the arms.

Draw the shorts.

Below the T-shirt, depict short shorts of the same shape as in the example.

Depict the legs and shoes.

The legs are slightly bent, the feet are turned in different directions.

Sketch out the skateboard.

With smooth lines, draw the platform of the skateboard and add the wheels at the bottom.

Correct inaccuracies.

Use the eraser to remove any unnecessary guidelines.

Color the skateboarder.

Use the same colors as in the example, or any other colors of your choice.
At the end of the lesson, a link is available for you to download a short version of the lesson in PDF format for free. Use this file whenever you want to be creative.