In this tutorial you will learn how to draw eyes easy in just nine easy steps. This tutorial is very helpful and you will really like it.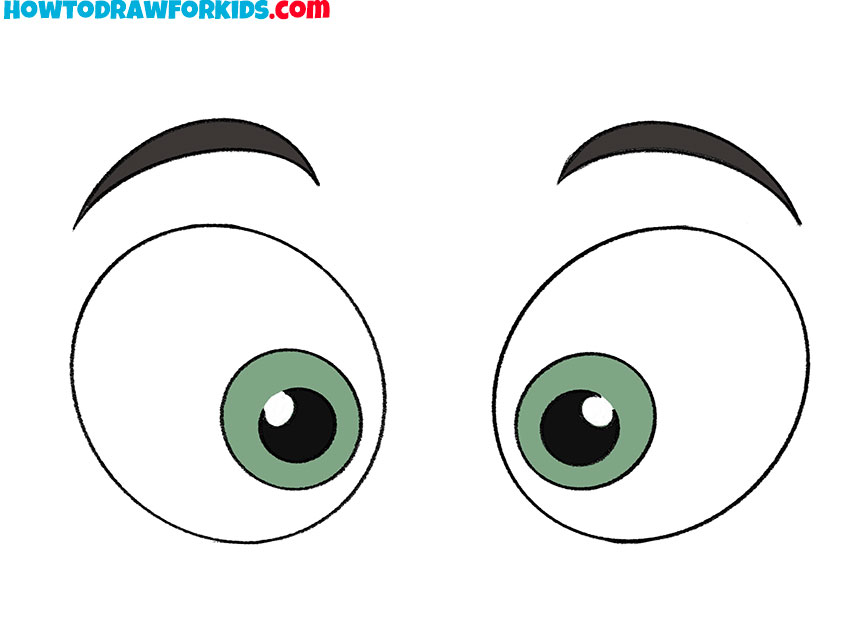 I want to present you with a new lesson in which you will learn how to draw eyes easy. With this simple lesson, you will gain useful skills.
Now you have to complete another interesting and useful lesson in which you will learn how to draw eyes easy. This tutorial will use simple elements that you can easily repeat and in the end, you will get a beautiful drawing.
Here, the eyes are presented in a cartoon style and are oval in shape. Many cartoon characters have this eye shape, and after you master this lesson, you can easily draw the whole character's face.
Materials
Pencil
Paper
Eraser
Coloring supplies
Time needed: 25 minutes.
How to Draw Eyes Easy
Depict the guidelines.

Draw two straight horizontal lines to help you position your eyes at the same level.

Draw the outer outline of one eye.

At this stage, you need to draw an even oval.

Add the outer outline of the second eye.

Sketch out an even oval on the right side.

Depict the iris.

Draw two small circles inside each eye.

Sketch out the pupil.

Draw two even circles in the center of each eye.

Add highlights.

Depict small ovals on each pupil.

Draw the eyebrows.

Use smooth, curved lines while maintaining symmetry.

Correct inaccuracies.

Carefully remove the auxiliary lines in the drawing.

Color the eyes.

Color the iris grey, the pupil, and eyebrows black.
By tradition, I have created a short version of the lesson for you in advance in the form of a PDF file. Download the file and it will help you return to the lesson at any time if necessary.