Now you will learn how to draw a pumpkin for Halloween. After completing this tutorial, you will have a pleasant experience.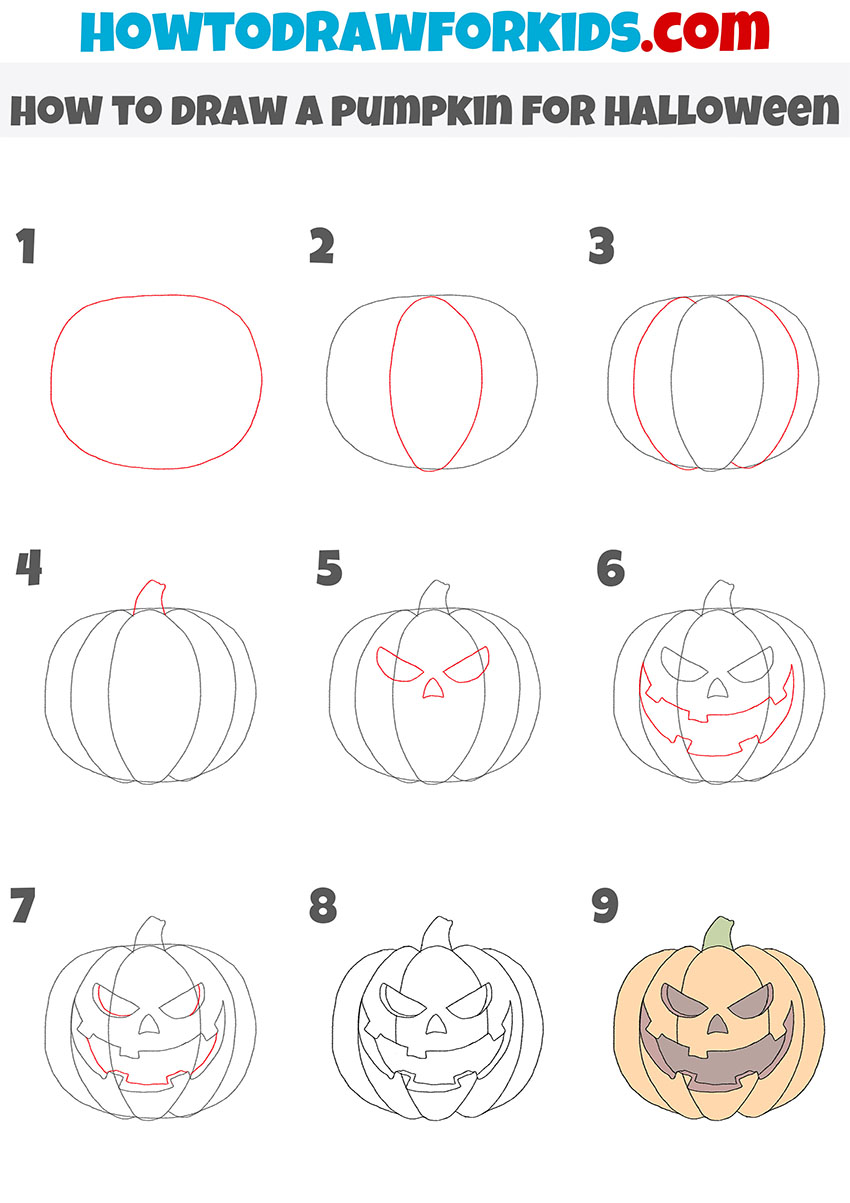 Surely you will feel the festive atmosphere, because in this tutorial I will show you in detail how to draw a pumpkin for Halloween. This is an invariable attribute of a popular holiday.
Usually choose a large pumpkin, remove the pulp and make a few holes to represent the eyes, nose, and mouth. You can put a candle inside the pumpkin and then the light will come out of the holes, and then the pumpkin takes on an evil, frightening look.
I hope that you will be happy to complete this lesson and my clear and accessible instructions will help you with this. Here you have to draw the outer contour of the pumpkin and add holes of various shapes. Be careful and careful at every stage of drawing and carefully draw all the lines to get an excellent result.
Materials
Pencil
Paper
Eraser
Coloring supplies
Time needed: 30 minutes
How to Draw a Pumpkin for Halloween
Draw the outer outline of the pumpkin.

Determine the size of the drawing and draw an oval shape.

Depict the front of the pumpkin.

In the center of the drawing, add an oval shape that is vertical.

Detail the sides of the pumpkin.

On each side, add smooth, curved lines while maintaining symmetry.

Sketch out the process.

At the top of the pumpkin, draw the small process of the same shape as in the example.

Draw the eyes and nose.

In the middle of the pumpkin, draw two eyes in the form of half circles and add the small nose.

Add the mouth.

Correctly depict the shape of the mouth.

Depict the thickness of the pumpkin.

Draw additional lines in each eye and at the bottom of the mouth to represent the thickness.

Correct inaccuracies.

Take the eraser and carefully remove the extra lines without affecting the important lines.

Color the drawing.

Color the pumpkin orange, the offshoot green, and the inside gray.
The pumpkin for Halloween is ready! I hope that you tried your best at each stage of drawing, and you got a great drawing. At the end of the lesson, I suggest you download a PDF file in which you will find a brief instruction and additional training materials.