How to Draw a Pumpkin for Halloween
Today I will tell you how to draw a pumpkin for Halloween. This is one of the most beautiful and cool decorations in the world, in my opinion. So I tried my best!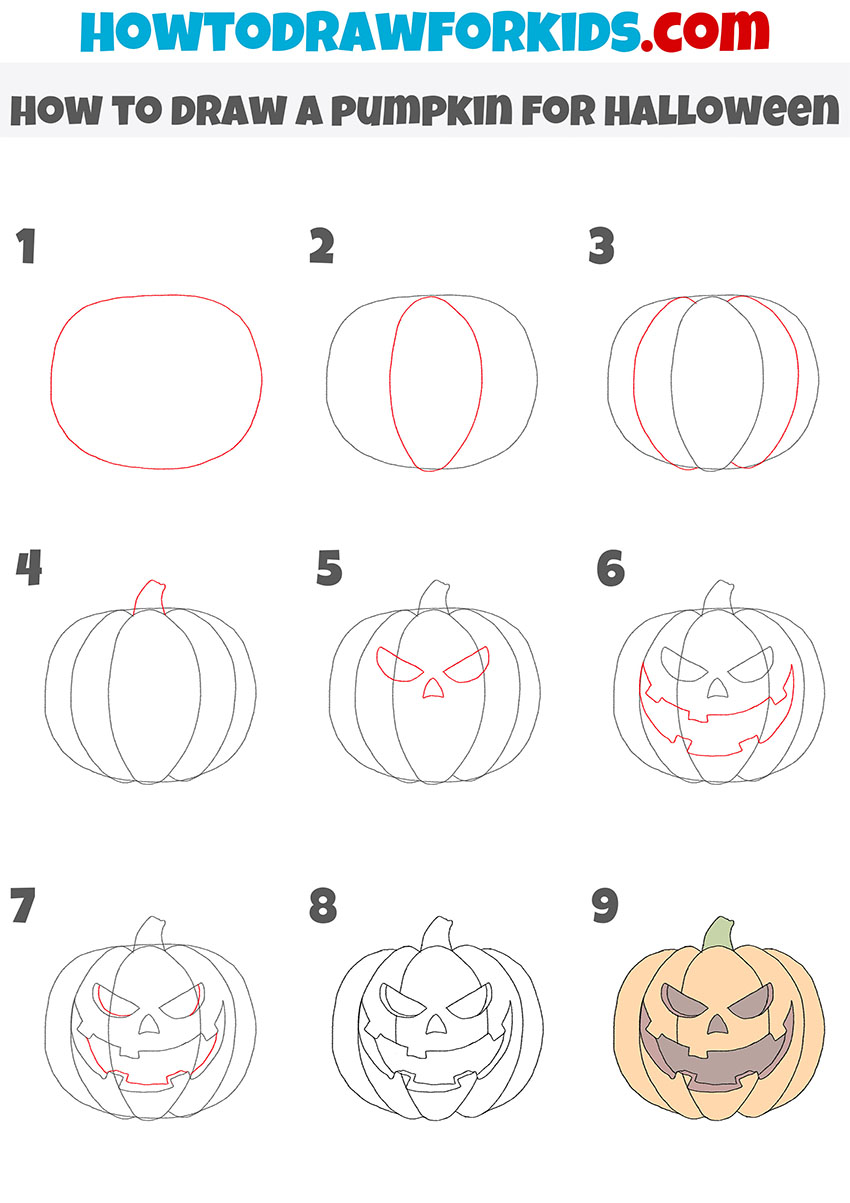 Table of Contents
Basic Information on How to Draw a Pumpkin for Halloween
The Halloween pumpkin or Jack-O-Lantern is a very popular subject to paint. Today I'll show you how to draw this in a few different ways. Your task will be very easy if you already know how to draw a pumpkin. If not, be sure to watch my tutorial.
In the first steps, I will repeat the beginning of the lessons on drawing ordinary pumpkins. However, already in the middle of this guide, we will begin to draw a well-recognized scary face on a pumpkin. At the end, I'll show you how to give this art a little more realism and dimension.
Also, I will show you a few more ways to draw a Jack-O-Lantern. By the way, you probably know this old legend about a guy named Jack. He deceived the devil and now forever wanders the Earth using a pumpkin with coal inside for lighting. It was this legend that gave us the beautiful tradition of decorating houses and yards on the eve of Halloween.
Materials
Pencil
Paper
Eraser
Coloring supplies
Steps on How to Draw a Pumpkin for Halloween
Time needed: 30 minutes
How to Draw a Pumpkin for Halloween
Draw the outer outline of the pumpkin.

So let's get started. First, draw an asymmetrical circular shape in the center of your paper. This is still very similar to drawing a regular pumpkin.

Depict the front of the pumpkin.

Many pumpkin varieties look like they are made up of segments. Today we are drawing just such a pumpkin. So, add a vertically elongated oval to the center of the outline from the previous step.

Detail the sides of the pumpkin.

Add two more rounded lines more laterally. It should end up looking like large segments that form the fruit.

Sketch out the stem.

This is the last step before drawing the most interesting part. Depict a small pumpkin stem that tapers at the top and bends slightly to the side.

Draw the eyes and nose.

Now it will be more fun. Draw any outlines of a scary face at your discretion. Avoid excessive detail, use a minimum of lines. Copy my version in the simplest case.

Add the mouth.

The mouth is a very important part of any face, even if we are talking about a Halloween pumpkin. Draw a few more simple lines to depict a sinister smile.

Depict the thickness of the pumpkin.

A little secret to add realism to our pumpkin. Draw additional lines inside the outlines of the eyes and mouth as in my example. Don't try to draw more lines – it will look like a mistake

Correct inaccuracies.

Remove extra lines from the entire drawing. Be especially careful to erase the strokes between the lines from the last step and the pumpkin's facial features.

Color the drawing.

Choose any colors for your Halloween pumpkin. The most ideal options are dark orange, light red or different shades of yellow. The inside of the pumpkin is two different shades of brown.
Additional Content
The pumpkin for Halloween is ready! I hope that you tried your best at each stage of drawing, and you got a great drawing. At the end of the lesson, I suggest you download a PDF file in which you will find a brief instruction and additional training materials.
Alternative Ways to Draw a Pumpkin for Halloween
So, there are quite a few ways to draw a very simple pumpkin for Halloween. Here I will show a few more. I tried to collect drawing guides of varying complexity so that it would be useful to any of my readers.
Method 1: How to Draw a Jack-o'-lantern for Kindergarten
This is the easiest way to draw a scary pumpkin. You can use this guide if you have just recently started drawing. Here I removed almost all the details that could complicate the drawing. Of course, there is no volume and complexity here. I also greatly reduced the number of steps to make the lesson as simple as possible.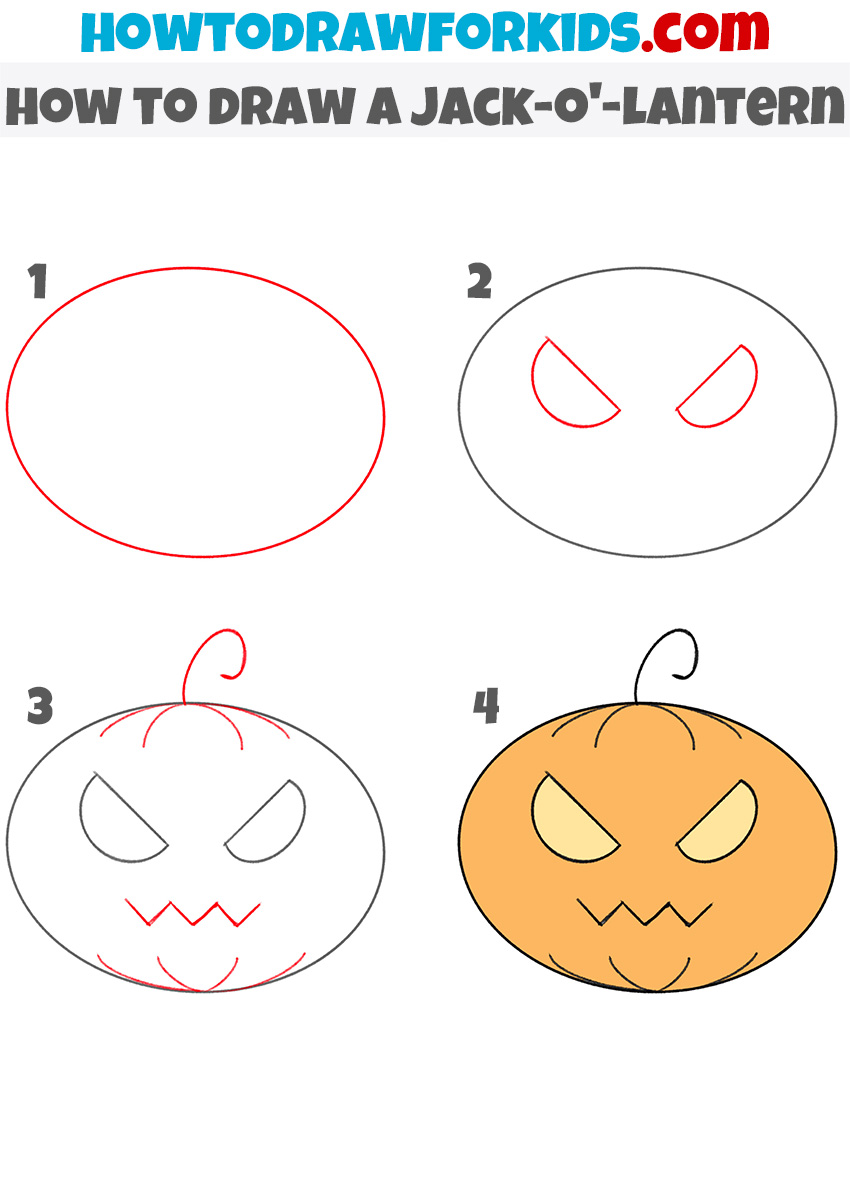 Method 2: How to Draw a Jack-o'-lantern
This is another version of a very simple pumpkin for Halloween. I tried to break this lesson down into nine very simple steps. This is a little more complicated than the previous four step lesson. And, there's a more detailed mouth and a bit more detail on the stem.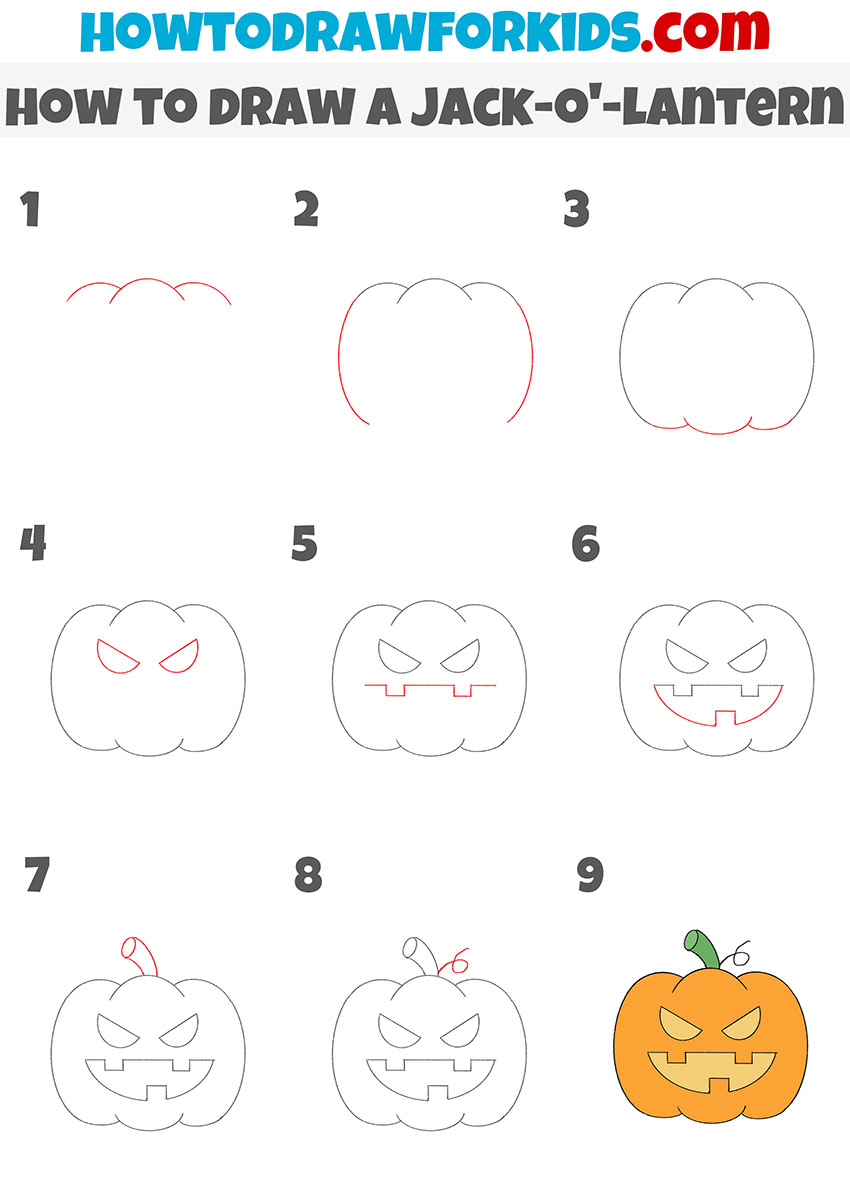 Method 3: How to Draw a Pumpkin Face
In this tutorial, you can see a more complex and voluminous pumpkin with a scary face. I decided to draw an unusual eye shape here. It looks like long, elongated triangles. As a rule, such figures are more grotesque and comical than frightening.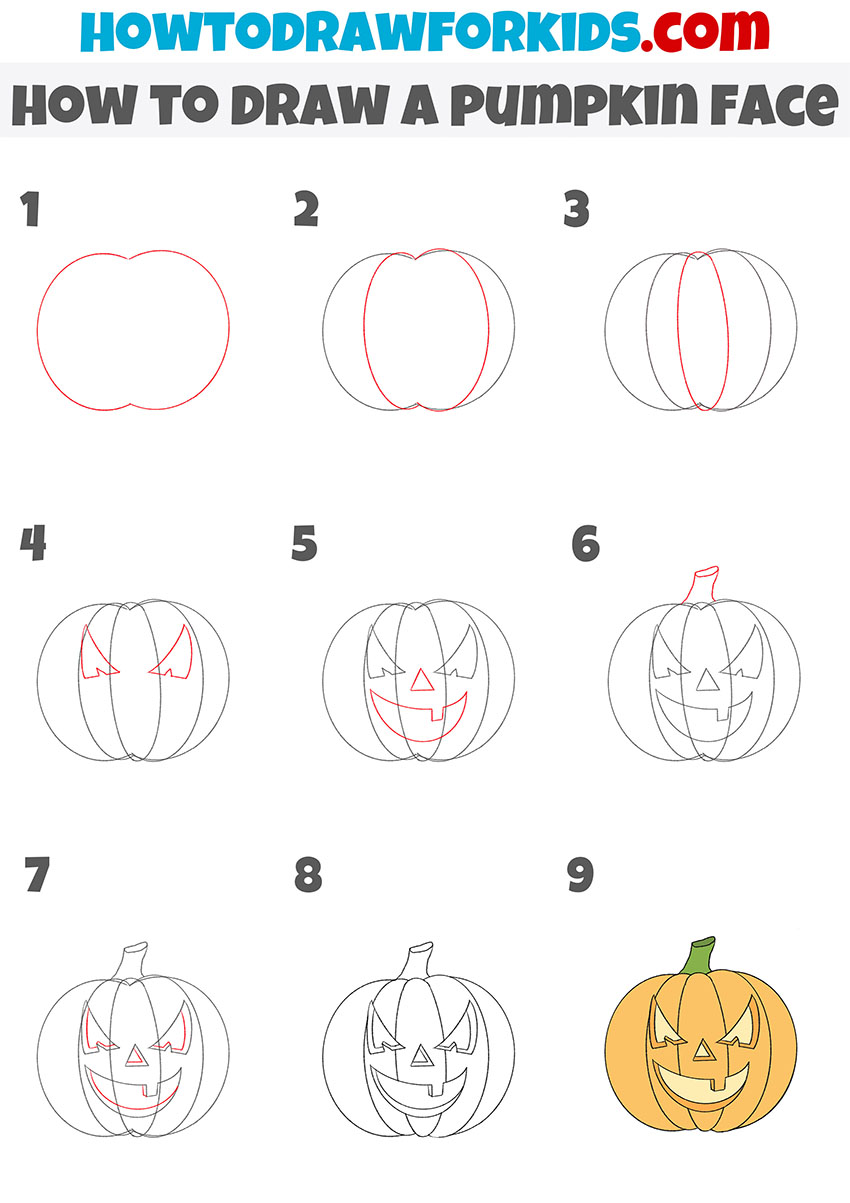 Method 4: How to Draw a Scary Pumpkin
Do you notice what is unusual about this picture? Of course it's a perspective. I slightly increased the distance from the stem to the eyes, and placed the face closer to the bottom edge. As a result, we see the effect as if the pumpkin is leaning slightly towards us. Looks pretty creepy, doesn't it?
Conclusion
Today we painted a lot of different pumpkins. I hope you got a great result and chose a drawing guide that suits you perfectly. Please write in the comments which lesson you liked the most. This really helps me create new articles.