Now I will show you how to draw Pickle Rick. This lesson will be simple, like the other lessons that are presented on this site.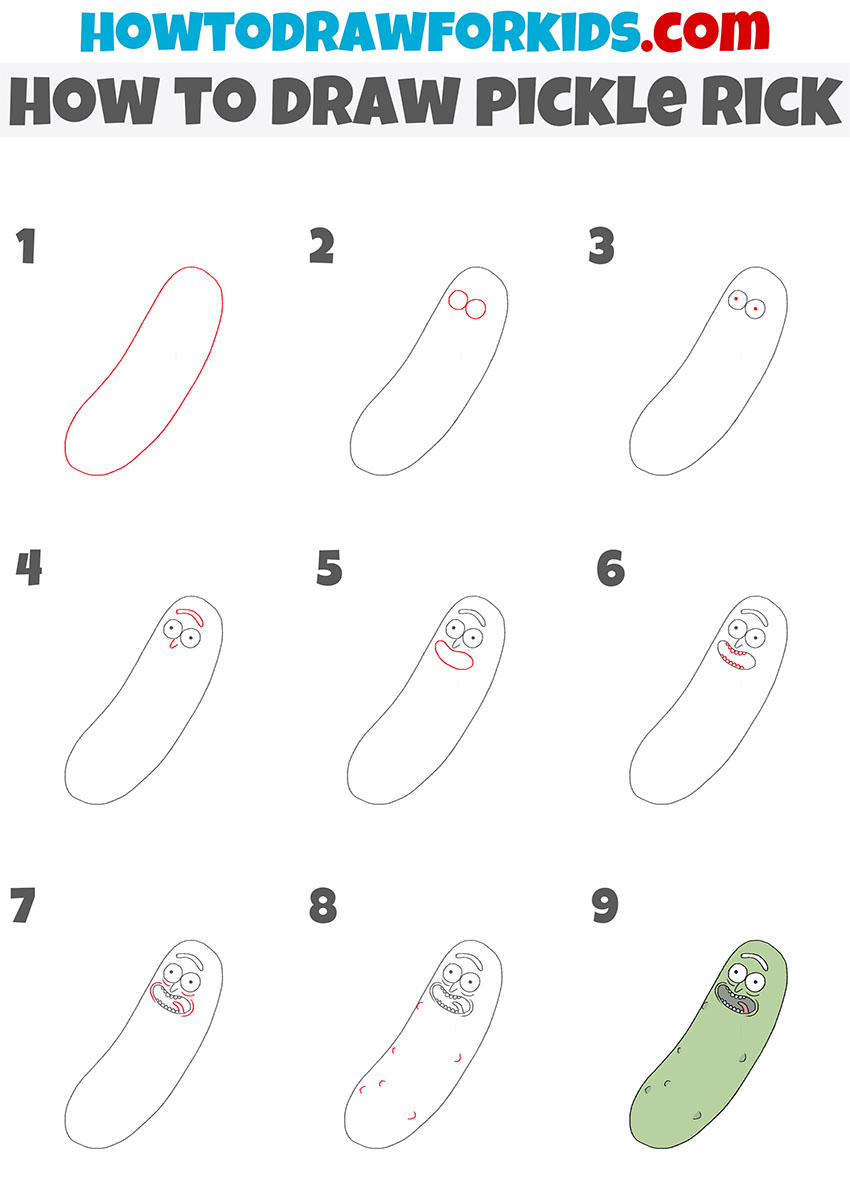 If you want to learn how to draw an unusual character, then I suggest you complete the lesson on how to draw Pickle Rick. This is a character from Rick and Morty. According to the plot, this unusual character overcomes obstacles to achieve his goals.
The Pickle Rick looks like a cucumber that has a face. This character has round eyes that are set side by side and a wide mouth. It looks very funny.
This tutorial uses simple lines and a minimum of elements, so you can easily cope with this creative task, even if you have little experience in drawing.
Materials
Pencil
Paper
Eraser
Coloring supplies
Time needed: 30 minutes
How to Draw Pickle Rick
Draw the outer outline.

Determine the size of the drawing and draw the figure in the form of an elongated curved oval.

Depict the eyes.

At the top of the cucumber, draw two eyes that are located side by side.

Sketch out the pupils.

Draw the large dot in the center of each circle.

Add the crease on the forehead and nose.

Depict a curly element on the forehead and using a curved line draw the small nose.

Draw the mouth.

With a smooth line draw the mouth that is wide open.

Depict the teeth.

With the help of wavy lines depict the upper and lower row of the teeth.

Add the rest of the elements of the face.

Draw the creases under the eyes and at the corners of the mouth. Add the language.

Detail the surface of the Pickle Rick.

Draw some curved lines to represent rounded bumps on the surface of the cucumber.

Color the drawing.

For coloring, you will need shades of green, also gray and red.
The lesson is over, and now you know how to draw an unusual character. I look forward to your feedback on this tutorial. Finally, I suggest you download a PDF file for free, which contains a brief instruction and additional training materials. This way you can return to the lesson at any time and complete it again.