Today I will show you how to draw a raccoon. My nine-step tutorial will help kids draw this animal quickly and easily.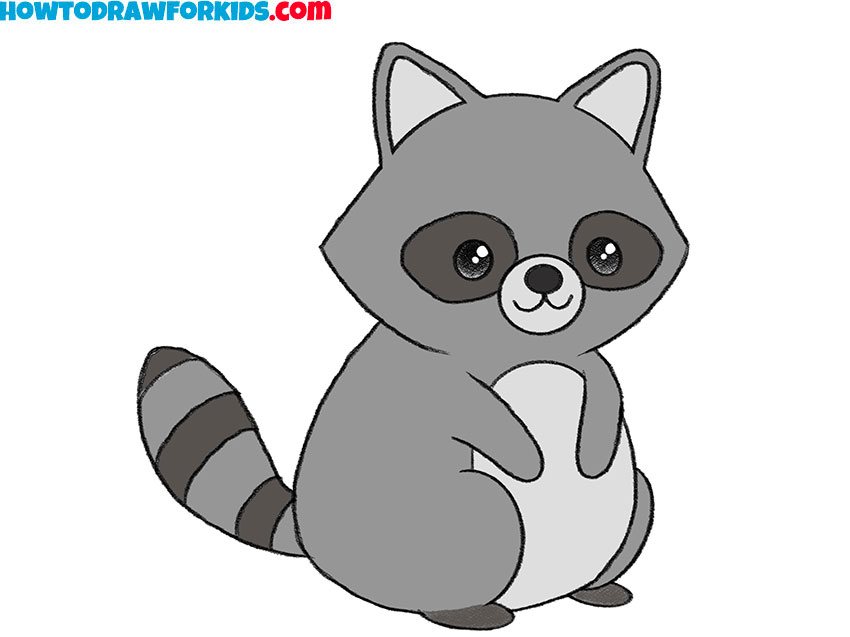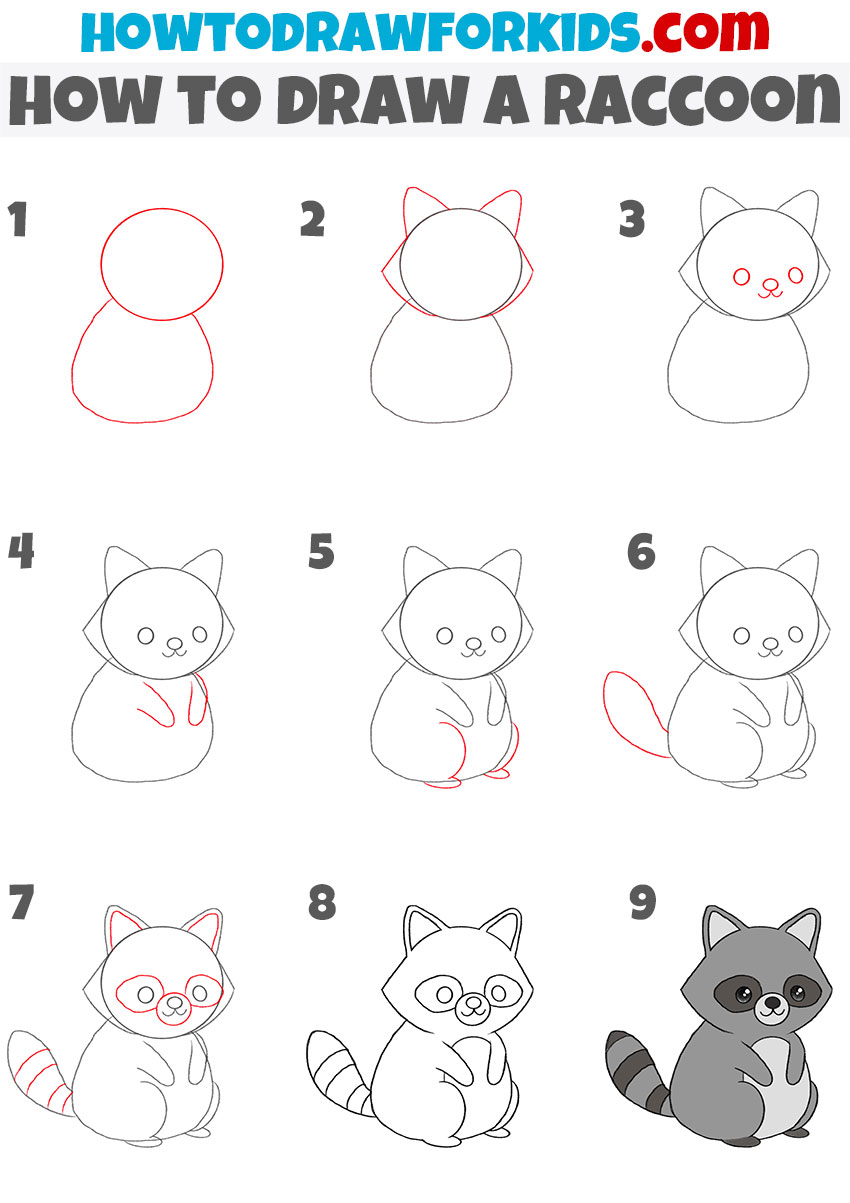 In this lesson, you can learn how to draw a raccoon step by step. Even if you have no drawing experience at all, you can still do this lesson. With these detailed instructions, any child or beginner can draw a raccoon easily.
The raccoon is a medium-sized mammal native to North America. Three of the raccoon's most distinctive features are its extremely dexterous front paws, its facial mask, and its ringed tail. Raccoons live in a variety of habitats, including residential and urban areas.
I'm sure you'll enjoy this lesson. The result of your drawing will be the drawing of a very cute raccoon.
Materials
Pencil
Paper
Eraser
Coloring supplies
Time needed: 20 minutes
How to Draw a Raccoon
Draw the outline of the raccoon's head and torso.

Draw the head of the animal as a circle. Add a torso below it with a curved line.

Add the ears and improve the shape of the head.

Depict the ears as identical. Make the shape of the head pointed at the sides.

Draw the facial features.

Draw the raccoon's eyes and nose as ovals and its mouth as rounded lines.

Outline the animal's paws.

Draw two raccoon paws on top of the torso, using curved lines.

Add two more paws.

Depict the animal's paws on the lower part of the torso, using half-circles and curved lines.

Draw the tail.

You can depict this element as a curved line. The raccoon's tail looks lush and raised upwards.

Add decorative elements.

Draw the inside of the ears, the stripes on the tail, and the ovals on the raccoon's face.

Erase the auxiliary lines and draw a belly.

Take an eraser to remove unnecessary lines from the body. Add lines to the raccoon's belly.

Color the drawing.

Use shades of grey to color this drawing. Colour the raccoon's eyes in black.
Now you have drawn a cute raccoon. I hope you enjoyed this drawing guide and are happy with the result. At the end of the lesson, of course, I prepared a free PDF file of this lesson for you. Download and print it to access this tutorial outside of the internet.
By learning how to draw a simple raccoon with the help of this instruction, you will improve your artistic skills, as well as be able to draw more diverse pictures. If you wish, you can supplement your drawing with the image of any other animals, as well as a natural landscape. For example, you can draw a raccoon against the background of the forest, trees, and also draw forest animals around him, and thus, you will get a beautiful drawing.