I propose a new drawing lesson in which you can learn how to draw a rhinoceros step by step. This tutorial consists of nine simple steps.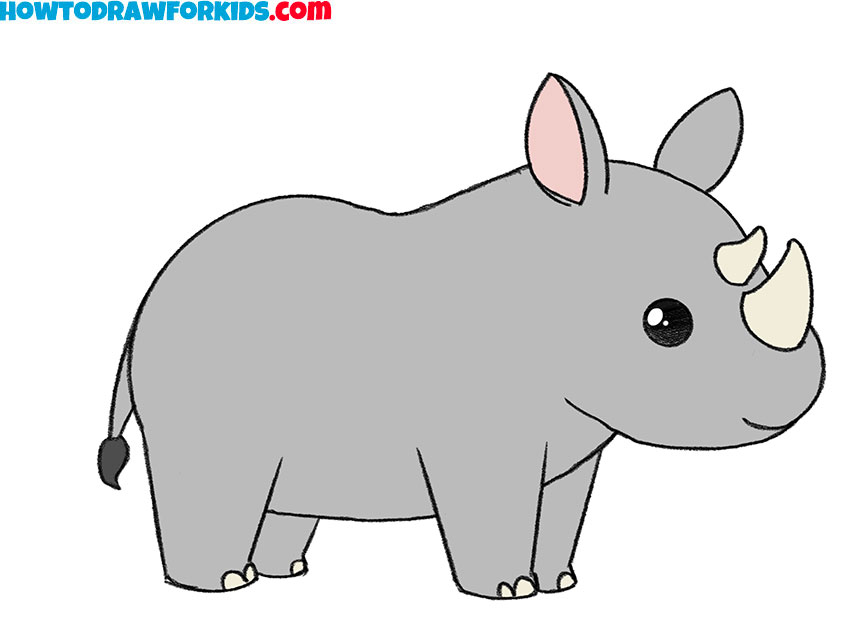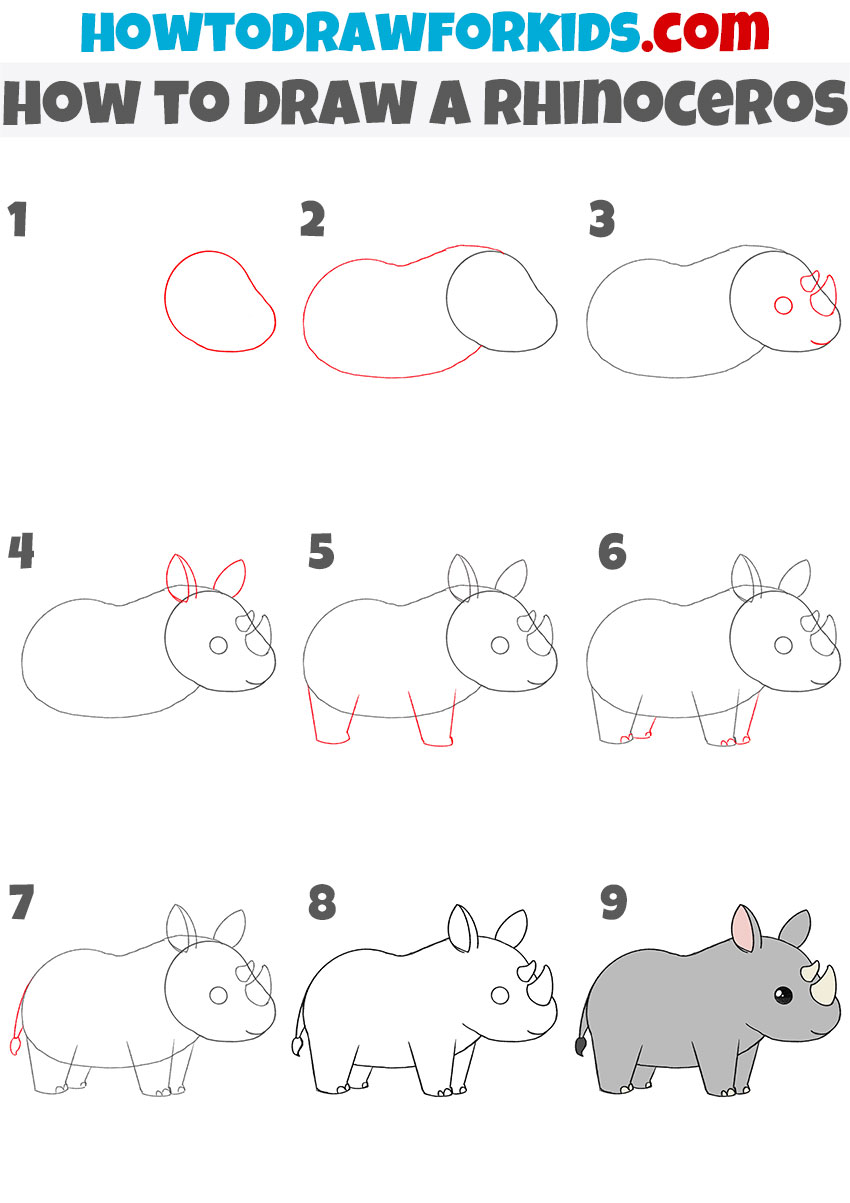 In this drawing lesson, you will learn how to draw a rhinoceros. This tutorial is adapted for aspiring artists. I am sure that the skills you have learned in this lesson will be useful to you in the future too.
Rhinoceroses are large, herbivorous mammals identified by their characteristic horned snouts. The word rhinoceros is a combination of two Greek words – rhino (nose) and ceros (horn). Rhinoceroses are some of the largest remaining megafaunas: all weigh at least one tonne in adulthood.
Now you can prepare the materials you need to draw and start drawing the rhinoceros.
Materials
Pencil
Paper
Eraser
Coloring supplies
Time needed: 20 minutes.
How to Draw a Rhinoceros
Draw the outline of the rhinoceros' head.

Using curved lines, draw a shape that looks like a slightly curved oval.

Add the torso.

Draw a curved line that continues the outline of the rhinoceros' head.

Add facial features.

Draw a circle-shaped eye, two horns, and a curved mouth on the rhinoceros' head.

Outline the ears.

Draw the rhinoceros' ears pointed upwards. Picture them turned in different directions.

Draw the rhinoceros' legs.

Depict the two legs as being the same. They should be placed in the foreground.

Draw two more rhinoceros' legs and add toes.

Draw two identical legs in the background and add toes on each leg, using rounded lines.

Draw a rhinoceros's tail.

Outline it not too long with a pointed tassel on the end.

Erase the auxiliary lines.

Take an eraser and remove all unnecessary lines from your drawing.

Color the drawing.

To colour the rhinoceros, use shades of grey, pink, and black. Add highlights on the eyes.
Were you able to draw a rhinoceros? I hope you got a great drawing! I would be happy to read your comments on this drawing lesson. You can suggest your own ideas for new drawing tutorials. I have prepared the PDF file, especially for your convenience. You can download and use it whenever you want, even if you are not connected to the Internet.