Do you want to learn how to draw a rose? If you're here, you probably want to. In this drawing tutorial I will show you some very simple ways to draw this beautiful flower.
First, you will learn how to draw a rose using step-by-step instructions, then I will show you 8 additional ways to sketch a this flower, and in addition, you can download this lesson and all additional materials for it absolutely free.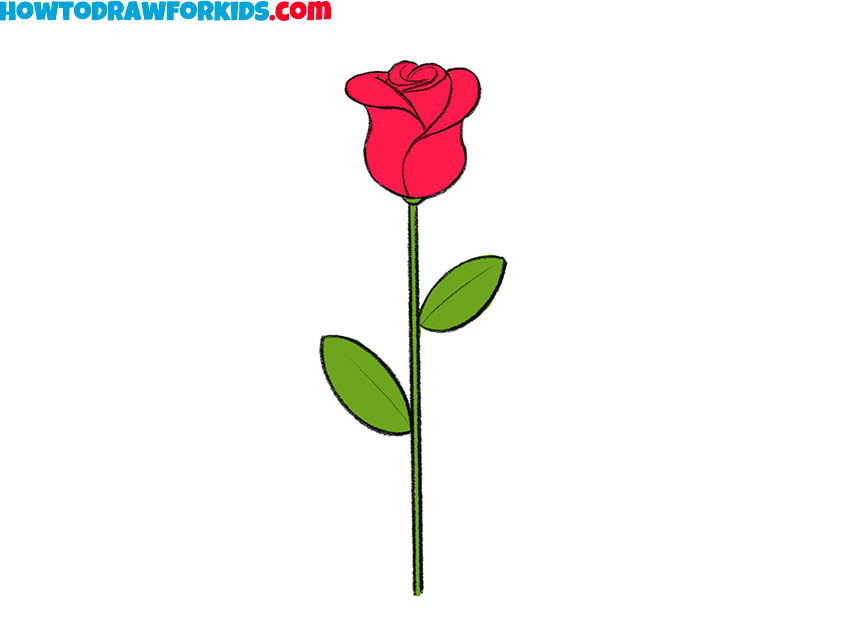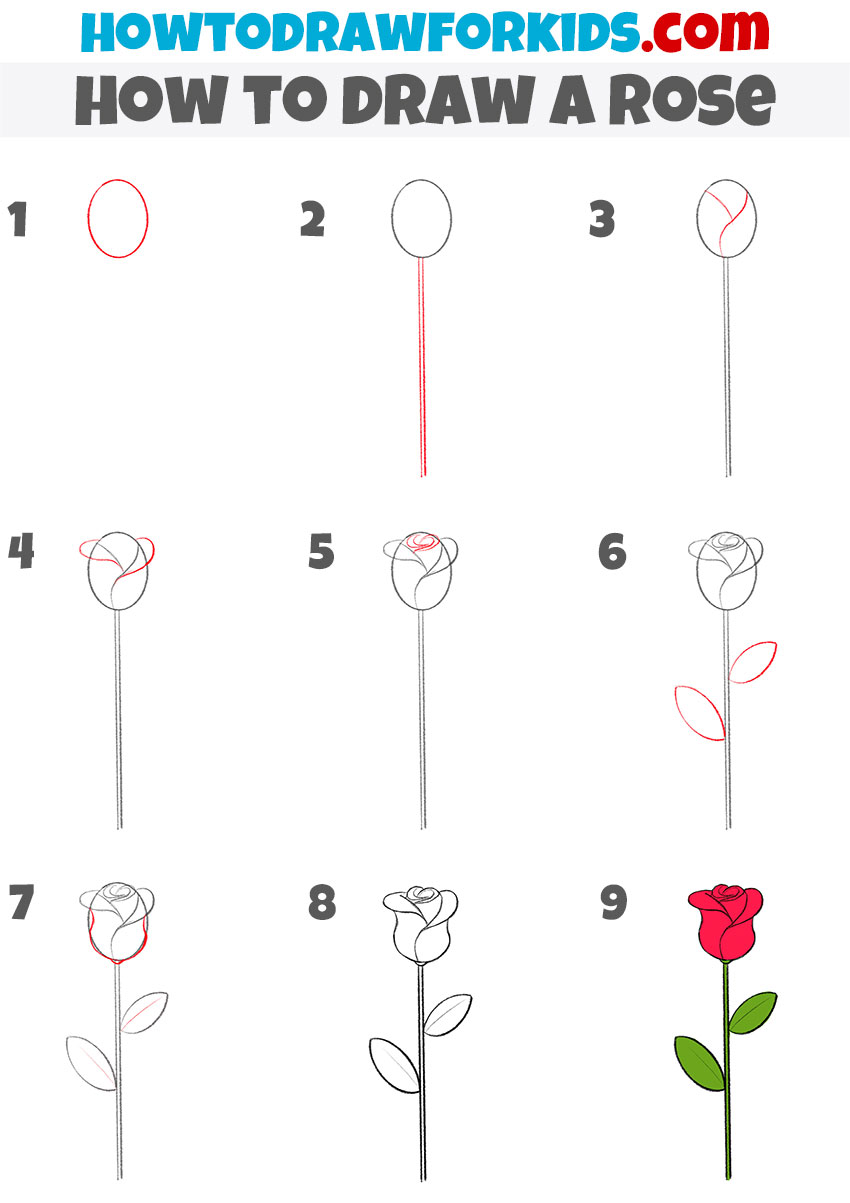 Table of Contents
Basic Information on How to Draw a Rose
I have prepared a new drawing tutorial for you in which you will learn how to draw a rose step by step. I am sure that this lesson will be useful to you.
The rose is considered one of the most beautiful flowers. A bouquet of beautiful roses is a great gift for a holiday to a friend or family member.
You will be able to draw this picture even if you have no drawing experience. Prepare your drawing materials and start drawing the rose by following these simple instructions.
You can of course use other colors to paint the rose. For example, you can use white, yellow, or some other beautiful color for the bud. All other parts will remain green. You can also add shadows, highlights, and water droplets to make the artwork more voluminous and convincing.
Materials
Pencil
Paper
Eraser
Coloring supplies
Steps on How to Draw a Rose
Time needed: 20 minutes
How to Draw a Rose
Draw the outline of the rosebud.

First depict a small oval at the top of the sheet of paper. This will be the outline of the future rosebud. Don't try to make this oval perfectly round, just mark the location of the bud on a piece of paper.


Add the stem of the flower.

Draw two parallel lines from the drawn oval to the bottom of the sheet of paper. These lines can be straight, as in my example, or have bends.


Start drawing the outline of the rose petals.

Draw two curved lines on the oval outline of the bud. The lines of the rose petals should be smooth and flow into each other.


Draw the elements of the petals.

Depict the protruding parts of the petals on the sides of the rosebud. These are the outermost petals, so they should look significantly larger than the rest.


Draw the inside of the bud.

Add rounded lines at the top of the bud. Note that in a simplified view, the inner petals look like a swirl. These lines should also be really smooth.


Draw the leaves of the rose.

Outline two identical leaves on different sides of a rose stem. In simplified form they look like my example, but to make them more realistic add jagged edges to them.


Give the rosebud the correct shape.

Draw the outline of the bud using two smooth lines. At the bottom, the bud widens slightly and then converges at the very bottom near the stem.


Erase the auxiliary lines.

Take an eraser and remove all unnecessary lines from your rose drawing. Your artwork should look clean and tidy. You can add some additional elements, such as spikes.


Color the rose drawing.

Color the rosebud pink and the stem and leaves green. But as I wrote above, roses come in a variety of colors, so you can color this beautiful flower in any of them.

Additional Content
I think you have drawn a very beautiful and colourful rose. Be sure to write in the comments what you liked best about this lesson. I have prepared a PDF file for you, where you can see a short version of this lesson, download it and draw whenever you want. You can also complete these lessons with your friends.
Alternative Ways to Learn How to Draw a Rose
Any object can be drawn in hundreds of different ways, and an object such as a rose is no exception.
Below I want to present you with a few more variations of how you can draw a rose. Try to master all the methods, or choose the most convenient one for yourself.
Method 1: How to Draw a Rose Easy
This tutorial is divided into 10 steps, showing a slightly more detailed way of drawing a rose. Here I slightly changed the phasing of the steps, but the general essence is similar to the previous lesson.
Here you also need to start with the bud, then move on to the stem and leaves.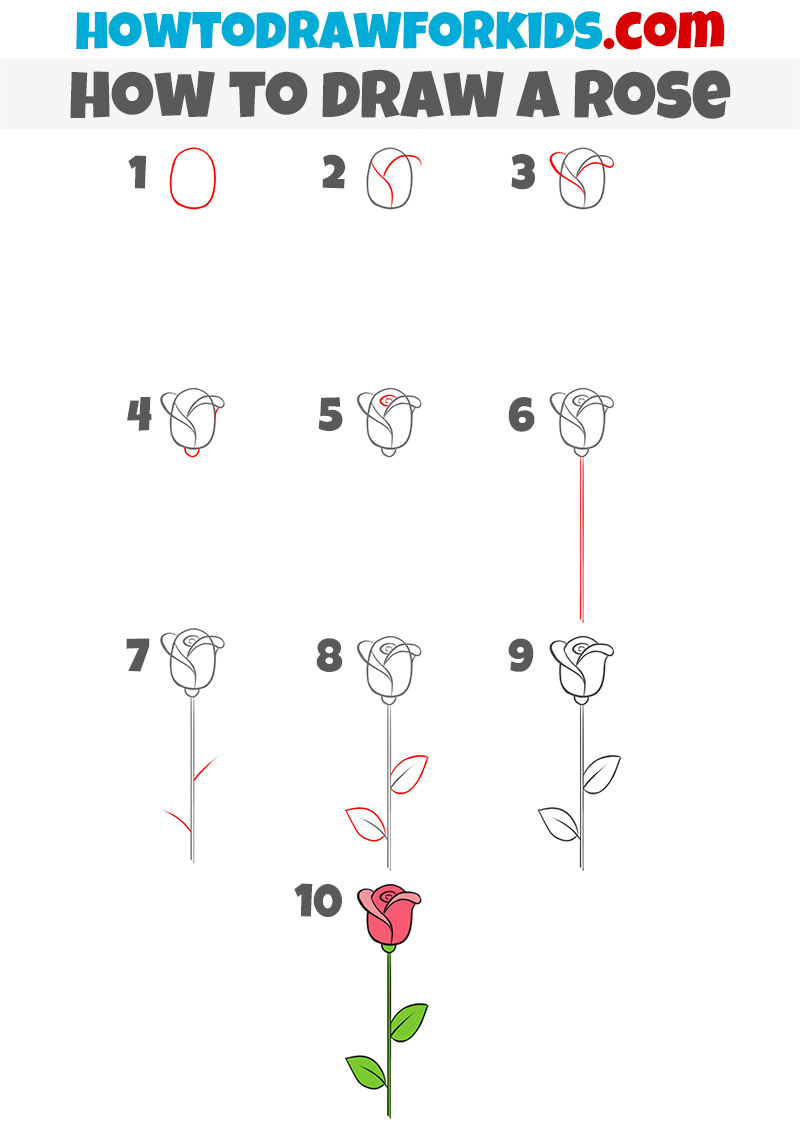 Method 2: How to Draw a Simple Rose
This rose is much simpler than the previous two. Here you can see significantly less detail. This lesson is ideal for those who have just picked up a pencil and are just embarking on the path of learning to draw.
But nevertheless, as in previous rose drawing lessons, you need to start with the bud and gradually move down.
Method 3: Slightly More Realistic Version
This rose flower is depicted in a slightly more realistic form as you can see. There are a little more shadows and details, and also the way of forming the bud is slightly different from other lessons that you could see above.
But you can make this flower even more realistic by adding shadows and highlights. Also, here you can add a background or a hand holding this beautiful rose flower.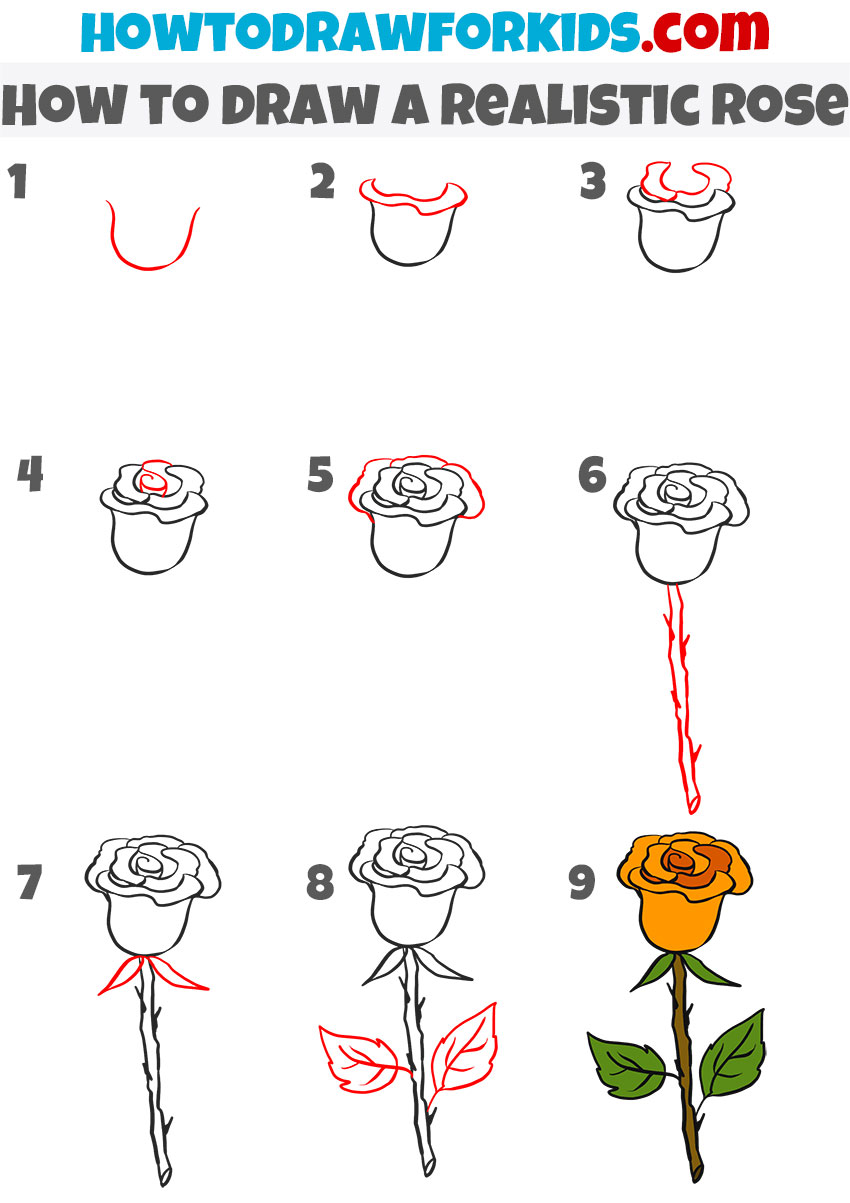 Method 4: How to Draw a Rose With a Pencil
With the help of a simple instruction, you can easily draw a rose and be satisfied with the result. Here is a lush bud where you can see some petals. The stem has a natural curved shape, there is a small leaf on the side.
During the lesson, take your time and follow all the steps in sequence. Freehand lines are allowed in this lesson. For example, you can slightly change the shape of the petals or the arrangement of the leaf on the stem.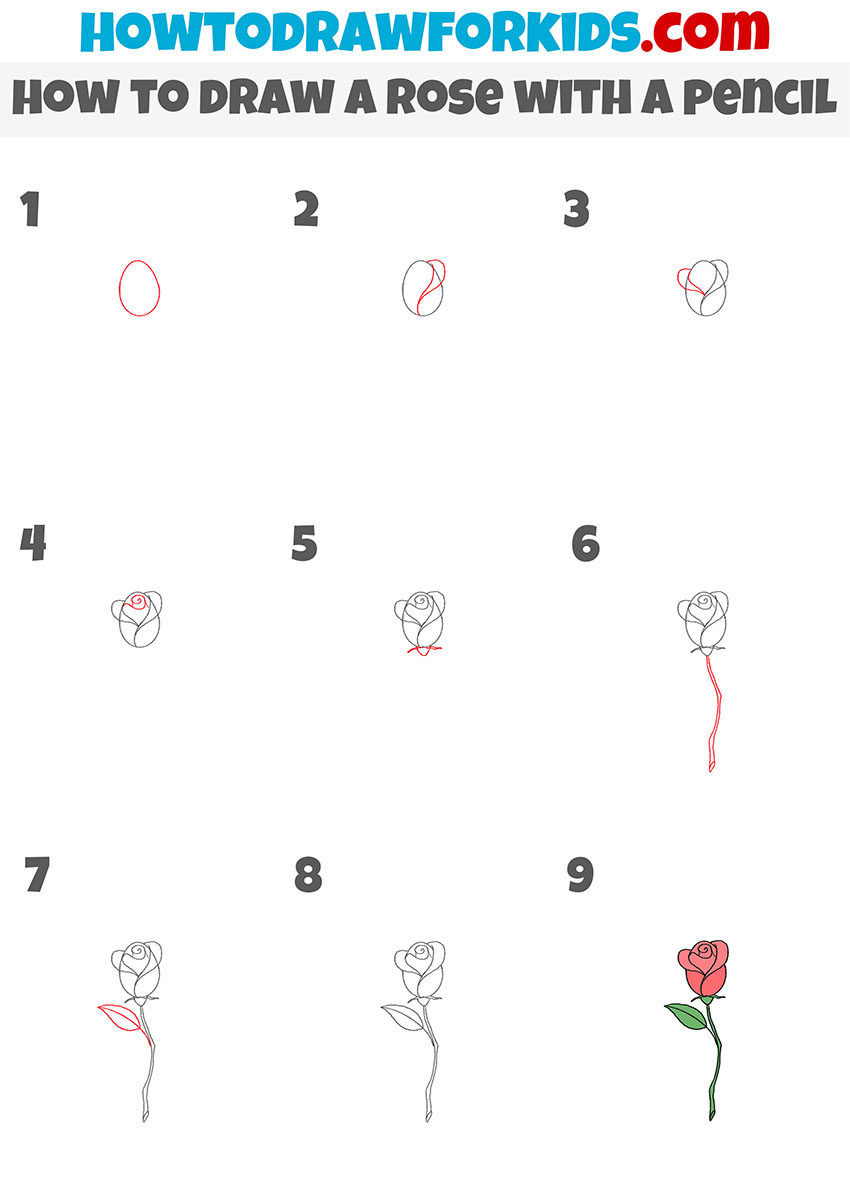 Method 5: for Beginners
This method will show you how to draw a rose for beginners. Like many other roses in this collection, this beautiful flower is divided into 9 steps. But unlike some, there are fewer details here, but still the flower itself looks much more realistic than in the example called "simple rose".
Method 6: How to Draw a Rose Step-by-Step
Now I will show you another way how to draw a simple rose. I hope you enjoy these beautiful flowers and enjoy this lesson. Simple lines are used here, which even a beginner can easily repeat.
In the picture, you see an unopened rosebud. The flower is depicted schematically and there is no need to draw individual petals. It is enough to draw a general outline, and the rose will be easily recognizable.
Method 7: Rose With Thorns
No matter how trivial it may sound, the rose is as dangerous as it is beautiful, because its stem is covered with many sharp thorns.
This rose drawing tutorial focuses specifically on its thorns. Pay attention to the sharp thorns, their position and size, and try to convey this on a piece of paper.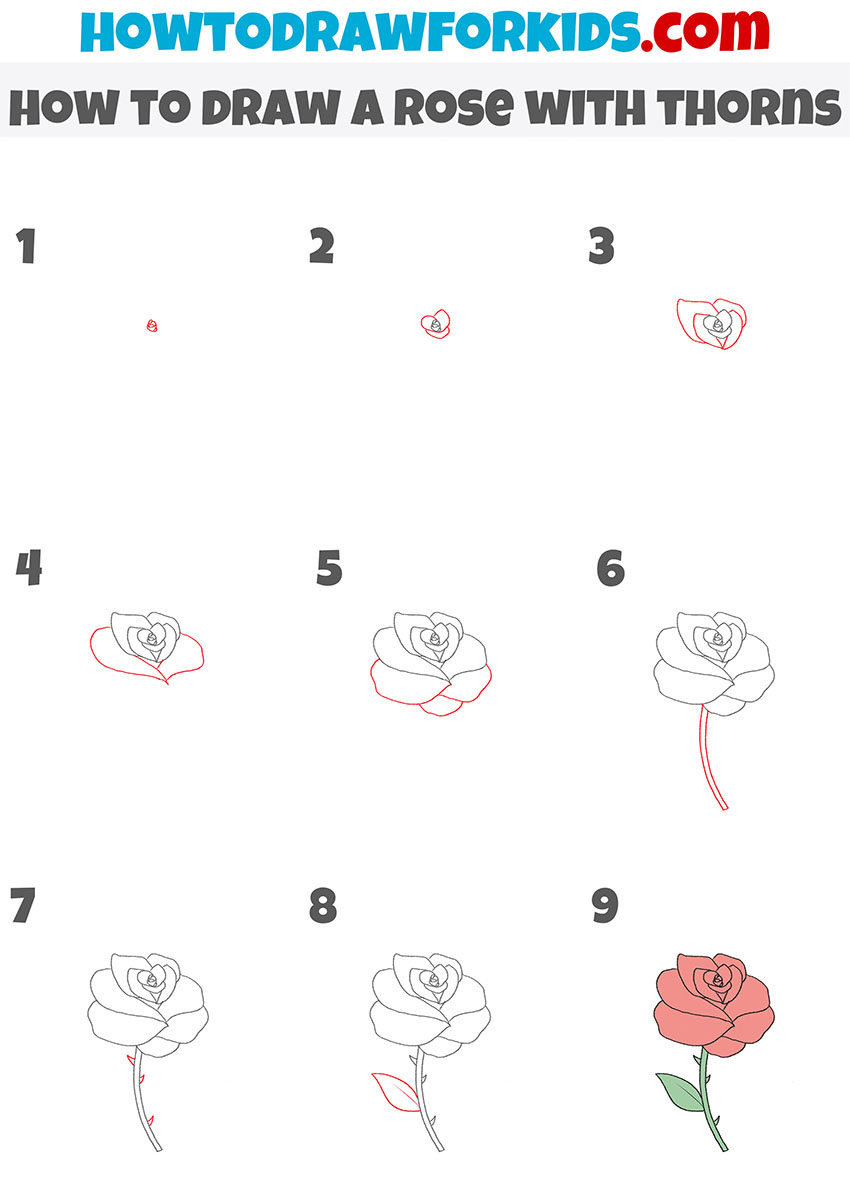 Method 8: Rose on a Stem
In the picture, you see an unopened bud and a long thin stem. It looks very nice. Consistently follow all the drawing steps, be careful and accurate to get an excellent result.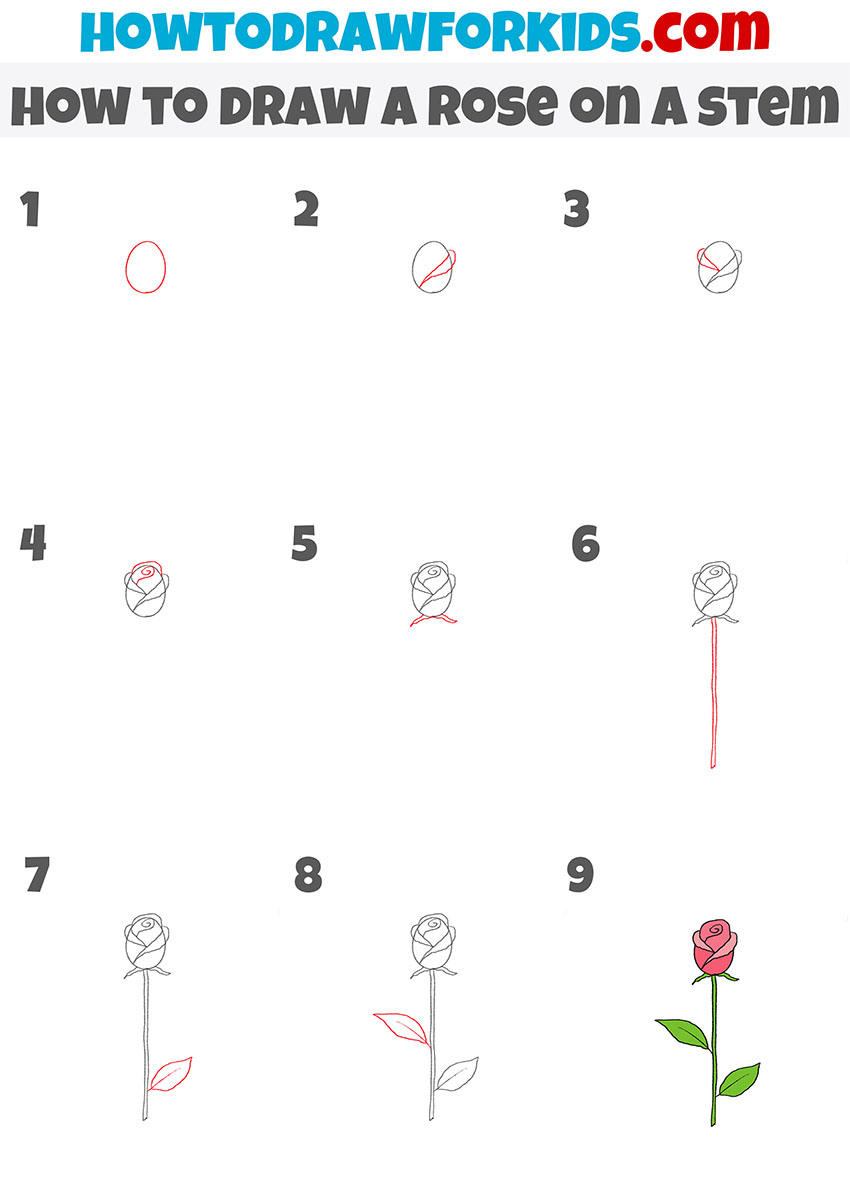 Conclusion
Phew, it was a long journey to get here, wasn't it?
If you have read all the steps of the lesson and even mastered all the additional materials, then you have done a great job, and most likely, you can now draw a rose as well as any artist.