Now I will show you how to draw a person with wings. If you follow all the steps in this guide, you will show your creativity.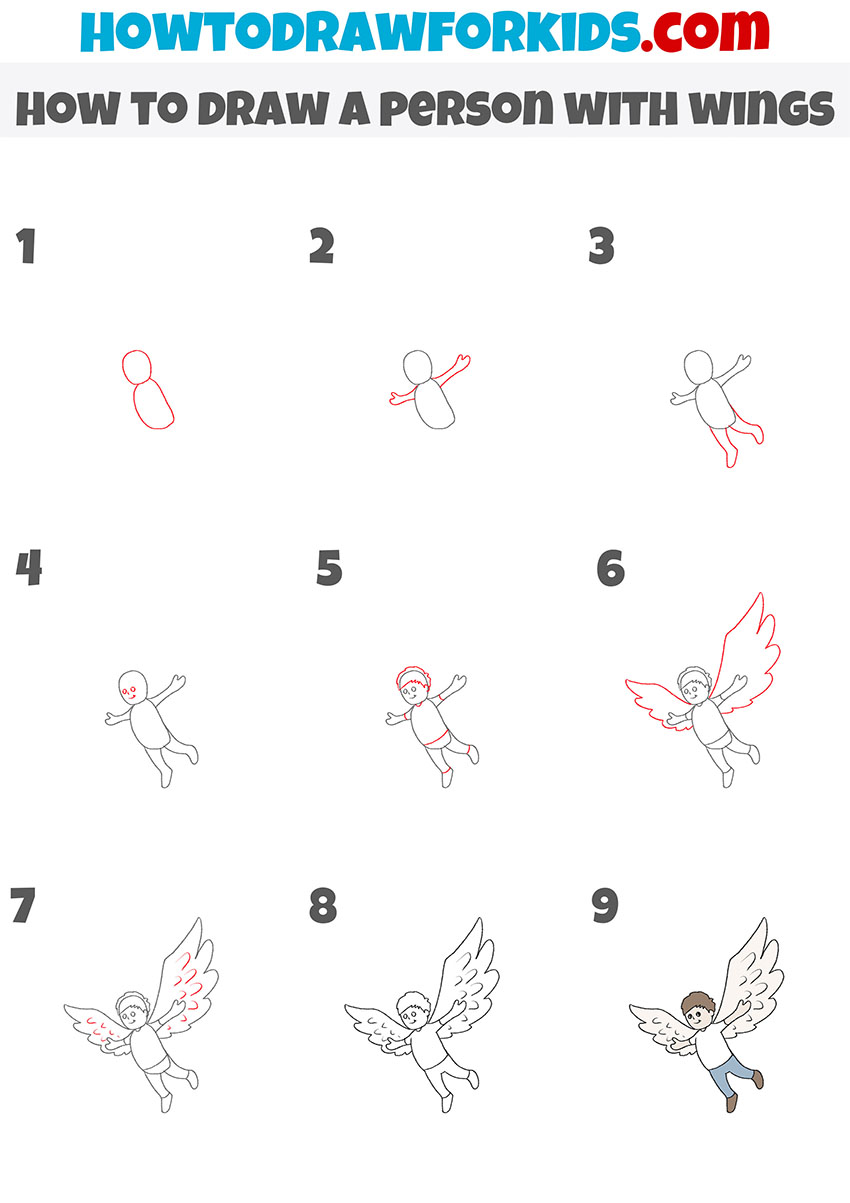 I suggest you complete a simple and interesting lesson on how to draw a man with wings. With this lesson you will practice drawing a human figure and practice drawing wings. The acquired skills will be useful to you in the future when you want to draw the figures of other people or birds.
The figure shows a young man who has wide wings behind his back. The person spread his wings wide and enjoys the flight.
During the lesson, carefully draw all the lines that are marked in red and keep the proportions.
Materials
Pencil
Paper
Eraser
Coloring supplies
Time needed: 30 minutes
How to Draw a Person with Wings
Draw the head and torso.

Depict the head and torso, which are in the same plane and slightly tilted forward.

Depict the hands.

On the sides of the body, add the arms that are raised and turned to the sides with palms up.

Sketch out the legs.

With smooth lines draw the legs in the same position as in my example.

Add elements of the face.

Draw the round eyes, small nose and mouth.

Draw the hair and outline of the clothes.

Depict the hair. Add the neckline, sleeves, the lower outline of the clothes and the outline of the shoes.

Draw the wings.

Depict two large wings behind the back with smooth curved lines.

Detail the wings.

With the help of curved lines of different sizes, draw a lot of feathers on the wings.

Correct inaccuracies.

Use the eraser to remove all the extra lines in your drawing and correct the mistakes.

Color the drawing.

Color the hair and skin with natural shades. You will also need gray, blue, and brown.
So another fascinating drawing lesson has come to an end. If you followed all the steps in this tutorial correctly, you should have a great drawing. By tradition, at the end of the lesson, I have prepared a PDF file for you, in which you will find a brief instruction and additional training materials. Download the file and draw at any convenient time.