Today you will learn how to draw hair buns. I am sure that you will like this tutorial because it is useful and simple.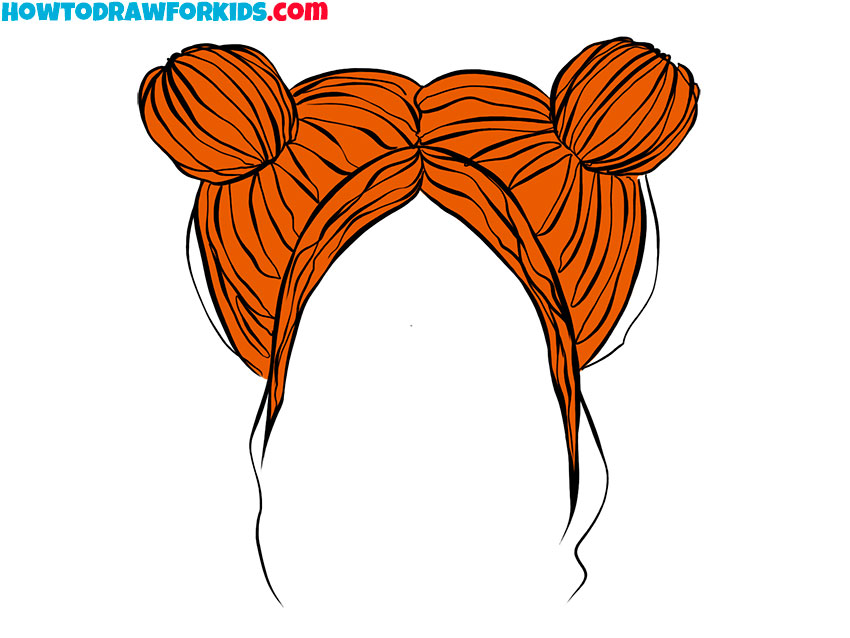 In this lesson I want to show you how to draw hair buns. You have repeatedly seen this hairstyle in young girls and women of any age. This hairstyle is very comfortable and great for long hair.
Divide the hair into two halves and gather the hair into a neat bun on each side. It turns out a beautiful hairstyle that can be done every day. Also, this hairstyle is suitable for a holiday, you just need to additionally use any decorations, for example, decorative hairpins or a beautiful headband.
Drawing such a hairstyle is very simple. You can easily cope with this task, even if you have not had to do this before. With this step by step guide you will quickly and easily draw hair buns. During this tutorial, make sure that both sides are symmetrical.
Materials
Pencil
Paper
Eraser
Coloring supplies
Time needed: 25 minutes
How to Draw Hair Buns
Add the top outline of the front strands.

To do this you need to draw a long rounded line.

Draw the outline of the strands above the forehead.

Determine the center of the forehead and depict two smooth lines down from this point.

Depict the outline of the head.

With the help of smooth lines draw the outline of the head at the top and sides.

Add the bun of hair on one side.

Sketch out a small circle on the left.

Depict the bun of hair on the other side.

Repeat the previous step and draw the same circle on the right.

Detail the hair buns.

Draw thin lines along each hair bun to depict the texture of the hair.

Add details.

Draw smooth lines in the direction from the middle of the head to the tufts of hair.

Add more details.

Detail strands of hair above the forehead.

Color the hair buns.

Use orange or any other shade of your choice.
I hope that this lesson was interesting for you. If you have any questions, you can write about it in the comments.
At the end of the lesson, I suggest you download a PDF file with a short version of this lesson. This will help you return to this lesson at any time.