Do you want to learn how to draw a cow face? With this guide, you can do it quickly and easily. Start the lesson and get useful skills!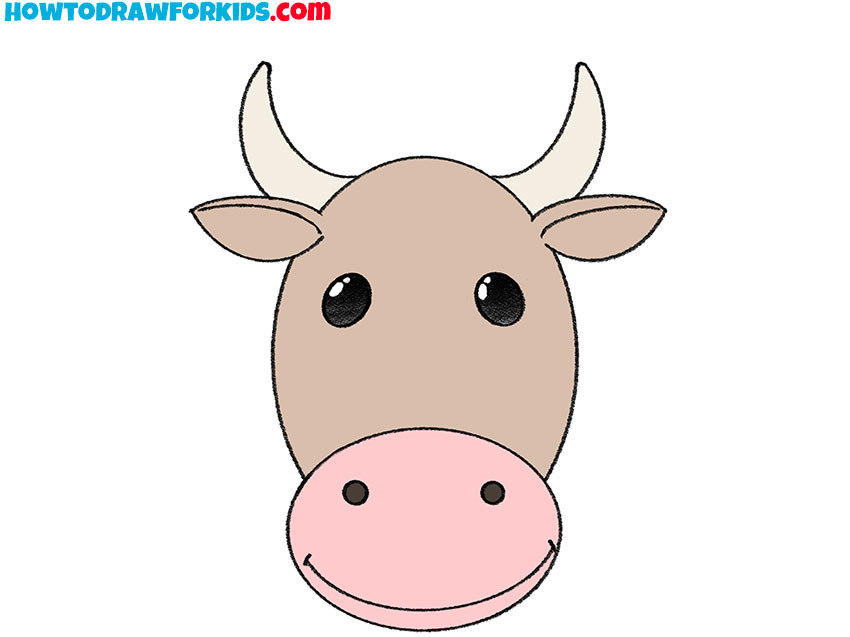 Now you will learn how to draw a cow face. This animal is familiar to each of you and you have repeatedly seen the image of a cow on various objects, for example, on a milk package.
With the help of this step by step lesson, any child or aspiring artist can quickly draw the face of a cow, because now I will show you the easiest way to draw this animal. As a result, you will have a good time and improve your creative abilities.
In this guide, the cow face is presented in a cartoon style and looks very cute and funny. The cow face consists of several simple elements that are easy to draw on your own. Try to carefully draw all the lines to get an excellent result.
Materials
Pencil
Paper
Eraser
Coloring supplies
Time needed: 30 minutes.
How to Draw a Cow Face
Draw the front of the face.

To do this, draw an even oval.

Add the main part of the head.

Depict a large semicircle to the oval.

Sketch out the eyes.

Draw two ovals on the main part of the head.

Depict the nostrils.

On the front, draw two small circles.

Add the mouth.

Depict a long, rounded line at the bottom.

Sketch out the horns.

On the top of the head draw two horns of the same shape and size.

Draw the ears.

Depict two identical ears on the sides.

Remove inaccuracies.

At this stage, remove all unnecessary lines.

Color the cow face.

Choose beige, pink, and black. Add highlights to the eyes.
Finally, I suggest you download the PDF file, which contains a short version of this guide. Thus, the lesson will always be available to you, and you can be creative at any time.