Learn how to draw a cowboy with this easy tutorial. This lesson is very useful and consists of only nine easy steps.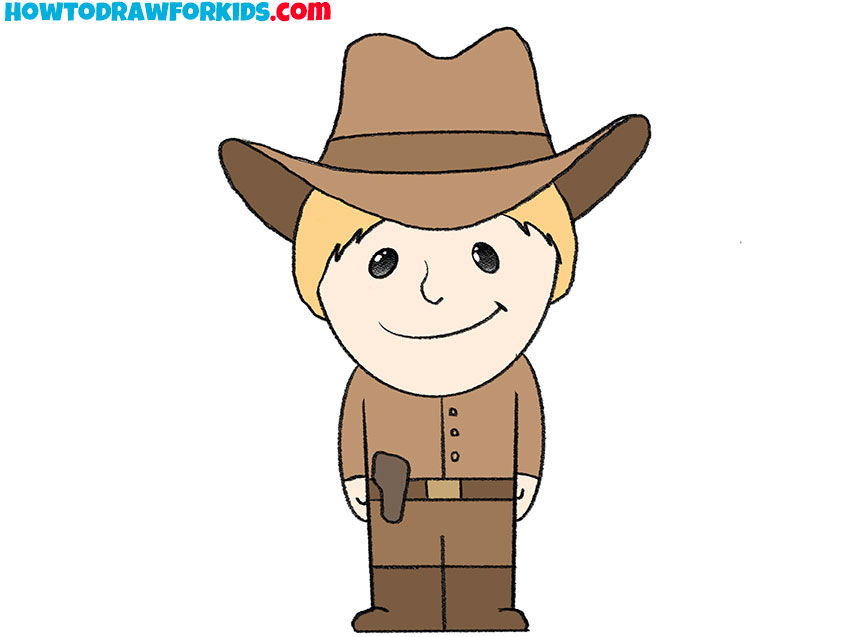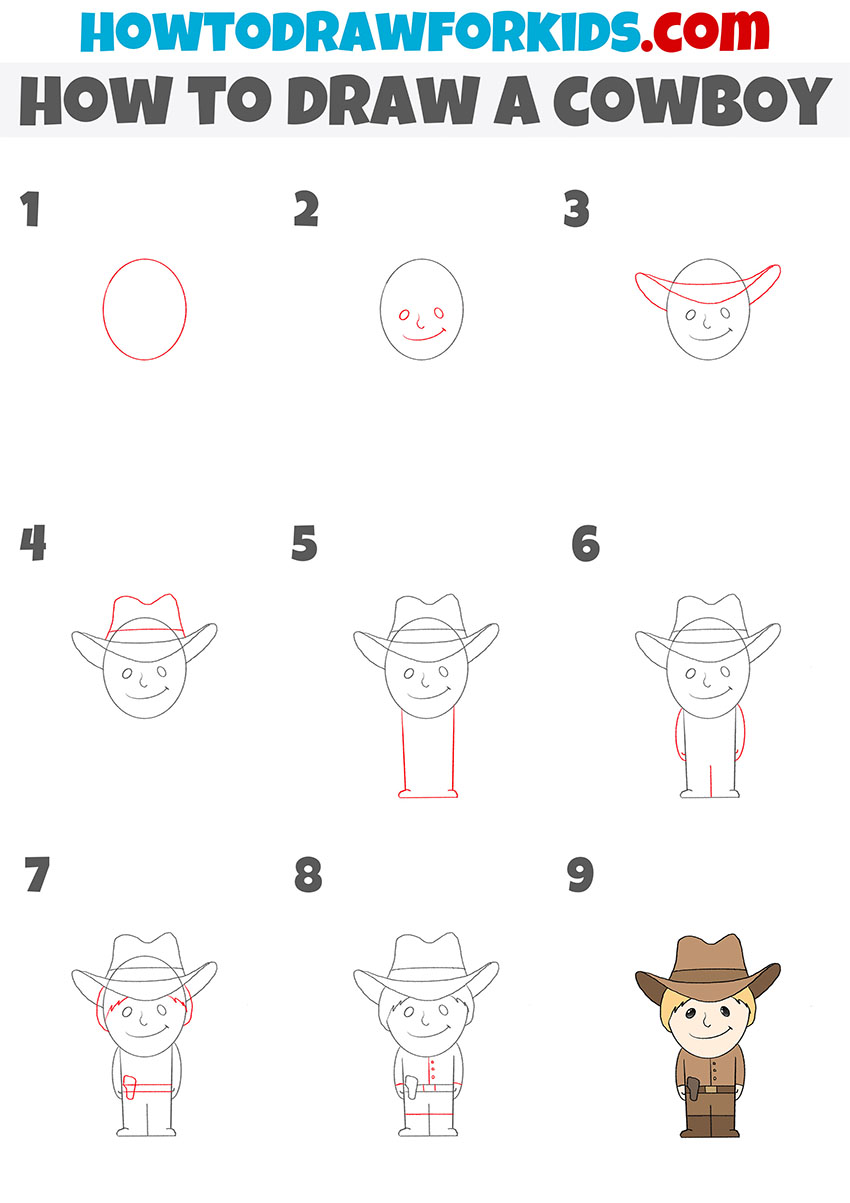 In this lesson you will learn how to draw a cowboy step by step. The image of a cowboy is often found in films, cartoons and in literature.
Cowboys were engaged in driving cattle, it was a difficult job that required some skill. Cowboys were excellent at riding techniques, and rodeo has historically developed among Mexican and American cowboys.
If you have long wanted to draw this character, then this step-by-step drawing will make this task easier. Here the cowboy is presented in a cartoon style and looks very funny.
The indispensable attributes of a cowboy are jeans, a cowboy hat, boots, a vest, a revolver. In this lesson, you will consistently draw all the elements of this character.
Materials
Pencil
Paper
Eraser
Coloring supplies
Time needed: 30 minutes
How to Draw a Cowboy
Draw the face.

To do this, draw an even oval.

Depict the brim of the hat.

Draw smooth curved lines at the top of the head.

Add the top of the hat.

Draw a straight horizontal line above the brim of the hat and draw a curved line at the top.

Sketch out the torso.

Draw two lines down, add the outline of the boots on the sides. Add a line at the bottom.

Draw the arms and legs.

On each side, draw smooth rounded lines. Depict a small vertical line at the bottom.

Add details.

Sketch out the outline of the hair, belt and revolver.

Add more details.

Draw the buttons, add the outline of the boots and sleeves, depict the buckle on the belt.

Color the cowboy.

Choose beige and shades of brown.
Now you have learned how to draw a cowboy and you will be able to apply these skills in the future. Now you can complete your drawing and come up with an environment for the cowboy. For example, draw grass, trees and a horse.
As usual, at the end of the lesson, I suggest you download a PDF file containing a short version of the lesson. Here you will find additional useful tools. Download the file and complete the drawing lesson at any time convenient for you.