In this tutorial you will learn how to draw Ghost Rider in just nine very easy steps. Start this lesson and get useful skills.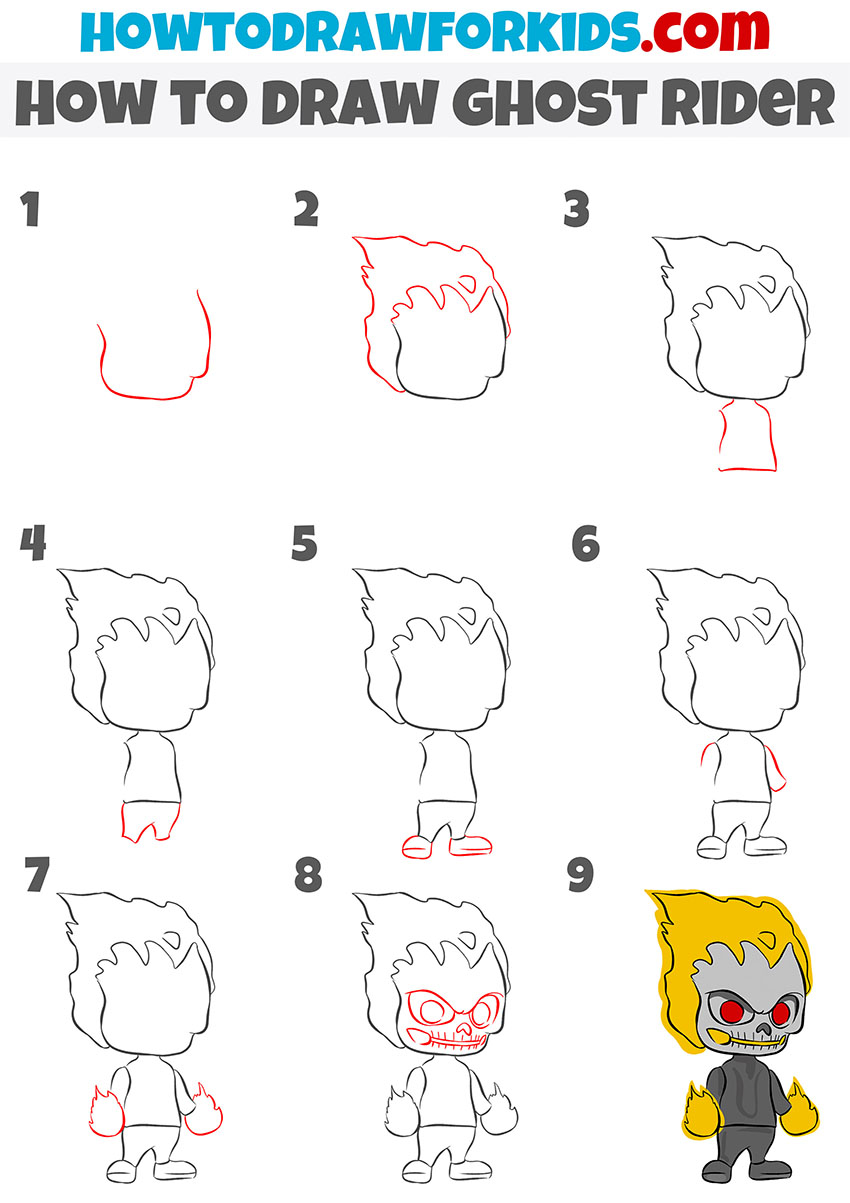 Now I will show you how to draw Ghost Rider. This is a popular comic book character published by Marvel Comics. We know that this is a stunt rider who has supernatural strength and stamina.
Ghost Rider has an unusual appearance. It's a skeleton on fire. In general, this superhero has an intimidating appearance. But in our lesson, he is not scary at all, because he is made in a cartoon style. You can easily draw this character.
The guide is designed in such a way that any aspiring artist can follow all the steps. Be patient and attentive at every step and you will get a great result.
Materials
Pencil
Paper
Eraser
Coloring supplies
Time needed: 25 minutes.
How to Draw Ghost Rider
Draw an oval for the face.

Depict a smooth line of the same shape as shown in the example.

Depict the flame on the head.

With the help of freeform lines draw flames on the head.

Sketch out the torso.

The body is relatively small.

Add the legs.

With the help of several lines draw short legs.

Draw the shoes.

Depict shoes of a rounded shape, while the feet are turned in different directions.

Sketch out the arm.

The arms are small and close to the body.

Add the flame to the hands.

Using jagged freeform lines, depict the small flame on each hand.

Draw the elements of the face.

Depict the eyes, small nose, and wide mouth.

Color the Ghost Rider.

Use shades of gray for the skeleton and clothes. Color the flames yellow and the eyes red.
I have prepared a PDF file for you that contains a short version of this guide and additional useful tools. You can download this file for free and follow the lesson at any time.